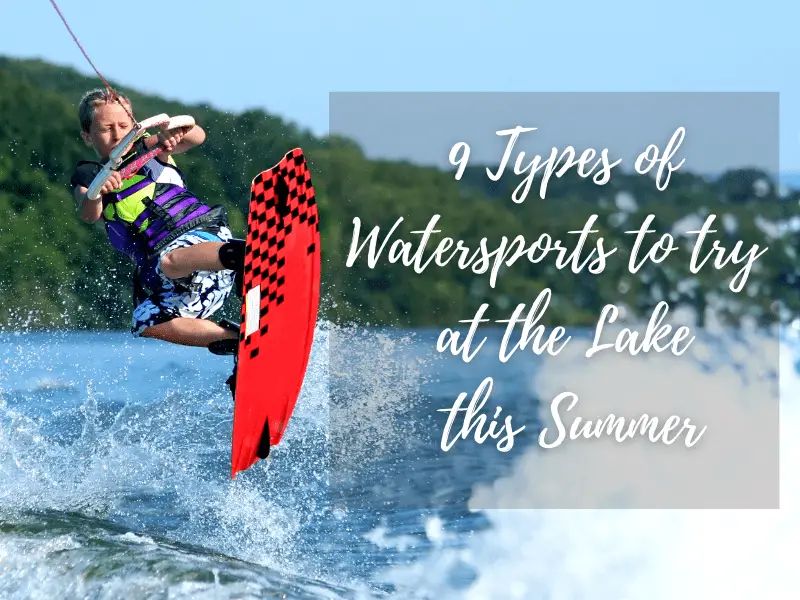 9 Types of Water Sports To Try At the Lake This Summer
(Last Updated On: April 12, 2022)
Summer is finally here! It is time to get out to the lake and on the water to try one of these 9 types of water sports.
Being on the lake is exhilarating, and water sports make it doubly fun. There are many types of water sports that all ages and skill levels can participate in.
Remember to slather on the sunscreen and get out on the lake and try one of these 9 fabulous types of water sports.
9 Fabulous Types of Water Sports
Rafting
The lake is synonymous with peace, serenity, and the opportunity to experience time on the water. One of the best ways to do that is by rafting. All ages, wearing the appropriate personal flotation devices, can enjoy a day lazing on the lake.
There are numerous types of Inflatable Fun! The Best Lake Floats Review and Buying Guide.
These floats are great to have at the lake as they will accommodate multiple guests and are suitable for most skill levels. All you need to be able to do is get on and off of one. And for these two women, it was not all that easy! Women Struggle to Get out of Inflatable Raft 
You can tether a flotation raft to a dock, boat, and some can be towed through the water. They are great for a place to hang on the water and have good conversations while enjoying the outdoors.
This is the type of water sport that is relaxing at the end of the day while you are winding down.
Kayaking
One of the most popular water sports is kayaking. Whether you rent or own one, kayaks are easy to maneuver, lightweight, and have no steep learning curve.
This personal watercraft has excellent stability, and controlling one is relatively easy.
Kayaks are versatile; you can use them on a calm lake, stream or take them down whitewater rapids.
Because they are compact and stable, a kayak can be taken in places, such as shallows along the banks of a lake, that you would not be able to get with a boat.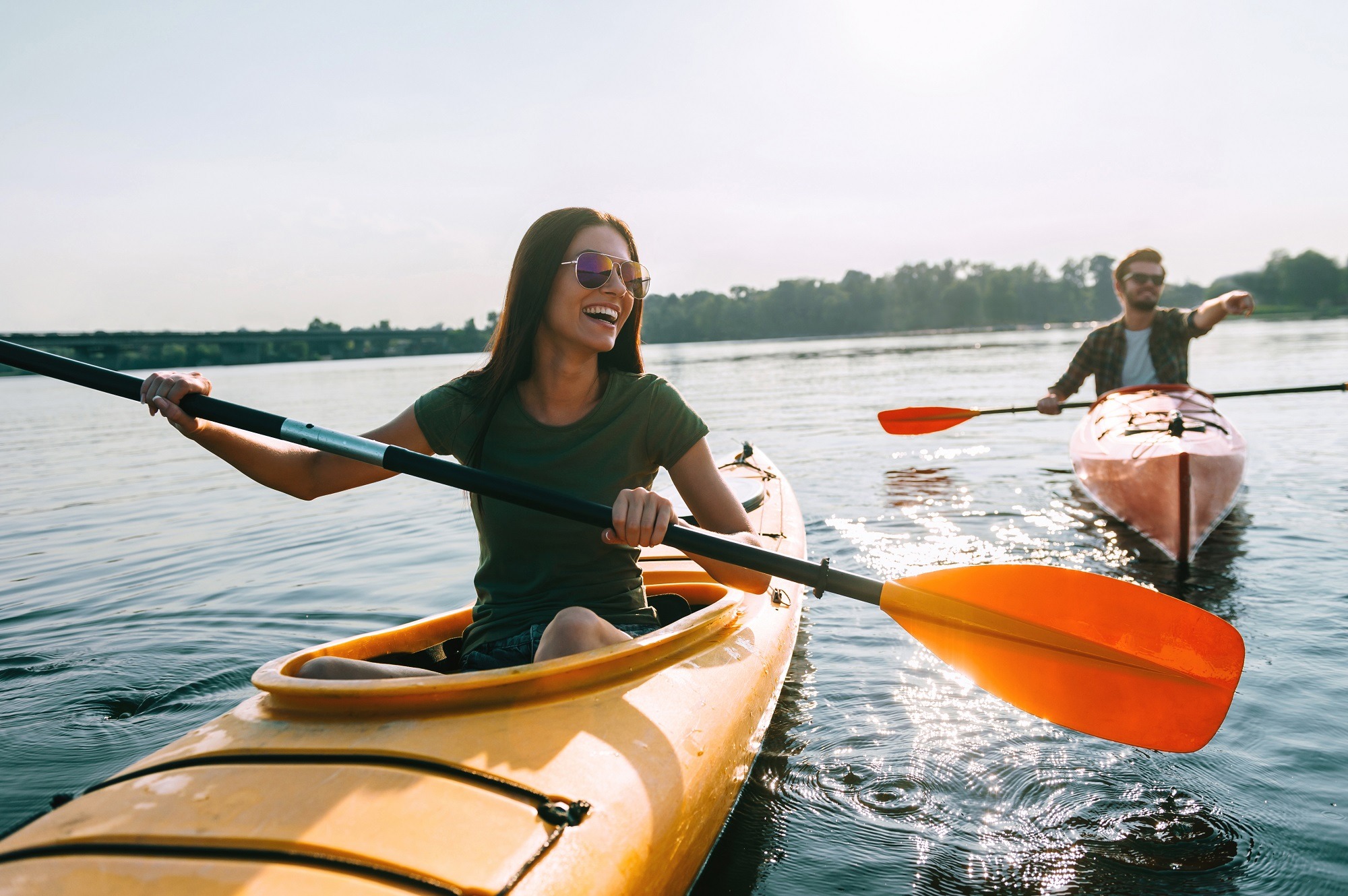 Paddleboarding
This water sport has been around for about a decade, and more and more people have found that this is one of their favorite ways to spend time on the water. Stand-up paddleboarding, or paddleboarding, is also called "supping."
Having a good sense of balance allows the paddleboarder the freedom of accessing parts of lakes that can't be reached on foot. With a paddleboard, you can get into shallows that won't accommodate a boat or canoe.
One of the favorite aspects of paddleboarding is that the standing rider has the height on the board to see into the water and glimpse what is happening below the surface.
This type of water sport puts the rider in control of where they want to go and what part of the lake they want to explore.
Kiteboarding
Sometimes confused with parasailing, kiteboarding involves using a parachute and the open water of a lake or other large body of water.
Where parasailing employs a boat to pull a rider, kiteboarding relies on the wind to carry the rider on a board similar to a surfboard.
While kiteboarding is not a difficult water sport, you need to have a good level of fitness as this can be a bit of a workout.
It is also advantageous to have a lesson or two with an instructor before trying it on your own. Unlike surfing, kiteboarding doesn't require waves. All you need is water and wind.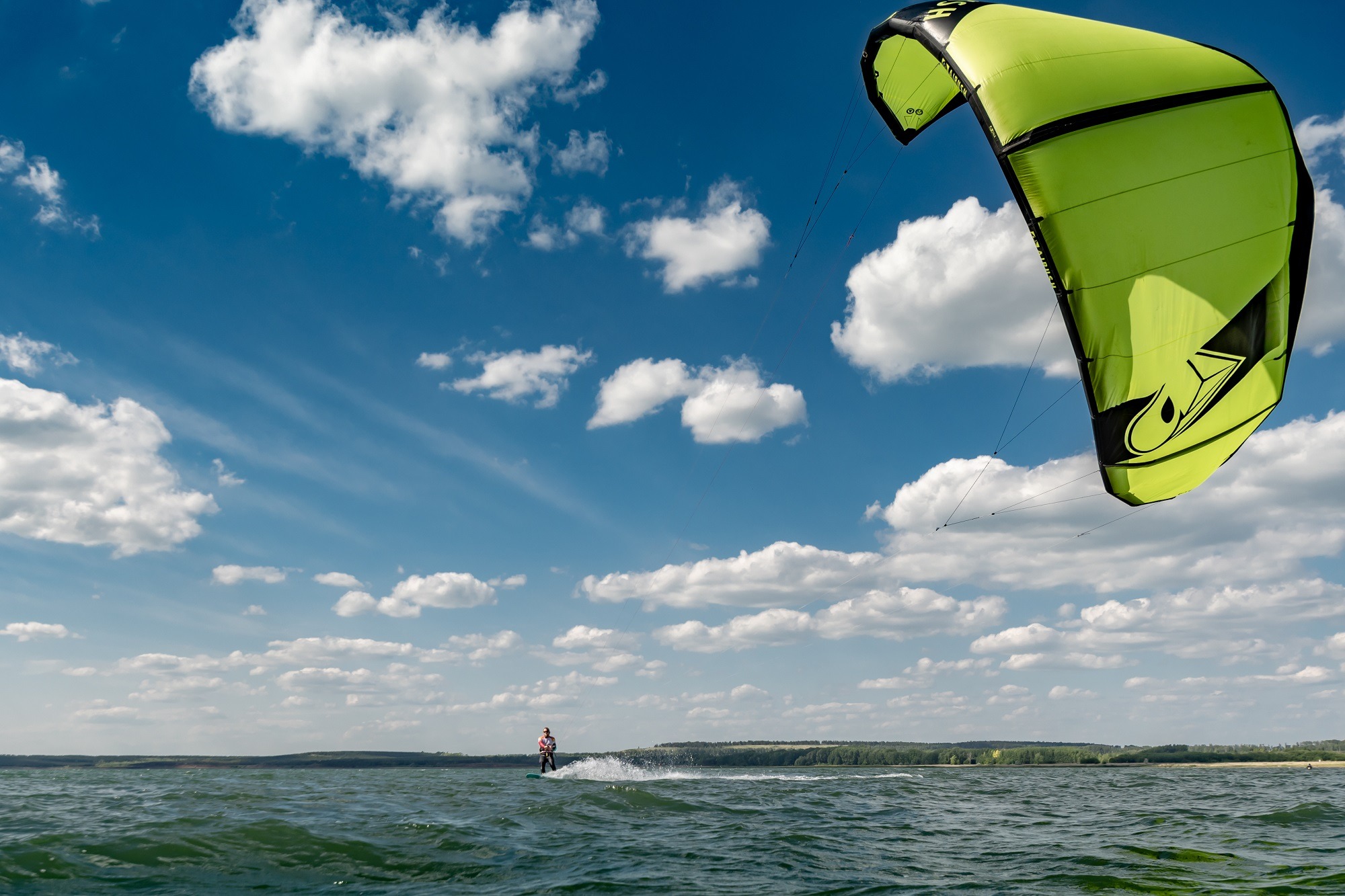 Jet Skiing
Perfect for a lake, a jet ski is the quintessential type of water sport. A jet ski is fun, fast, and easy to drive for almost everyone.
Some riders compare a jet ski to a motorcycle for water. Even if you live on the lake and own a full-sized boat, a jet ski is ideal for zipping around on.
A Jetski can jump waves, turn on a dime, and travel in water that is too shallow for a boat with a propeller.
If you have a powerful jet ski, you can pull skiers, but even less powerful jet skis can pull inner tubes with riders.
Water Skiing
This water sport can be very exhilarating. Water skiing is a full-body workout that has you gliding over water and waves and is a complete adrenaline rush.
Getting your balance on two skis with your knees tucked up towards your chest while being pulled across the water by a boat is a water sport enjoyed worldwide.
 There are over 900 sanctioned water ski competitions every year in the United States alone.
 Whether you want to hone your skills for competition or just enjoy a day skiing on the lake, this is a water sport that will be a fun activity to participate in.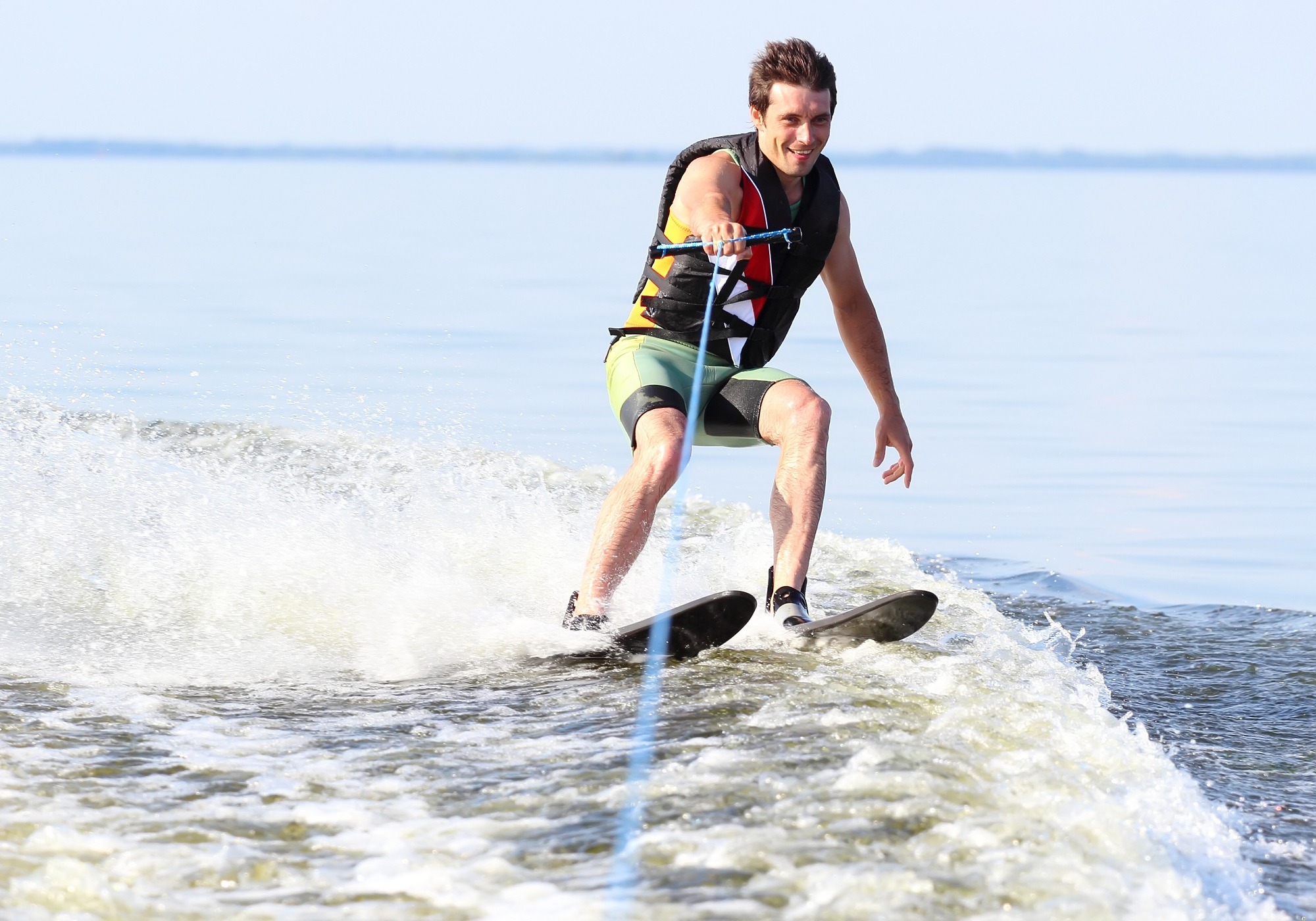 Wakeboarding
If skiing is not your cup of tea, wakeboarding is the type of water sport that might be.
Wakeboarding on the water is similar to snowboarding on snow. As with skiing, a wakeboard is towed behind a boat.
It still requires the same ability to balance that skis, but it is easier to get up on a wakeboard than skis.
Rather than trying to control two boards in the form of skis, you have one single board that offers more stability due to the greater surface area. Once you develop your skills on a wakeboard, you can also try jumping the boat's wake.
Snorkeling
This water sport is a great way to see what is just below the surface of the water. You can get to know your lake "in depth" when you snorkel. It is a relatively inexpensive water sport to try. You will need fins, goggles or a mask, and a snorkel.
Snorkeling can be done in shallow water and is a good form of exercise. Many snorkelers find that there is peace and serenity to this type of water sport.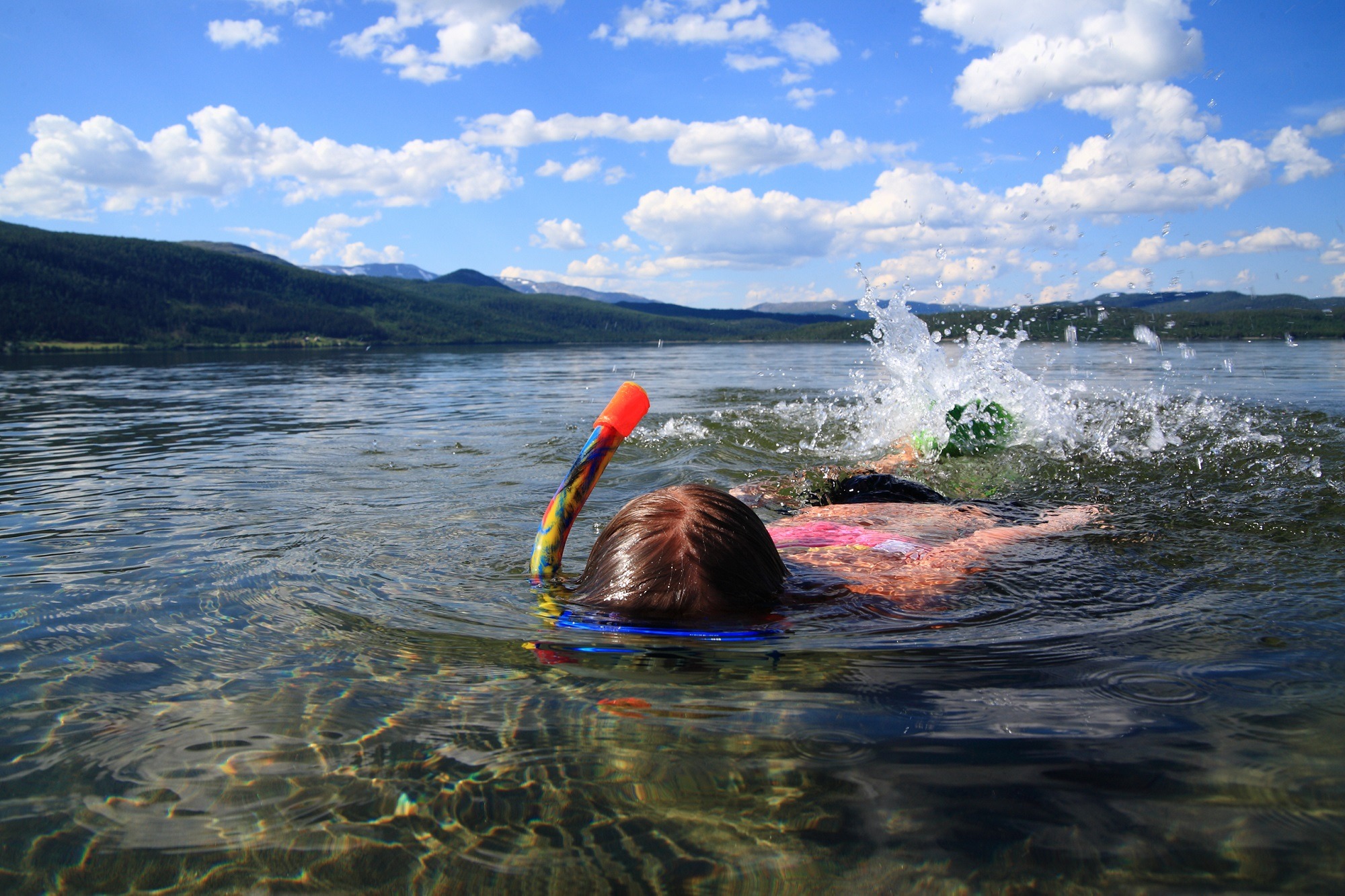 Fishing
One of the most relaxing water sports is fishing, a perfect water sport for the lake. Fishing can be done by almost all ages and is often a pastime handed down from one generation to another.
Fishing can be done from the lakeshore, the end of a dock, a boat, kayak, or even a paddleboard. Over 50 million Americans engaged in recreational fishing in 2019. Kiddos as young as six (with adult supervision) can enjoy the fishing experience.
 A Recreational Boating & Fishing Foundation survey reported that adults who participated in fishing listed spending time with loved ones as a primary motivation to fish. And nearly 78% of adult anglers were introduced to fishing during childhood.
 Fishing on the lake is a water sport that could become a life-long pastime for both you and your kids.
In Conclusion
The lake is the place to be in the summertime! There is so much to do and experience at the lake, and the water beckons with the promise of fun while engaging in one of many water sports.
Being on the water is refreshing to both mind and body. Don't let the summer pass by without having tried old favorites and one or two new types of water sports!