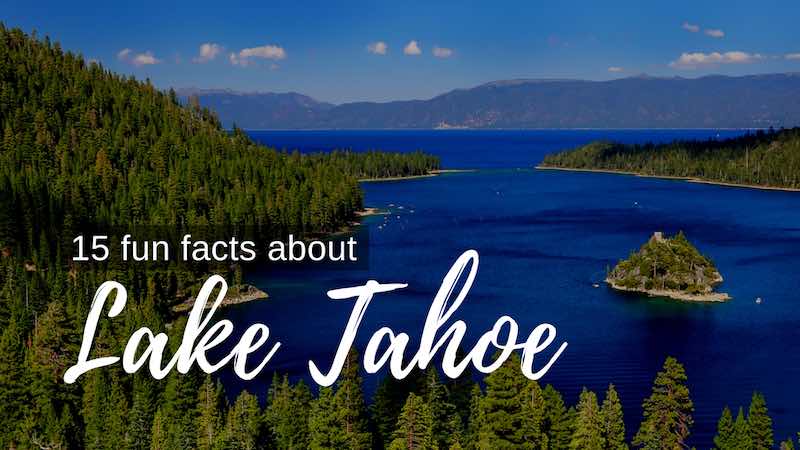 14 Fun Facts About Lake Tahoe that You Need to Know
(Last Updated On: December 3, 2021)
Lake Tahoe is the largest alpine lake in North America, but size is not all it has. An unrivaled natural beauty, it is blanketed with attractive landscapes and surrounded by snow-capped peaks.
Sugar pines and white firs tower their way into the heavens and cover most of its hillsides and mountains.
There are still more Lake Tahoe fun facts to discover, but before I give you the run-down, allow us to provide you with an opportunity to skim through the area by telling you more about North and South Lake Tahoe.
NORTH AND SOUTH LAKE TAHOE
Lake Tahoe is more like a tale of two cities. The lake streams over California and Nevada, high up in the Sierras. This elevation paved the way to make this lake unique and compelling in so many ways.
With an hour's travel in between the two lakes (depending on traffic), you can quickly check both parts within a day's tour.
North Lake Tahoe is on the up-scale side, which makes it ideal for people who prefer a serene vacation.
It is perfect for winter vacation since you'll find most snow-covered peaks in the north, although there are also fewer beaches in the north, too.
South Lake Tahoe is where the majority of people are. It is an ideal destination for summer vacation with loads of beaches and outdoor activities. The south can be more tempting because of its prices, which are generally less expensive than North Lake Tahoe.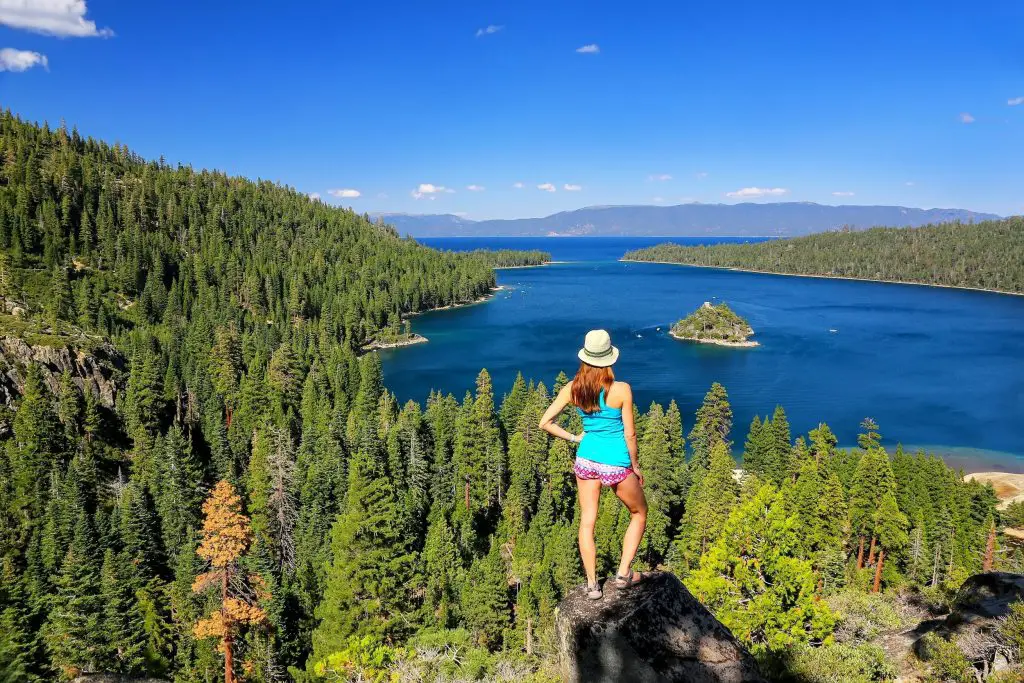 With that, you are now prepared to learn our Lake Tahoe Fun Facts:
The Name Lake Tahoe
Tahoe came from a mispronounced Washoe Native American word, which is da'aw, meaning, "the lake."
The majestic lake went through 5 names (Lake Bonpland, Mountain Lake, Fremont's Lake, Fallen Leaf Lake, and Lake Bigler) before it was formally named Lake Tahoe.
Two places at once
Lake Tahoe stretches a distance of 35km, which is why two-thirds of it is in California, and a third of it crosses into the state of Nevada.
Lake Tahoe as Source of Water Supply
The volume of water in Lake Tahoe is adequate enough to supply each person living in the U.S. with 190 liters (50 gallons) of water per day for 5 years.
99.994% Pure Water
Lake Tahoe's  freshwater is one of the purest and freshest in the world, garnering 99.994 percentile in purity, while commercially distilled water is at 99.998%.
Lake water is acknowledged as being among the best tasting water in the world. This is not some processed water in a fancy and expensive bottle, but humble tap water.
The water that comes out of the faucet is not only cleaner, safer, and healthier than bottled water, it is also much better for the environment.
No one and nothing has aged as gracefully as Lake Tahoe
At over 2 million years old, Tahoe is considered an ancient lake and is included among the 20 oldest lakes in the world.
It has remained pristine for many generations because residents within its community are committed to preserving the Lake's captivating beauty.
If you are planning to visit this immaculate place, please support local communities by adhering to the cleanliness and preservation guidelines in their tourist areas.
The main body of Lake Tahoe is incapable of freezing.
Heat stored in the Lake's massive amount of water, in comparison to its relative surface area, prevents the Lake from reaching freezing temperatures under the existing climatic conditions.
On rare occasions, Emerald Bay has developed full or partial ice cover, and thin ice sheets can form on shallow nearshore waters under icy and calm conditions.
An average of 3million people visit Lake Tahoe each year.
The year-round resident population is 40,000, while the total population, with visitors,  can reach 300,000 plus on peak seasons.
The lake offers engaging and fun activities, after dark adventures. Events that take place every single day around the lake and the calm and rejuvenating picturesque beauty of the site, attract 2.7 million tourists a year.
Famous Place for Famous People
A few prominent people were attracted to the beauty of Lake Tahoe and decided to set down roots in the area by taking up residence near the lake.
A few recognizable names are: Charles Bronson, Cher, Natalie Cole, Sammy Davis Jr., Liza Minelli, Wayne Newton, and the Captain and Tennille.
100-years of Film-making history at Lake Tahoe
Cinephiles and "The Godfather: Part II" avid fans, know that the movie, as mentioned earlier, is one of the greatest films ever shot in Lake Tahoe.
Over 120 films have been shot in the region over the past 100years, starting off not long after the turn of the 20th century, when cinema, as a creative means, was launched to the world.
Here's a list of the Top 5 Movies Shot in Lake Tahoe/ Trucker Area
The Godfather: Part II (1974)
The Gold Rush (1925)
The Bodyguard (1992)
True Lies (1994)
Her (2013)
How much water is in Lake Tahoe?
At 1,645 ft deep, it is recognized as the second deepest lake in the United States and one of the deepest lakes in the world.
It has enough water content to engulf the Empire State Building in New York, which stands at 1,454 feet at the tip.
If we poured the lake's water out into an area the size of California, the water would reach a depth of 14 inches or 36 cm deep.
Tahoe South gets enough snow to cover a three-story building.
According to U.S. Climate Data, South Lake Tahoe sees an average of 408 inches of snow or approximately 34 feet each year. Typically, a story is about 10 feet, meaning there's enough snow to cover a three-story building.
Of course, that's just the average. The Lake Tahoe region has been known to have 500+ inches of snow in past  years.
Lake Tahoe is enwreathed within five peaks that are over 9,000 feet.
If you are an adventure enthusiast and get an adrenaline rush high from hiking or trekking, you will adore the Lake.
The five peaks that circle the Lake are comprised of Rubicon Peak (9,183′), Mt Tallac (9,735′), Pyramid Peak (9,985′), Mt Rose ((10,778′) and Freel Peak (10,881′).
Crystal Bay is the deepest part of Lake Tahoe
Measuring in at a staggering 1,645 feet, Crystal Bay is the deepest part of the Lake. The California/Nevada state line is situated at Crystal Bay, and you can stroll from one state to the next along the calm waters of the bay.
Lake in the Sky
Drifting along the lake while the water is calm will make you think twice about which way is up and which is down.
Thirty-nine trillion gallons of pure, crystal clear water can give you a perfect, real-life reflection of the sky, hence, the name Lake in the Sky. This is perfect pausing a busy life to reflect and refresh yourself.
Conclusion
All of nature is beautiful and we are blessed to be surrounded by some of the most majestic scenery on the planet. There are many ways we can help in protecting our planet.
You can start by learning more about the places you will visit and observe the locals' means of preservation. Maybe it is simple, but if we apply those practices wherever we go, we can make a positive impact.
Learn ways in which you can protect our beautiful planet and pass that information along to others. As we all know, knowledge is power!