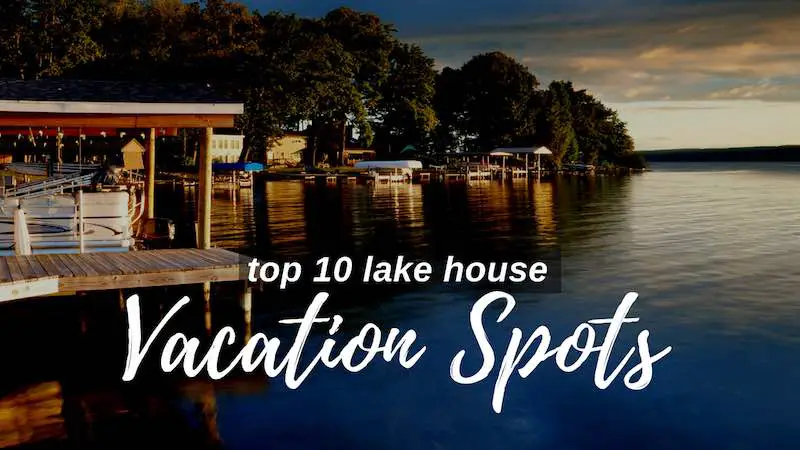 Top 10 Lake House Vacation Spots In The US
(Last Updated On: November 25, 2021)
Nothing beats a relaxing lakeside vacation. You can hike, swim, explore and cozy up to a bonfire at the end of the day. A lake house vacation gives you all the fun of a beach vacation, without the crowds and crazy high prices that you will find with some ocean side rentals. If you are looking for the best lakeside towns and resorts in the country, we've got you covered. Here are ten of our absolute favorite lake house vacation spots and why we love them.
Top 10 lake house vacation spots in the US
Lake Champlain, New York and Vermont
Lake Champlain is a gorgeous North-Eastern lake that stretches along the border of Vermont and New York. There are plenty of charming little towns surrounding the lake – some of our favorites include Grand Isles, VT, and Willsboro, NY. It is not problem getting between the two states as there are three ferry boats that connect Vermont to New York from three cities. They run 24 hours a day, 7 days a week. Lake Champlain is the eighth largest naturally occurring body of freshwater in the continental United States. The lake has 81 species of fish. It is well known for its bass fishing and according to Bassmaster, Lake Champlain is listed as number 5 in the United States. In Burlington, VT, you can stay in a house right on the lakeshore. Beautiful mountains and green forests make up the surrounding area. We love Lake Champlain for all of its options. With a lake this size spanning state borders, there will be something for everyone, from great pubs and breweries to challenging hiking trails. Whatever state you are staying in, you will find the vacation you are looking for at Lake Champlain.
Big Bear Lake, California
When you think of a vacation in sunny California, what comes to mind? Sandy beaches and Hollywood hills? Actually, California has some of the best natural scenery and mountain lakes in the country. Big Bear is a charming man-made lake in rural Southern California. It is a completely snow-fed lake.
Big Bear Lake provides an attractive setting for many outdoor activities, including fishing (trout, bluegill, crappie, catfish and largemouth bass), pleasure boating, and water skiing. It offers over 20 miles of coastline. The local town has some amazing restaurants and craft breweries.
One of the best things about a vacation in Big Bear is that you can really go big – vacation rentals right on the shore offer 9 or 10 bedrooms. That's enough to host the whole family, in a beautiful mountain location.
Smith Mountain Lake, Virginia
For a stunning and relaxing summer vacation, head away from the crowds to Smith Lake in the wild mountains of Virginia. This is not a typical tourist destination, which means you will be able to find peace and quiet in a serene mountain setting. Wherever you stay in Smith Lake, you will be able to enjoy the calm, clear water and gorgeous natural scenery. It is a great place to spend a quiet afternoon out kayaking or canoeing, spotting birds or fishing. Smith Mountain Lake offers waterfront cottages or accommodation in the charming little community of Moneta nearby. It is a great spot for fishing and hiking, a perfect getaway for a pleasant family retreat.
Lake Michigan, Michigan
It would be hard to talk about the best lakeside vacations in America without bringing up Lake Michigan. It's a gorgeous spot for a safe and fun family vacation. Anywhere you visit on this massive lake will be stunning, but our best recommendation is to stay in Traverse City, Michigan. The lakeshore in Traverse city is a little quieter, less popular than other areas around Lake Michigan. The water is blue and crystal clear, almost like a tropical ocean – and it gets hot enough for swimming and sunbathing in the summer. People also like to sail, kayak and fish on the water. There is plenty of hiking and exploring to be done in the surrounding area. Lake Michigan is the perfect getaway for a busy family, eager to spend some quality time together.
Finger Lakes, New York
Eleven smaller natural lakes in Northern New York make up the Finger Lakes. Depending on where you go, there are all kinds of sights to be seen in the area. Ithica, near Cayuga Lake, is home to Cornell University and has a lively college town feel. On Keuka Lake, you will find plenty of camping sites and a great spot for boating and fishing. Nearby Taughannock falls is a gorgeous place to hike, birdwatch or just explore the wilderness. While you are in the region, make sure you tour some of the amazing local vineyards and visit a few high-class restaurants. Because all of the Finger Lakes are small, glacier lakes, you will find smaller communities around them. You will be able to find quaint family-friendly accommodation without breaking the bank. If you love fishing, make sure you check out Seneca lake for a chance to catch some famous mountain trout.
Lake Coeur D'Alene, Idaho
Idaho is known for its natural beauty and Lake Coeur D'Alene, in our opinion, is one of its best vacation spots. This Northern Idaho lake is uniquely shaped with multiple bays. Some of the more well-known spots include Windy Bay, Bennet Bay, Sun-Up Bay, and Rockford Bay. All of those bays make the lake private, calm and fun to explore, with plenty of options around every corner. Kids and grownups alike will love this vacation spot. The area around Lake Coeur D'Alene has some exquisite high-class dining, golfing, cinemas, and resorts. There are plenty of accommodation options along the shores and in the surrounding area to meet your budget and allow you to get the most out of the lake lifestyle.
Soldotna and Sterling, Alaska
Speaking of natural beauty, this list would not be complete if we did not bring up Kenai Lake, Alaska. This gorgeous mountain lake, fed by the Kenai River, is accessible from the two towns of Soldotna and Sterling. Both towns have plenty of accommodation options and tons of local flavor. In the surrounding area, you will find hikes with pristine mountain views, incredible fishing spots and chances to get up close and personal with nature. This is a great spot to spend the whole summer, relaxing and getting to know a friendly new community.
Deep Creek Lake, Maryland
Just like Lake Michigan, there are tons of places to stay around Lake Eerie. Our recommendation to get the most out of this great lakes clear blue water and sandy beaches, is to stay in or around Sandusky, Ohio. There, you will find plenty of accommodation both on and off the lakeshore. Get close to nature or spend some time in the city. You can even visit the world-famous Cedar Point to ride a few roller coasters.The Ohio shore of Lake Eerie offers over a hundred miles of pristine coastline. Wherever you go, you will definitely be able to find a great spot for the whole family to enjoy.
Grand Lake, Colorado
Last but not least, this quaint lakeside town at the foot of Shadow Mountain, Colorado is an amazing place to comfortably get back to nature. Shadow Mountain offers a ton of hiking and exploring. The shore of Grand Lake is not as popular of a tourist destination as some of the other options on our list. This means you will be able to play and relax without feeling overwhelmed by crowds. One of the best summertime activities on Grand Lake is to rent a pontoon boat and spend the day floating, cruising and swimming. Pack a cooler and a picnic lunch, and you will enjoy spending the whole day out in the sunshine. While you are in Grand Lake, you can take a detour to the nearby Rocky Mountain state park for some amazing hiking and camping opportunities.
Conclusion
Whether you are looking for a place to host the next family retreat, planning a honeymoon or anniversary trip, throwing a party or just hoping to get away for a quiet weekend, a vacation in any of these lakeside American towns is the perfect opportunity. A vacation on the lake can be as relaxing or as active as you need it to be. Hike, swim, sunbathe and enjoy the natural scenery from the comfort of your lake house or cottage. Remember to get a souvenir tee shirt wherever you go – and don't forget to pack the cooler
 Lake house or cabin? Your perfect vacation awaits!