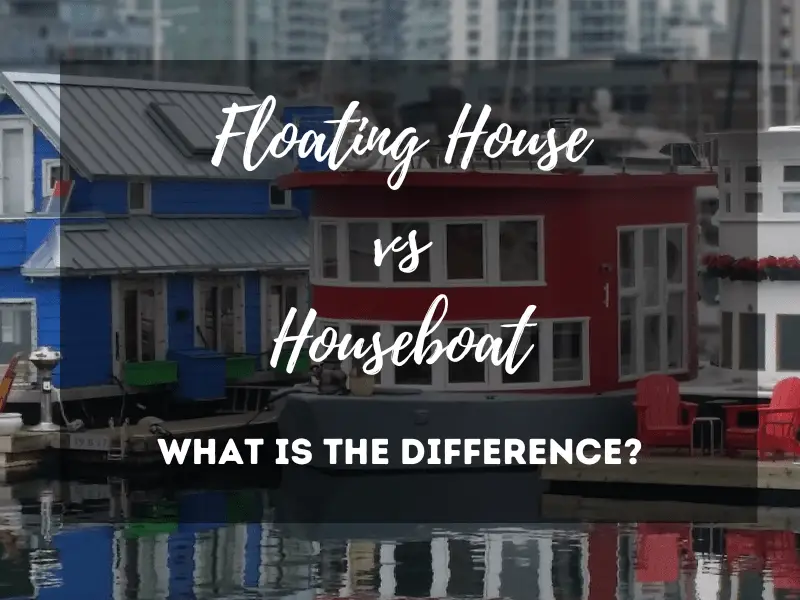 Floating House VS Houseboat: What Is The Difference?
(Last Updated On: March 19, 2023)
The main difference between a floating house and a houseboat is that the houseboat is capable, with a motor, of moving under its own steam.
A floating house is tethered to a dock or to the shoreline and would need to be towed to be moved.
Houseboats also tend to be a little smaller (not always) than floating homes, partly because they are mobile.
Living In A Floating Home Or Houseboat Is Tranquil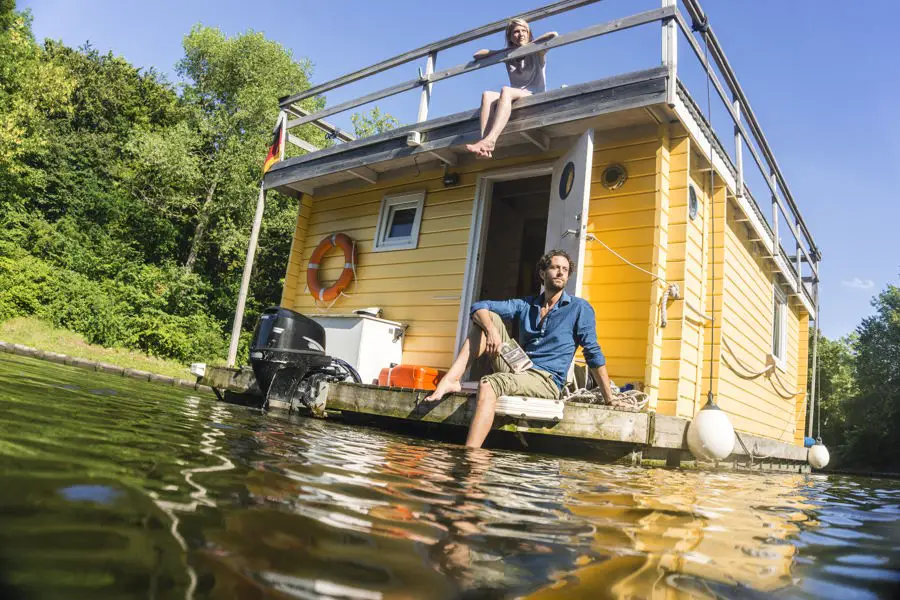 What the owners of floating homes and houseboats share are their love of the water and the desire to be close to it. Either of these types of homes is ideal for those who love swimming and fishing and being surrounded by nature.
Stepping out your front door and into the waves or throwing a line off the deck is all that is required to enjoy these sports when your home is already on the water.
There is a peacefulness when you are off the beaten path, and in a rural setting where you can hear nature and be part of the serenity it brings.
Main Difference Between Floating Home And Houseboats
For those who love the water and want to live on it, there are two main options: houseboats and floating homes. While both offer unique advantages, there are important differences to consider when making a decision.
Houseboats are essentially boats that have been designed and modified to function as a home. They are often self-contained, with their own power, water, and sewage systems.
Houseboats are typically more mobile than floating homes, as they can be moved from one location to another, much like a regular boat.
This makes them an excellent option for those who love to travel or who want to live on the water but don't want to be tied down to one location on the lake.
Floating homes, on the other hand, are stationary structures that are built on the water. They can be more spacious and have more amenities than houseboats.
Floating homes are typically connected to a dock or a mooring, and they cannot be moved as easily as houseboats. This makes them an excellent option for those who want a more permanent home on the water.
Construction Of On-The-Water Homes
One of the biggest differences between houseboats and floating homes is their construction. Houseboats are built to be lightweight and easy to move while floating homes are built to be more substantial and stable.
Houseboats are often constructed with aluminum or fiberglass while floating homes are typically built with wood or steel.
Another difference between houseboats and floating homes is their cost. Houseboats are often less expensive than floating homes, as they are smaller and require less maintenance.
Floating homes can be more expensive, especially those that are custom-built or located in popular areas. You can, however, do some of the work yourself on a floating home and cut down on construction costs.
Where Did Floating Houses Originate?
Floating houses have been in existence for centuries. The Uros people of Lake Titicaca in Peru created floating reed islands on which they constructed their homes.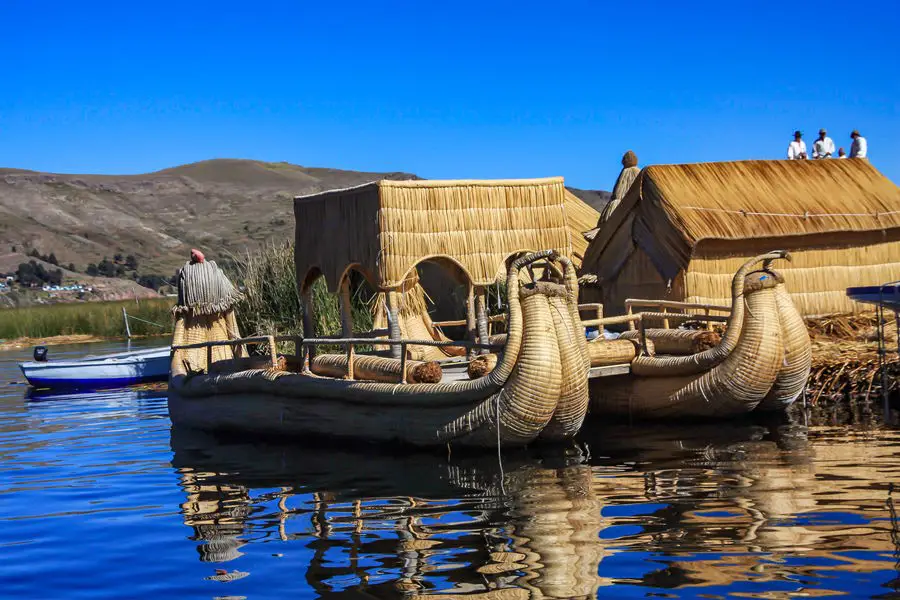 The islands and homes were made from dried Totora reeds. One of the Uros's floating islands can last up to thirty years.
The Dutch were building floating houses in the 1600s. Greece's island of Athens has had floating houses for years. All around the world, the idea of a floating house is a concept that has been in existence for centuries.
Reasons To Consider A Floating Home
A cabin in the woods has the same draw for people as a floating house; you are in the middle of nature.
These lake locations provide beautiful views and unique perspectives on life. It is not an apartment with people above and below you, and there is not the roar of an expressway nearby.
Many houses that float have rooftop views of stunning landscapes and an endless supply of fresh air.
A floating house has immediate access to water sports. Many floating houses have decks, so you can simply step out your door and drop a line in the water or dive off.
The entire lake is your swimming pool when you are in a floating house. It is also the perfect reason to have a boat, whether it be big or small, as a boat gives you the ability to get around the lake your house is floating on.
There is less stress on the open water. No matter where you go, or what you live in, there is always going to be stress in your life, but being in a floating home can cut those stressors way down.
The environment is tranquil and there are huge advantages to not having to mow the lawn or maintain the average home.
Take A Look At A Floating Home
This couple has been living life in a floating home and learning as they go. They have also brought their dog along, who seems to be living its best life.
Check out the YouTube video to see an example of what life on a floating house is really like:
Houseboats VS. Floating Houses… What The Real Differences
Things To Think About
If you're considering living on the water, there are a few important questions to ask before making a decision:
1. How much mobility do I want?
2. How much space do I need?
3. How much can I afford to spend?
4. How important is stability to me?
5. What are the zoning laws in the area where I want to live?
Spots To Locate Your Floating Home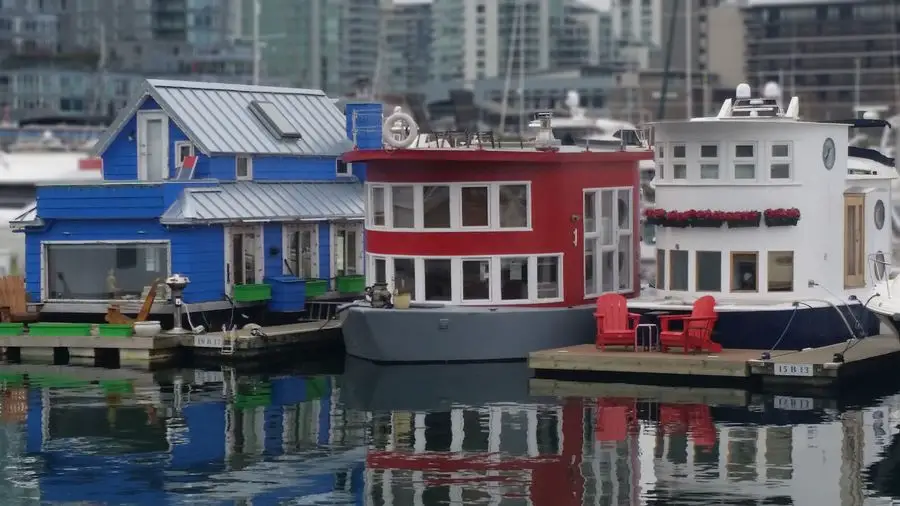 There are floating homes all over the world. Some lakes have entire communities that live on the water. If you are thinking of a floating home, do some research to find out where one might be best suited.
Popular spots for houseboats or floating homes include:
1. Sausalito, California: This waterfront town just north of San Francisco is home to a large number of houseboats and floating homes.
2. Lake Union, Seattle: The houseboats on Lake Union are famous for their unique designs and beautiful views of the city.
3. Amsterdam, Netherlands: The houseboats in Amsterdam are an iconic part of the city's landscape, and many are available for rent or purchase.
4. Vancouver, British Columbia: Vancouver is home to several floating homes, including the famous "float home village" in False Creek.
5. Portland, Oregon: The houseboats in Portland are a popular way to enjoy the city's beautiful waterways.
6. Huddleston, Virginia: Smith Mountain Lake, a man-made reservoir has a marina, Mitchell's Point, that offers year-round docking leases for houseboats.
7. Friday Harbor, Washington: You can park floating houses up to 80 feet long at the Port of Friday Harbor and pretend every day is Friday.
Final Thoughts
In the end, the decision to live on a houseboat or floating home will depend on your individual needs and preferences. Both offer a unique and exciting way to live on the water, and each has its own advantages and challenges.
By considering your options carefully and doing your research, you can make the right choice for your lifestyle and your budget.