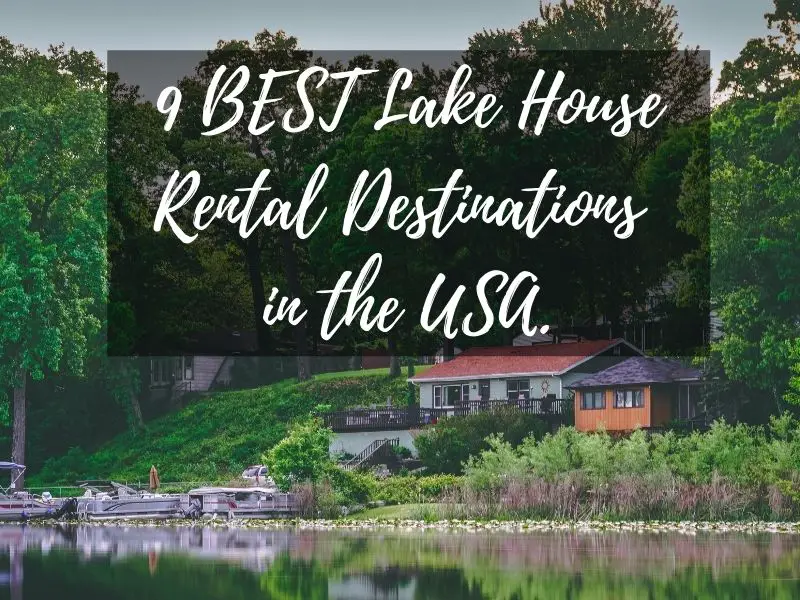 9 BEST Lake House Rental Destinations in the U.S.A.
(Last Updated On: July 12, 2022)
There are fabulous lakes in America and they are a major draw for people looking for time away in a fun and relaxing spot. Both incredible scenery and numerous options for water sports make lakehouse rentals immensely popular. From romantic getaways to family vacations, these 9 lake house rental destinations in the U.S.A. will have you coming back again and again!
New York's Finger Lakes region is well known for its breathtaking scenery that includes waterfalls and gorges. There are eleven glacial lakes and one Great Lake that offers spectacular shorelines and rolling hills. This 9,000 square mile region in New York is the size of New Jersey!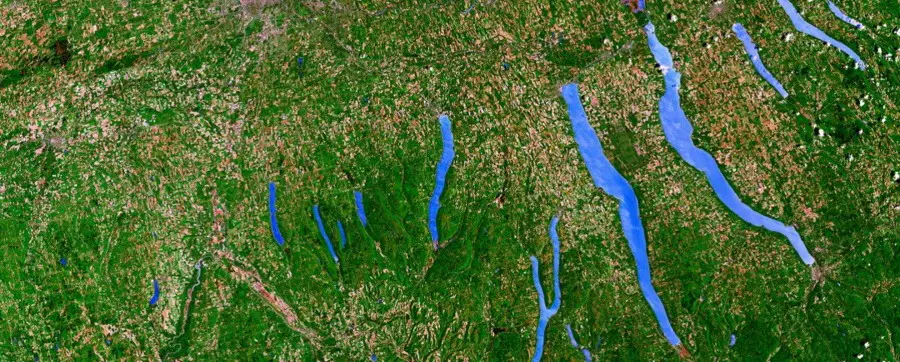 While renting a lake house in the Finger Lakes, it is good to know that New York is the third largest wine producing region in the United States, behind California and the state of Washington. There are over 130 wineries, wine tours, wine bars and festivals to visit in the area. If wine is not your cup of tea, there are over 70 craft breweries with various ales, lagers, stouts and IPAs. cideries & distilleries have won awards for their vodka and complex ciders from farm-based orchards. 
Farmers markets will provide the best the region has to offer in fresh produce, free range eggs, cheese, specialty foods and arts and crafts. 
The Finger Lakes region has numerous outdoor activities to enjoy while renting a lake house in the area. You will be able to hike, bike, take a hot air balloon ride or zipline through the trees. 
Make sure to get out on some of the smaller lakes, rivers and historic canals while staying in the Finger Lakes region.  Visit the Watkins Glen State Park that features 19 waterfalls within 2 miles.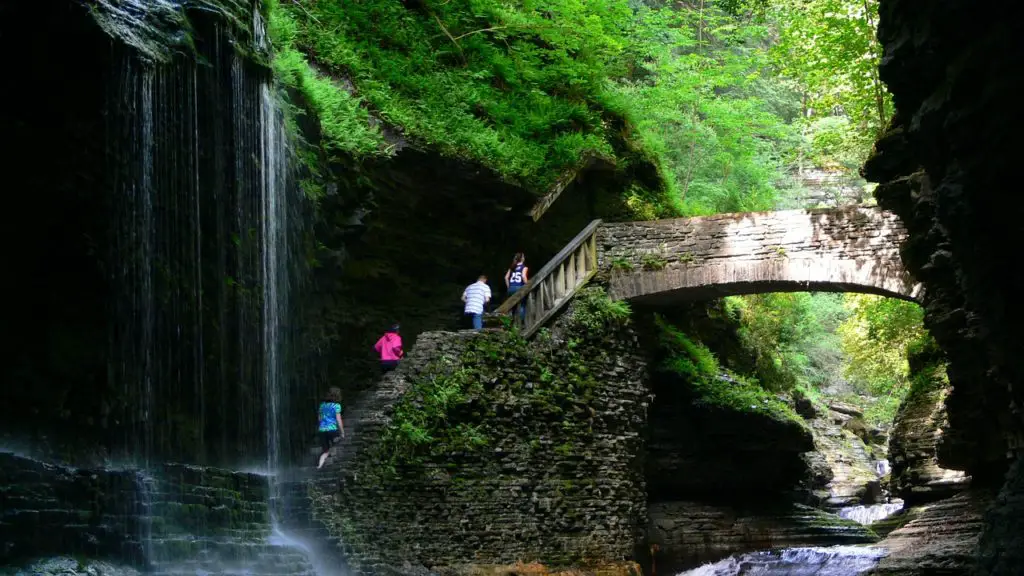 When in the Finger lakes region you can choose to rent a cozy cottage, cabin or luxury home on one of the many lakes. Some of the more popular lakes are:
The lake is home to Squaw Island, a small state park that is excellent for hiking, and is one of the only two islands on the Finger Lakes. This lake is very popular with families. 
Traditionally, Conesus Lake has been a productive fishery for warmwater sportfish and panfish. The shallow depths of the lake make it perfect for swimming and fishing. 
Highly regarded as a fishing lake, Honeoye boats of bluegill pumpkinseed, yellow perch and black crappie. At only 30 feet deep, the lake freezes over completely in winter which makes for good skating. Walking trails and the Sandy Bottom Park and Nature Trail will fulfill all your hiking needs. 
Nicknamed "Crooked Lake " because of its "Y" shape, Keuka Lake is unique and photogenic all year round. Although one of the smaller Finger Lakes, Keuka has a wonderful wine trail and there are a number of parks and boat launches, docks and hiking trails.  
 

View this post on Instagram

 
The largest of the Finger Lakes, Seneca Lake is also the deepest glacial lake that is entirely within the state of New York. The south end of the lake is host to the Watkins Glen International  racetrack. The lake is popular for fishing lake trout, rainbow trout, brown trout, landlocked salmon, large and smallmouth bass and northern pike. 
The longest of the Finger Lakes, Cayuga Lake has boat cruises, canoe rentals, restaurants and fishing charters. Cayuga Lake Wine Trail is the longest running wine trail in the United States. There are a total of 16 member wineries, all of which are dog-friendly. 
When you think of Georgia, you might think of peaches. There are also over 30 lakes, some of which were created by nature and some by man. Georgia has numerous (almost 4,000) reservoirs created by damming of rivers like the Chattahoochee, Oconee and the Savannah. This has created opportunities for lake houses all over the state of Georgia.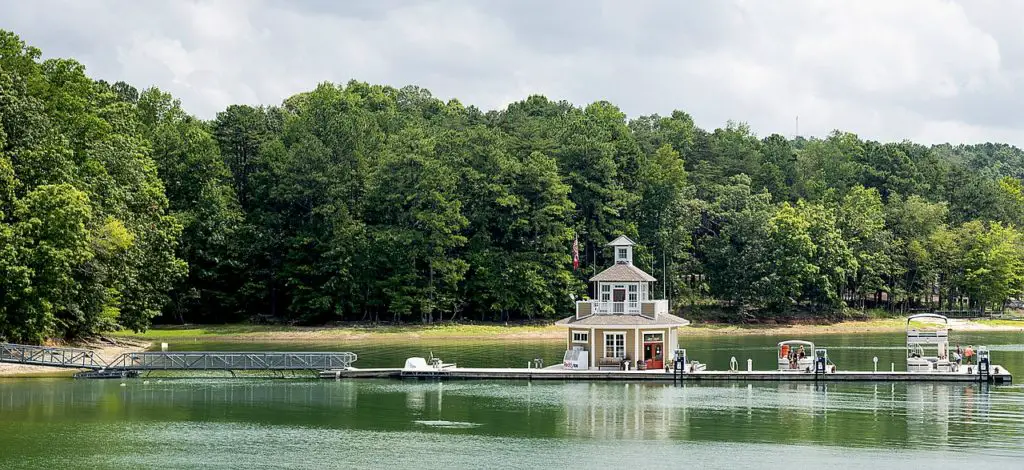 You will never run out of things to do in Georgia, as there are multitudes of events, festivals, shopping, and arts and culture. Georgia is also home to the film industry with thrillers like Ozark and Stranger Things that have been filmed there. 
Once you settle into your lake house rental, there are all types of adventures to participate in.  
The Chestatee River offers some of the best tubing in Georgia. This beautiful and serene waterway is a relaxing 45 minute float. You can also Dive Georgia in Kraken Springs, the only recreational open water diving park in the state. 
Take time to visit Margaritaville at Lanier Islands for a fun time at this 1,500-acre park with sandy white beaches, giant water slides, amusement rides and the biggest wave pool in Georgia. Not to miss, the Okefenokee Swamp is captivating and mysterious. Take a canoe or kayak to admire the beauty of the swamp. 
Some of the popular lakes and reservoirs in Georgia are: 
Lake Lanier:: (Georgia's most visited lake) 
This lake is popular for fishing and boating. Lanier is the largest lake in Georgia and has nearly 700 miles of shoreline. There are golfing facilities and world-class kayaking, water skiing and swimming sports. 
Covering over 12,000 acres, Lake Allatoona has 270 miles of shoreline. There are over 25 parks, 8 marinas and 10 campgrounds along with many great places to fish. 
One of Georgia's most picturesque mountain lakes, Blue Lake Ridge has crystal clear aquamarine waters. The area offers numerous campsites, boat ramps, full service marina and public swimming and picnic areas. 
 

View this post on Instagram

 
Boating, fishing, water skiing and swimming are just a few of activities you can enjoy on this man-made reservoir. There are three gated golf course communities, three parks and one national forest. 
One of the first lakes in the U.S. to be created for power generation in 1920, trout are raised on the lake for stocking other streams and lakes in north Georgia. The lake is great for boating, wakeboarding, tubing, water skiing and fishing. 
A favored spot for both recreation and professional bass tournaments, Lake Hartwell is one of the top fishing lakes in the country. Fish as large as 60 pounds have been caught from its waters. 
Idaho has a lot of mountain scenery and large swaths of forest. Idaho lakes have everything to lend itself to a memorable vacation in a lake house. There are more than 2,000 lakes, with names, and thousands of others without names in Idaho. Lake Pend Oreille is thought to be among the most beautiful in the world. Surrounded by forested mountains, many of Idaho's lakes have spectacular settings.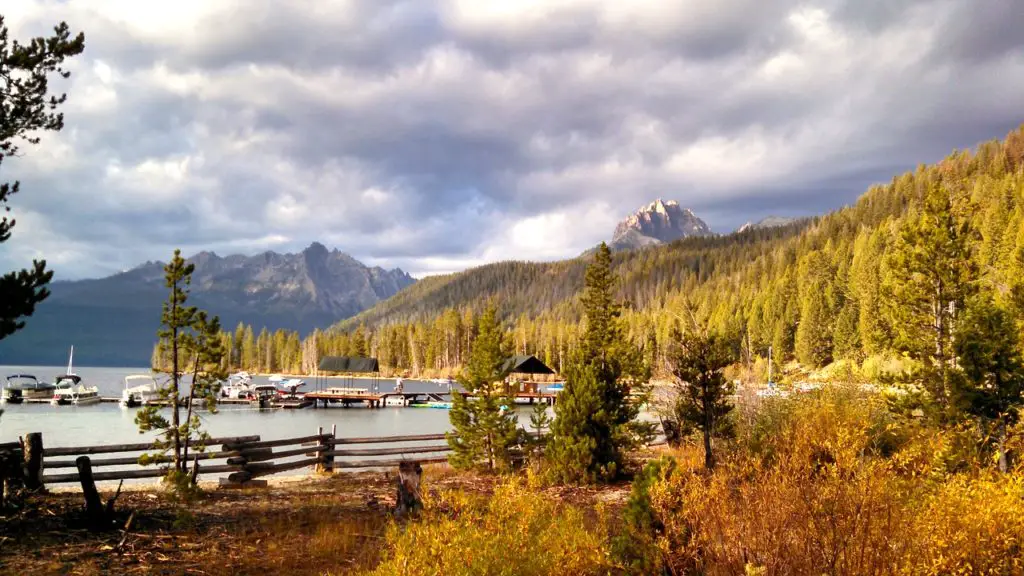 Idaho's hot springs allow you to bask in natural surroundings that are tucked away on mountain paths or beside rivers. If you would prefer to be on the water, you can try your hand at fishing in Idaho's lakes and rivers. 
This guide to fishing in Idaho says that some of the common fish you will find are brown trout, rainbow trout, bull trout and largemouth bass. Most Idaho waters have year-round fishing. You will also find that there are  plenty of opportunities for water & jet skiing, boating, whitewater, rivers & lakes along with boating and sailing. 
Some of the popular lakes in Idaho are:
Called the "Caribbean of the Rockies," because of its intense turquoise blue waters, Bear Lake offers jet skiing, sailing, boating, fishing and swimming. In winter, there is snowmobiling, ice fishing and snow skiing. 
This small, shallow alpine lake is two miles south of the continental divide. The lake is home to migrating birds like bald eagles, red-tailed hawks and red-winged blackbirds. The lake is popular for sport fishing and has many hiking trails, camping facilities and boat ramp.
This lake is ideal for boaters, water skiing, sailing and other water sports. There are spectacular mountain views around Lake Cascade. An ideal fishing lake, both in summer and winter, there are plenty of trails for hiking and mountain biking. 
Lake Pend Oreille:(Idaho's largest and deepest lake)
The 43-mile long lake is a hub for watersports, fishing and boating. The lake is also the top testing site for Navy submarines for over 65 years. Surrounded by miles of national forests, there are endless trails to explore around Lake Pend Oreille. 
 

View this post on Instagram

 
Payette Lake offers excellent boating and sandy beaches on the glacial waters. The mountain scenery is spectacular and the lake hosts the Payette Cup Regatta each year. 
Known as the "Crown Jewel" of Idaho, Priest Lake is a pristine lake that stretches over 19 miles long. Surrounded by state and national forests, the view is magnificent. Fishing and boating are some of the favorite activities on the lake. 
Michigan, the Great Lakes State, has its fair share of lakes, with over 10,000. With miles and miles of sandy beaches and historic lighthouses, Michigan has the nation's longest freshwater coastline. The state is a boaters paradise, as Michigan is one of the top states for the number of registered boats. You will find plenty of amenities for boaters including public launches, harbors and marinas.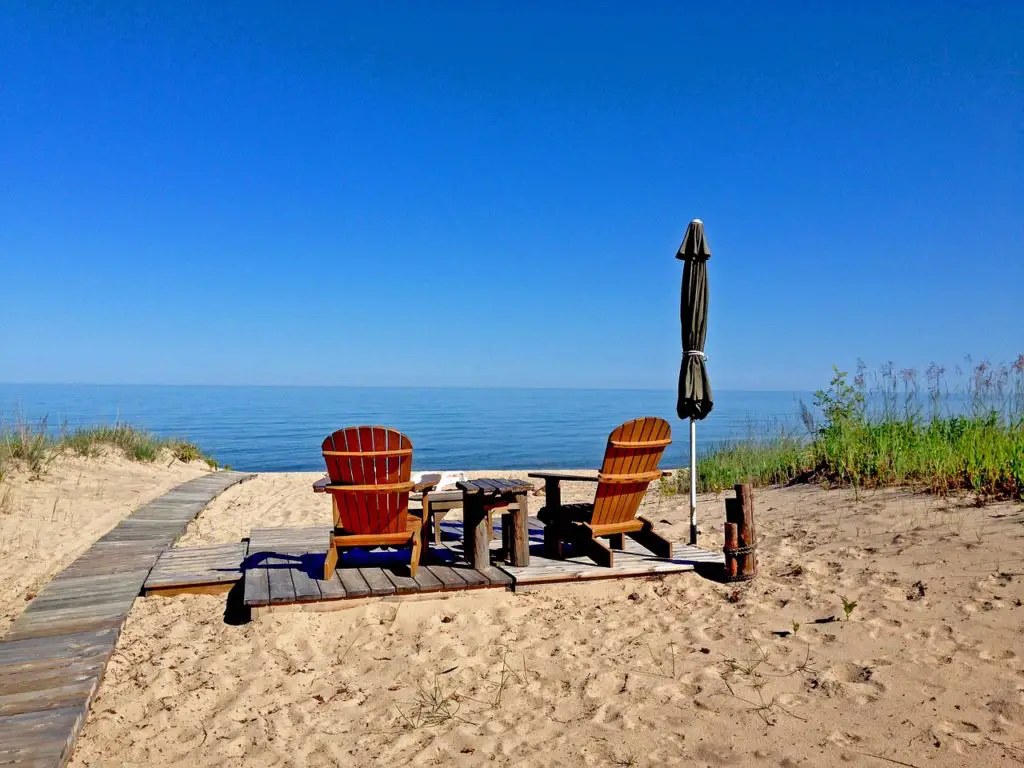 Mackinac Island is a popular location for visitors that boasts no cars, but a lot of its famous fudge and the historic Fort Mackinac. If you rent a house along Lake Huron's Saginaw Bay, you will find numerous river cruises, shopping at Birch Run, one of the largest outlet malls in the Midwest and the Alpine Mountain Adventure Park and Wilderness Trails Zoo. 
If you venture into Michigan's Upper Peninsula along Lakes Michigan and Superior, you will be able to explore the 894,836 acre Hiawatha National Forest. Six historic lighthouses are located on the forest's grounds that can be toured. A segment of the North Country Trail cuts through the forest, along with five National Wild and Scenic Rivers. 
There is no shortage of the ability to hike, mountain bike, canoe, horseback ride and camp in the Hiawatha National Forest. Whitetail deer season is huge for hunters in Michigan, but they are also one of the leading states in the nation for upland bird hunting, particularly ruffed grouse and woodcock. 
Some of the popular lakes to rent a lake house in Michigan are:
The third largest of the Great Lakes, the water of Lake Michigan has an unusual circulatory pattern and moves very slowly. Trout, salmon, walleye and smallmouth bass fisheries are prevalent on the lake. Besides various watersports, Lake Michigan has its share of shipwrecks that make it a favorite with scuba divers. There are four dozen lighthouses that stand along the beaches of Lake Michigan. 
Lake Superior: (the world's largest freshwater lake)
Lake Superior contains as much water as all of the other Great Lakes combined and has 10% of all the earth's fresh surface water. Lovely in the summer, Lake Superior produces the greatest lake effect snow on earth in the winter. Traveling around the lake is a 1,300 mile journey, so there are many places to see in the area. Great Lakes Shipwreck Museum, Tahquamenon Falls and the Pictured Rocks National Lakeshore are just a few of the places to visit. 
 

View this post on Instagram

 
Lake Huron has over 1,00 shipwrecks and is characterized by shallow, sandy beaches and rocky shores. While renting a home on Lake Huron, you can go on shipwreck tours, charter fishing and visit the Great Lakes Maritime Heritage Center. As Michigan is home to more lighthouses than any other state, there are also many lighthouses to tour. 
Kayaking is a favored sport on Lake Erie and is one of the best ways to experience the lake. There are dinner cruises and wineries to visit, too. Just off the north shore of Lake Erie is Presque Isle State Park where you can hike, swim, picnic and watch wildlife. While there, visit the Tom Ridge Environmental Center that allows you to experience the unique history and diverse ecosystems of the Park.
Lake Charlevoix has great beaches. Ferry beach is family-friendly and offers a shallow swim area. The lake itself is ideal for going exploring on a kayak, sailboat, motorboat or stand-up paddleboard. 
This is a very deep lake with incredibly clear waters that change from green to gold to turquoise. Known as a party place, Torch Lake draws partygoers all through the summer, especially on July 4th. 
When you think of Ohio, you may think of Cedar Point amusement park, but there are a number of lakes that would be perfect to rent a house for vacation. While vacationing in Ohio, there is the Rock & Roll Hall of Fame on Cleveland's waterfront that has become something of a pilgrimage site for lovers of music.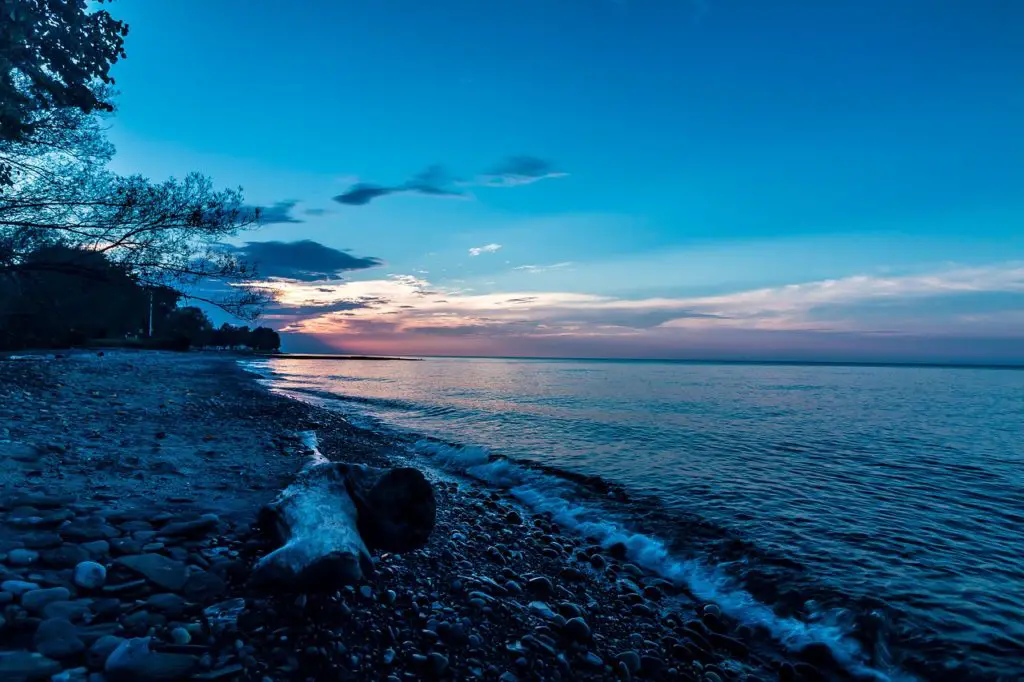 The National Museum of the United States Air Force near Dayton Ohio. If you can spare some time away from the lake house visit the Columbus Zoo, which is consistently rated as one of the top zoos in the nation. 
When looking to rent a lake house in Ohio, some of the popular lakes are:
Just as in Michigan, Lake Erie has an impact in Ohio also. Great for swimming and watersports, Lake Erie is also prized for fishing for perch and walleye. Kayak from Port Clinton for some of the best views along the shore. 
A favorite lake for boaters, this 3,000 acre lake allows boats of any horsepower and has a dedicated ski area. Eight boat ramps and two marinas make it easy for boaters. The lake has the largest inland beach in Ohio and is also a popular spot for anglers. 
This is a system of connected waterways, rather than a single lake. The system is made up of eight lakes that have opportunities for boating, fishing, swimming and some of the best bass fishing in northeast Ohio. 
One of the main draws to Alum Creek is that it has a 3,000 foot long beach that is a popular spot for volleyball courts. It also has a four-acre dog park where pooches can play in the water and run in a fenced area. 
 

View this post on Instagram

 
A man-made lake in west-central Ohio, this boater-friendly lake has easy access to boat ramps and swimming areas. There is a kayak launch, too. Fishing for largemouth bass, crappie and channel catfish is also a favorite pastime on the lake. 
Popular with boaters and campers, there are docks, boat launches, concessions and amenities located around the lake. Walleye are plentiful in the lake and there is a public swimming beach with facilities, showers and restrooms.
While renting a lake house holds enough attraction in itself, while in South Carolina be sure to explore the streets of Charleston and tour some of the south's most beautiful plantation homes. Visit the fort in Charleston Harbor where the Civil War began and tour the The Old Exchange which reveals more of the city's history. 
Patriots Point is where you will be able to tour the historic Essex-class aircraft carrier USS Yorktown. From April through November, South Carolina is a destination for deep sea fishing when in pursuit of sailfish, amberjack, cobia and giant blue marlin. 
When looking to rent a lake house in South Carolina, some of the popular lakes are:
The largest lake in the state, Lake Marion stretches across five different counties. A man-made reservoir built during the Great Depression, Lake Marion has an abundance of fish and wildlife. 
Fed by waters from the Appalachian Mountains, Lake Jocassee sits within the Devils Fork State Park. The water in the lake is cool year-round which makes it great for fishing. It is also a favorite spot for scuba divers and swimmers. Lake Jocassee was the setting for the film Deliverance and The Hunger Games.  
The second largest lake in South Carolina, Lake Strom Thurmond, is shared with Georgia. There are parks, campgrounds and marinas that surround the lake and attract millions of visitors each year. They are drawn for fishing, camping, hiking, boating and horseback riding. 
A man-made reservoir, Lake Keowee is great for swimming, sailing, kayaking, water skiing and windsurfing. The lake was named after a Cherokee settlement that has sat on the edge of the lake. 
 

View this post on Instagram

 
Shared with North Carolina, Lake Wylie's shoreline has picnic areas, boat launches, fishing piers, yacht clubs and golf courses. Lake Wylie has numerous yearly events that include water sport teams, live music and festivals. 
The oldest man-made lake in South Carolina, Lake Wateree, was created in 1919. The lake is a haven for birds, and therefore birdwatchers. The state park on the shoreline has picnic shelters, a nature trail, playground and camping sites. 
A lake house rental in Tennessee would be a relaxing proposition, and once you have recharged your battery, take some time to visit some of Tennessee's major attractions. Elvis may have left the building, but in Memphis, Graceland is still open. It is undoubtedly the most famous rock 'n' roll residence in the world.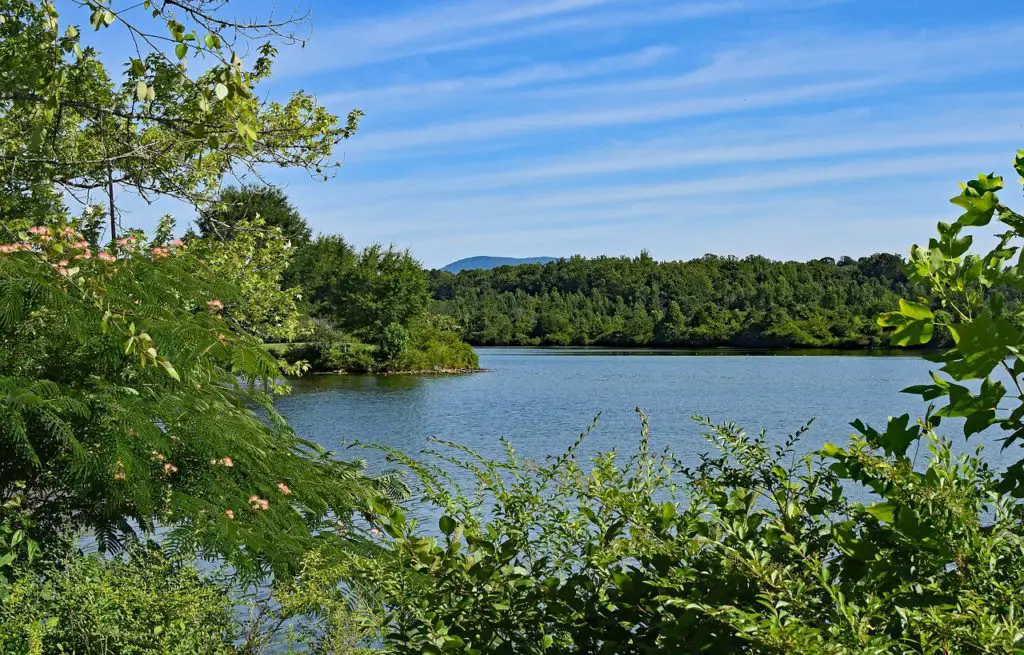 Keeping with the musical theme, the Grand Ole Opry is also a one-of-a-kind mecca for country music fans. Tennessee has a rich musical history, but it also has other significant places to visit. Lookout Mountain offers some of Tennessee's best views and getting there aboard the Lookout Mountain Incline Railway is half of the fun. 
When looking to rent a lake house in Tennessee, some of the popular lakes are:
Surrounded by hills, forest and rock formations, Norris Lake has vacation rentals, campgrounds and boat ramps. Boating, swimming, fishing and water skiing are popular on the lake. 
Located in Knoxville, Cherokee Lake is known for bass fishing and the clear blue waters of the lake. Cabins and vacation homes for rent, along with camping brings many visitors to the area. 
The lake has several marinas to park your boat or rent one while you are vacationing in a house on Center Hill Lake. Fishing is year-round and there are several tournaments held in the summer. 
Only a few miles from Pigeon Forge and the Great Smoky Mountains National Park, Douglas Lake is perfect for swimming, boating and hiking the trails in the nearby mountains. 
 

View this post on Instagram

 
This lake straddles both Kentucky and Tennessee and is one of the best lakes for fishing in the eastern U.S. There are plenty of family activities on the lake and off with hiking, biking, horseback riding and hunting. 
Halfway between Knoxville and Chattanooga, Watts Bar Lake is a reservoir that offers paddling, fishing, swimming and camping. The Betty Brown Memorial Walking Trail offers a scenic hike that winds around the lake's shoreline. 
Their slogan is that "Virginia is for Lovers", and while that may be true, you can bring the family along when you visit. If you take some time from the lake rental house, you might want to take the family to the Virginia Aquarium and Marine Science Center. There are over 700 different species of animals, 12,000 individual animals and 800,000 gallons worth of exhibits.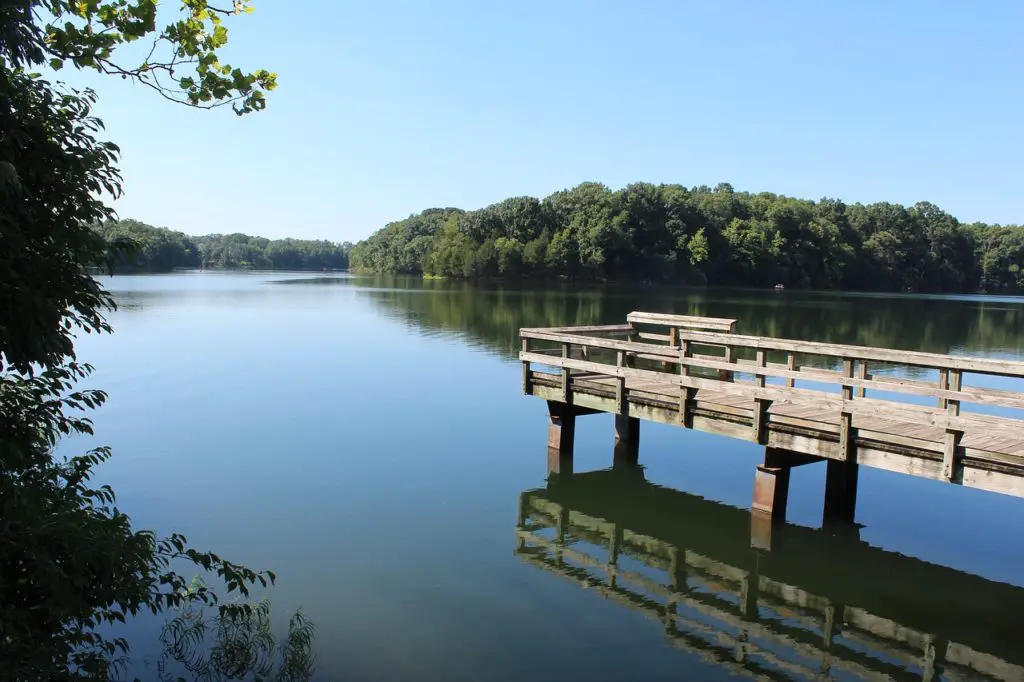 The Luray Caverns were first discovered in 1878 and are now a National Landmark in Virginia. Packed with natural wonders, they are worth going to see the flowstones, stalactites and mirror pools. 
Arlington National Cemetery might not be considered an "attraction" spot, but it is a sacred place that should be visited if you get the chance. Covering 624 acres, this military cemetery is the resting place of President John F. Kennedy and the Tomb of the Unknown Soldier. 
Historic Jamestowne has an array of galleries and museums that showcase the history of English colonization and is worth the visit. 
When looking to rent a lake house in Virginia, some of the popular lakes are:
This lake is the most popular in Virginia and allows a wide variety of watersports and has both lakefront and off-water real estate around the lake. It is known locally as the "Jewel of the Blue Ridge Mountains."  Striped, largemouth, and smallmouth bass, along with crappie, catfish and yellow perch populate the lake. The movie "What About Bob?" was filmed at Smith Mountain Lake. 
There are lots of lake houses and rentals around Lake Anna's shores. The lake is a perfect spot for fishing and boating. There are sandy beaches, swimming areas and walking and hiking trails all around the lake. 
Kerr Lake is a reservoir being served by the Roanoke River. It is one of the largest reservoirs in the Southeastern U.S. Jet-skiing, and water-tubing along with boating and sailing are popular on the lake. Crappie, catfish, bluegill and bass are some of the fish that can be caught from the lake. 
This lake has been a favorite destination for over 70 years. Anglers prefer the lake for catfish, yellow perch, blue gill, muskie and northern pike. There is a marina with docks and boat rentals and cabins to rent also. Fishing, boating, hiking, and hunting are a few of the activities enjoyed along this lake that is not far from the Ohio Buckeye Trail. 
 

View this post on Instagram

 
Buggs Island Lake (John H. Kerr Reservoir):
As Virginia's largest lake, this lake has over 50,000 acres of fresh water and 800 miles of beautiful shoreline. Water sports such as skiing, fishing, sailing and swimming and off-water activities like camping, hiking, biking, hunting and golfing give you plenty to do on and around the lake. 
Lake Gaston straddles the North Carolina and Virginia border. Lake Gaston has long been a destination for fishing and water activities. It is a favorite vacation spot because it is close to the Research Triangle region of North Carolina. 
This state is known for producing dairy, lumber and beer. Vacationing in the Wisconsin Dells , visiting the lighthouses up and down the shore, experiencing the quirkiness of  Door County or getting away to Apostle Islands are just a few of the things you can do when vacationing in Wisconsin.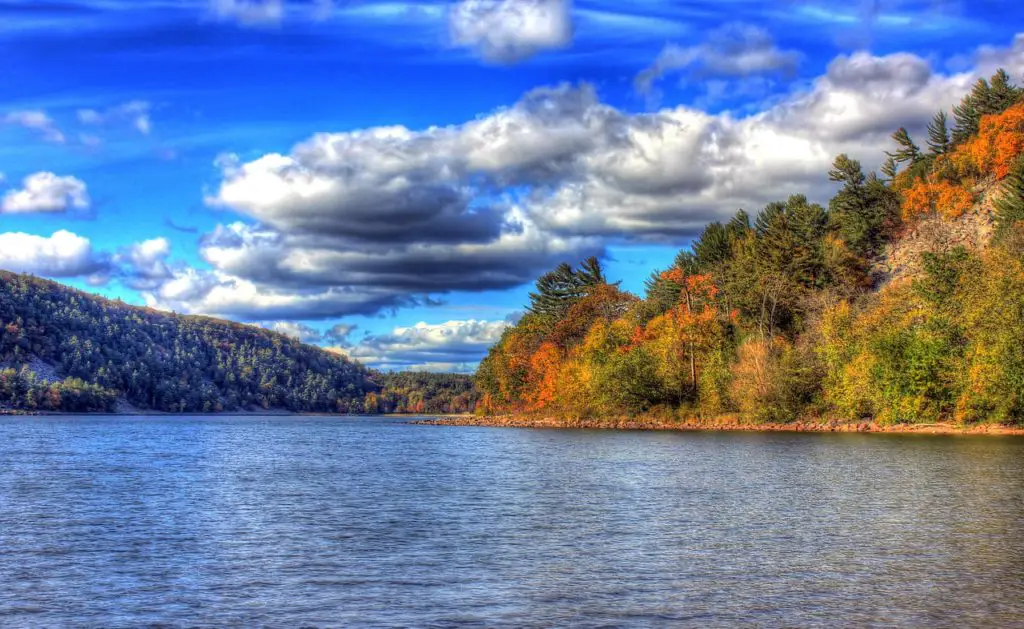 The Milwaukee Art Museum and Frank Lloyd Wright's Taliesin will give you plenty of exhibits to see. Wisconsin is also home to the Harley-Davidson Museum and factory. If you are truly into quirky, stop by The House On The Rock to see one person's collection of all things spectacular. 
When looking to rent a lake house in Wisconsin, some of the popular lakes are:
There are golf courses, hiking and biking along with boating and paddle boarding on Lake Geneva. Petting zoos and horseback riding are available, or rent a kayak and get out on the water.
The lake is surrounded by north woods beauty and wildlife. Minocqua Lake area is considered an outdoors person's paradise for hunting, fishing and all kinds of outdoor recreational activities.
A smaller lake, at just 97 acres, Fowler Lake is in a suburban setting with fishing, swimming and boating. Fowler Lake is alongside Fowler Park where you can enjoy various sports, picnic areas, fishing piers and playground equipment for the kiddies. 
Wisconsin's fourth largest lake, Castle Rock is only 25 minutes from the Wisconsin Dells. The lake has a natural beauty where you can fish, swim, sail, canoe or kayak off the sandy beaches.
 

View this post on Instagram

 
This is Wisconsin's largest inland lake and it hosts Wisconsin's most important fishery. Walleye fishing on the lake is thought to be some of the best in the country. At its deepest, the lake is just 21 feet, and allows navigation through the Fox River inlet to lakes Butte des Morts, Winneconne and Poygan, so you will have plenty of places to boat on the lake. 
Lake Michigan and Lake Superior:
The area in Wisconsin around these lakes are home to lighthouses, forests, sandstone caves and an abundance of wildlife. There are 18 Wisconsin cities that sit along Lake Michigan's shoreline. There are spectacular beaches up and down the shorelines of these two lakes and plenty of sailing, kayaking, kite surfing and diving in the lakes.