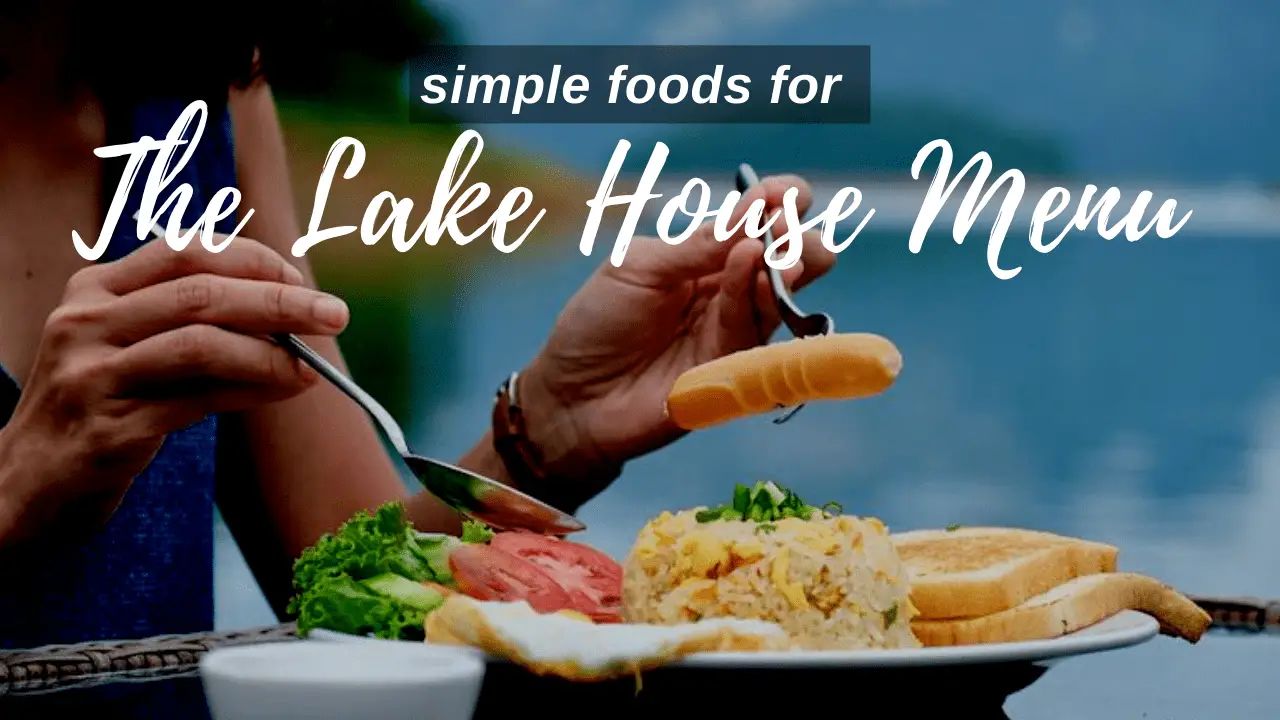 Simple Food for the Lake House Menu
(Last Updated On: November 25, 2021)
Lake houses provide such  marvelous views and adventurous experiences of nature that you just want to spend as much time as possible absorbing it all.
How can you get the most out of your trip?
One answer is simple: easy meals.
That's right, we are going to go over some delicious, easy and quick recipes so you can get back to what you truly want – enjoying your time by the lake. In this guide, we'll show you some simple but delicious foods for your very own lake house menu.
Great Recipes for a Lakeside Picnic
The right snacks and meal can make your lake house trip even more memorable. Your options are bountiful, especially if you're willing to get a little adventurous and forage outside. However, some of the easiest side dishes and snacks can be prepared beforehand.
Great snacks or side dishes include:
A gallon of your favorite beverage
Thinly cut watermelon
Oranges, apples, grapes, and other whole fruits
Sliced cucumbers or tomatoes
Almonds, pecans, or mixed nuts
FINGER FOODS
Everyone loves a good finger food when relaxing outdoors. These options are perfectly easy to create and delectably delicious.
Cheese and cracker spread
Whole fruits like grapes, strawberries, blueberries, apples or pears
Cut peanut butter and jelly sandwiches for the children
Oven-roasted corn – Without removing the husk, back at 400 for 30 minutes. Sprinkle some salt and pepper to taste
Lots of little chocolates – an assortment of milk, white and dark
HARD BOILED EGGS
Bear with us here. Yes, we said hard-boiled eggs.
These are such a simple treat that offers health benefits along with packing a lovely flavor.
Grab 6 to 8 large eggs and place them in a saucepan. Cover the eggs completely, going over just an inch, with cold water and bring this to a boil. Once a boil is reached, cover the pan and remove it from the heat.
Let them stand for about 17 minutes before placing them in a bowl of ice water. Let them fully cool before peeling the eggs. Proceed with the recipe for the desired flavor that you want.
Notes: Use eggs that are at least 10 days old for the best results. If there are cracks in the eggshells, this may cause cracking while cooking.
SPICY CHICKEN SANDWICH
This recipe packs a lot of flavor for something that is relatively easy to make.
How can you make this faster?
Pre-make the sandwiches before you go on your picnic or leave for the lake house. Ingredients prepared beforehand can also help.
Makes 10 sandwiches
Ingredients
2 pounds of chicken
2 tsp pepper
1 tbsp brown sugar
1 tsp salt
Olive oil
Cheese, to taste
Bread, 20 slices
Mayonnaise, to taste
So, let's get the cooking started.
Directions
Preheat oven to 400 degrees Fahrenheit
Place the chicken in the oven for 45 minutes
Let cool
Now it's time to make the sandwiches.
In a large bowl, dice the chicken and add pepper, brown sugar, and salt. Now, add a generous amount of olive oil to the mixture and stir everything together. Add cheese and mayo as needed and put the sandwiches together.
FANCY DRINKS
With elegant finger foods and delicate sandwiches, we are not going to turn down refreshing champagne. That's right. Champagne.
A trip to the lake house is not complete without a fancy beverage to help you relax.
If you are not interested in anything containing alcohol, that is perfectly fine, too.
A glass of ice cold, fresh squeezed lemonade with a bit of sugar to take away some of the lemon's tarty bite is marvelous for a bright day overlooking a lake.
And, of course, not much can beat a nice glass of cool water.
Feeling Adventurous?
The great outdoors is teeming with edible food that you can find so long as you know what you are seeking.
So, what are some wild treats that you can find?
WILD LEEKS
Wild leeks, also called ramps, are closely related to leeks and onions and have a delightful garlic-onion flavor.
FIDDLEHEAD FERNS
If you are in an area where ostrich ferns grow, then you might be lucky enough to stumble upon a fiddlehead. These are the young, unopened fronds of fern species. Make sure the ones you find are unfurled as they develop an acidic flavor after they have opened. The best part about fiddleheads? They are likely found along the edges of bodies of water; such as rivers, streams, and, yes, even lakes. Your lake house might secretly be harboring tasty snacks along its water banks.
WILD MUSHROOMS
Wild mushrooms are a flavorful and versatile option. Fresh morels, for example, are very sought after during prime picking season. Make sure that you know what you are looking for with mushrooms since many can have sinister lookalikes.
Wash Your Foraged Treats
Make sure to rinse the dirt off of these edible finds before consuming them or using them in recipes.
More Recipes
Do you want more recipes and tips like those mentioned above?
The Lake House Cookbook written by Trudie Styler and Joseph Sponzo was made for people like us who want an easy meal while living out our dreams at a lake house. This book provides advice on sustainable farming and general countryside/nature living along with earthy and delectable recipes that range from complex to exceedingly easy.
You can't really go wrong with a book like that.
Conclusion
At the end of the day, you just want to enjoy your time while out at the lake house. Experiencing the surreal beauty of a lakeside sunset is dreamlike and, if you can experience it without the beeping of cooking timers blaring at you, then you have yourself the perfect evening. Take these recipes and explore the stupendous natural world around you while breathing in the fresh lake air.
Don't let cooking hold your enjoyment back. Take the reins by making these easy meals and treats for you and your guests.