The Pros and Cons of Living Near a Lake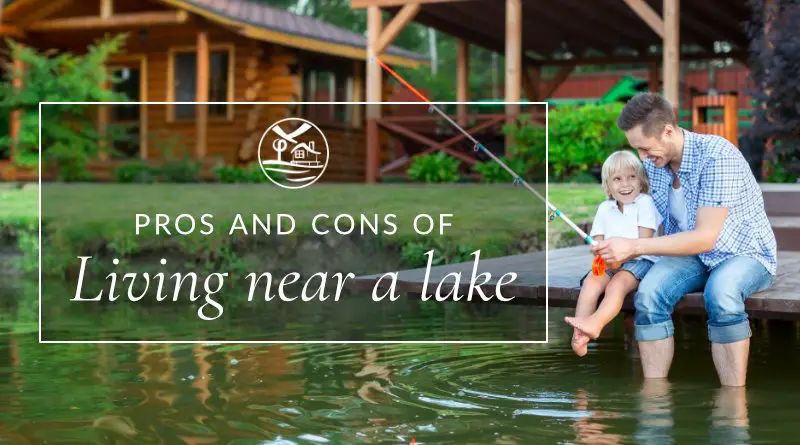 For thousands of people, living on or near a body of water would be a dream come true. After all, who doesn't like waking up to the refreshing breeze and cuddling on the soft, sandy shore? However, even the most idyllic lakeside lifestyle is bound to come with a few location-based downfalls.
In the following article, we take you through the pros and cons of lakeside living.
Downfalls of Living Near A Lake
Unfortunately, humans aren't the only earthly beings who enjoy making their home by the water. The lake is considered a prime place, for humans and critters. Many insects and bugs love to breed here, including mosquitoes and those pesky little black flies. They both pack a surprisingly painful bite.
During the summer, this problem reaches a peek, with bugs breeding as if they are going extinct- which, sadly, they are not.
To add on to the bug trouble, living by the lake also means that you're surrounded by bushes and uninhabited landscape. Both of these things mean wild animals. Everything from raccoons to bears may also inhabit the very area that you call home.
While you may be blessed with space around your home with your closest neighbors a few football fields away, you might still encounter the tourists and lake-goers that the summer season brings.
This means that you won't just have to deal with the noises of summer. You might be within the vicinity of motorized boats, parties, bonfires, etc. However, if you're not too worried about being right in the heart of lots of joyful hustle and bustle, this won't faze you.
It's no secret that water is hard on houses. Even today's modern, sturdy homes are prone to wear when exposed to the elements. A lakeside home is no different. In fact, lakeside homes are more prone to weather damage.
A house within close proximity to the lake has to stand up to intense humidity, extreme storms, and mist. All of these things can affect not only the outside of the home, but the inside, the internal structure, and your belongings, as well. Maintenance is key and must be done on a regular basis.
You Must Know How To Swim
If you are planning to hold a permanent residence in a waterfront area, then you and your entire family must learn how to swim with no exceptions. Living in waterfront areas can be especially dangerous for those who cannot swim. Make sure you and your family are well equipped with the knowledge and ability to swim before you buy a house in a waterfront area.
Benefits of Living Near A Lake
Water Sport Opportunities Never End
Chances are that if you live by a lake or want to move to a lakeside property, you may enjoy swimming. But why stick to just swimming?
A lakeside home gives you many opportunities to try out a plethora of fun watersports, including wakeboarding, scuba diving, boating, waterskiing, jet-skiing, and windsurfing. You can also enjoy some classic water activities like fishing and tubing.
In between summers and peak tourist seasons, your lakeside home transforms into the ultimate getaway. Gone are the noisy neighbors, lawn mowers, the roar of highways, and over-zealous parties; instead your days (and nights!) are filled with peace and quiet.
Having a lakeside home gives you a great space in which to relax, recharge, and escape the hustle and bustle of the city.
In waterfront areas, the surrounding nature and peaceful environment will serve as an inspiration to people who enjoy artistic activities. This would be the perfect place to come to for a perfect sense of seclusion. It can also be inspiration if you are an artist who often suffers from art block.
Should you ever decide to sell your beloved lakeside home, you can rest assured that it will have a great deal of value. Potential buyers will be attracted to many of the same things that attracted you, and as a result, you will get great offers.
You can also list the property for more initially, as lakeside homes tend to boast more space and privacy, which are both in short supply in today's cities. That private boat launch in your backyard? Icing on the cake!
Waterfront areas are highly popular areas to visit or buy property for considering the immense beauty of the surrounding environment. One of the best parts of living near or on a lake are the views. Surrounded by mountains and dense forest, lakeside homes offer plenty of great places for taking photos.
The extensive views are ideal for romantic evenings spent under the stars. They can serve as wonderful landscape inspiration for art lovers, while the ever-changing sunrises and sunsets prove to be a great way to start and end the day.
The sights are breathtaking and you will want to spend most of your time just observing the waterfront area and enjoying the fresh air. In some lake areas, you will be able to just walk right out of your house and dive into the water, which makes for the perfect experience right at your door.
The Air is Fresh and Rejuvenating
Thanks to the absence of crisscrossing highways and overpasses, the air surrounding lakes is typically a lot cleaner than the air within city limits. It's rare to smell gas, exhaust, or sewage when spending a day at the lake. It's one great benefit that makes the idea of owning a lakeside home so appealing.
Not only is this crisp, clean air a treat to your senses, but it's also beneficial for the rest of your body. It can help improve your immune functions and reduce the severity of problems like asthma.
Sometimes you will want to enhance your waterfront living and vacation experience. So, here are some products that will help give your summer experience an extra boost.
Best Products for Lake Living
Yeti Rambler
---
Overview:
The Yeti Rambler is a stainless-steel, vacuum-insulated tumbler. It is dishwasher safe and the color will not fade, peel, or crack, no matter how many times you use it.
With this tumbler, you will be able to enjoy your drinks without having to worry about spilling it or having the temperature of your drinks compromised.
This product is absolutely perfect for lakeside living because you will be able to take your drink of choice anywhere you go and will add an extra level of convenience to your everyday life by the waterfront.
Weber Black Spirit Grill
---
Overview:
The Weber Black Spirit Grill is a highly efficient gas grill that will be perfect for your outdoor grilling needs. You can throw house parties and make some excellent meals with this grill that your guests would be thrilled to have.
Use it solely for your own conventional purposes as well whenever you are in the mood for steak or grilled vegetables.
This grill has a tremendously spacious cooking area that will allow you to increase your level of indulgence for your outdoor grilling experience. You will win everyone's favor by throwing a lakeside party with the amazing food you can make with this grill.
Flickering Solar Lights, Waterproof
---
Overview:
The TomCare Flickering Solar Lights are durable, waterproof, solar-powered lights that will help light up your area.
It is a highly safe alternative to regular flames and torches. They turn on automatically at dusk with all the solar energy they collected during the day. These lights would make the perfect decorations for your lakeside house.
You and your guests are sure to love the beauty of these solar lights placed around the perimeter of your property.
They never need any batteries and they are exceptionally pleasing to look at. Place them anywhere you'd like outside without having to worry about wiring it into the ground.
Zero Gravity Chairs
---
Overview:
Zero Gravity chairs are the perfect chairs to place on your patio or by the waterfront to comfortably observe the scenery. The chairs have built-in cupholders and come with adjustable and removable headrests for your optimal comfort level.
They are lightweight and transportable, which makes moving them from your house to the lakefront much easier than it normally would be.
In fact, these chairs would be the perfect gift for yourself or for any of your family members so many of you can enjoy a relaxing afternoon at the waterfront.
The best part? These chairs can be therapeutic to lay in and can even provide wellness benefits by helping relax your muscles as you recline.
Patio Hammock
---
Overview:
The Vivere Patio Hammock is a durable patio hammock that is easily adjustable for your convenience and comes in many different selections of vibrant colors for you to choose from.
It also comes with its own hammock stand so you won't have to worry about attaching it to a tree if there are no trees in your area.
This hammock will be perfect for setting up and relaxing on the lakefront with anyone else you choose to lie down with. It is durable enough to be able to hold your pet or another person onto the hammock with you so both of you can enjoy the relaxing scenery together.
Living in waterfront areas certainly has many perks for those who are striving for a more secluded lifestyle. Waterfront areas can be a small piece of heaven all on its own. Although there are inevitable drawbacks, its numerous benefits outweigh its negative aspects. From stunning views to a great return investment, investing in a home on the lake always proves to be a great idea.