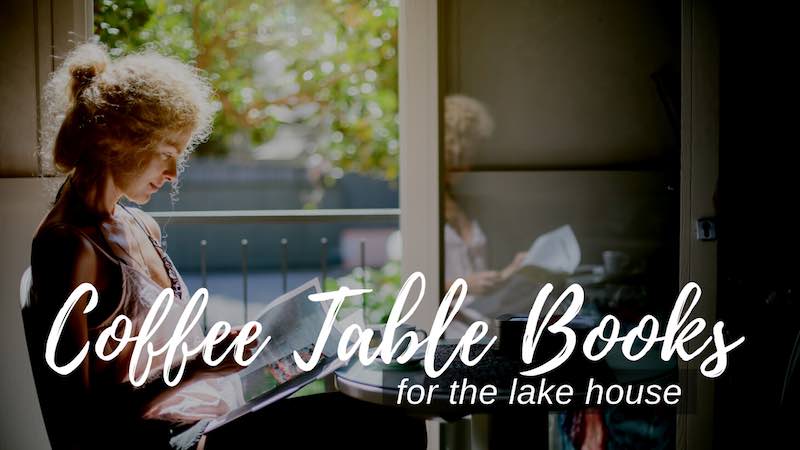 20+ Best Coffee Table Books For The Lake House. Amazing Gift Ideas For Lake House Owners
(Last Updated On: May 4, 2022)
Coffee table books are lake house essentials. They are the perfect companion during warm summer or in the winter when you want to read and look for inspiration. If you are looking to add more to your lake house book collection or if you want to give it to lake house owner friends, here's a round-up of the best coffee table books perfect for lake house living.<
Best Coffee Table Books
COFFEE TABLE BOOKS

 

RATING

 

Best Travel Coffee Table Books

This book takes you on a stunning journey of America's more than 100 years of history

Overall Rating 4.7/5

Best Fashion And The Art Coffee Table Book

This book chronicles Tom Ford's successful work as creative director of Gucci and Yves Saint Laurent

Overall Rating 5/5

Best Fishing Coffee Table Book

This beautifully illustrated book brings readers to creeks, rivers, springs, and tailwater in the American northwest.

Overall Rating 4.5/5

Best Home Decorating Coffee Table Book

If you love creative yet functional design ideas, this book is for you.

Overall Rating 4.7/5

Best Cabin Life Coffee Table Book

Be in awe of the lake's stunning beauty underwater with this coffee table book.

Overall Rating 4.8/5

Best Photography Coffee Table Book

This coffee table book perfectly captures Washington's beauty

Overall Rating 4.6/5
Best Travel Coffee Table Books
This book, published by National Geographic, takes you on a stunning journey of America's more than 100 years of history as told through various photos of landmarks, nature, and people.
This NatGeo produced book might be the perfect companion on your coffee table. It contains visually appealing photos and enticing descriptions of ancient places, artworks, cities, beaches, forests, architecture, and many more. It also has information on where to go, what to eat, where to stay.
This can be the ultimate travel bible for those who want to explore all 50 US States. It contains exciting ideas and detailed travel information on what to do. It also includes a section on the Canadian provinces and territories.
This Reader's Digest best-seller contains over 1,000 of the United States' most "overlooked must-see destinations." Perfect for the wanderlust.
Best Fashion And The Art Coffee Table Books
This book chronicles Tom Ford's successful work as creative director of Gucci and Yves Saint Laurent from 1994 to 2004. Perfect for a wine night with friends who love fashion and luxury.
Get to know the fantastic world of colors, hues, and shades in this book that identify more than 200 touchstone works of art, products, fashion, and a lot more and match them with 80 different Offical PANTONE color palettes and see the trend during a particular time.
Bask in the world of lush blooms in this artful book perfect for those who love art and, of course, flowers.
Best Fishing Coffee Table Book
This beautifully illustrated book brings readers to creeks, rivers, springs, and tailwater in the American northwest. It contains detailed information on why they are the best fly fishing spots in the world.
The title says it all! This is a complete fishing manual, and it contains all the details you need to home that fishing skill.
Journey into America's most iconic salt-water fishing hotspot and read as if you are there with visually stunning photos and remarkable essay. A great way to read and relax on a laid back day
Another great coffee table book about fishing and lodge-lifestyle, this book gives you an exclusive tour of North America's most storied fishing lodges.
Ever dream of sailing across America? Get as close to the experience as possible with this beautiful book that perfectly captures the joy and excitement of sailing in the waters.
Best Home Decorating Coffee Table Book
This book is written by Lauren Liess, a famous interior designer and star of HGTV's Best House on the Block. If you love creative yet functional design ideas, this book is for you
This might be a book about interiors, but it also teaches about simple living and getting only the things you truly need and the things that make you happy in your humble abode. It has over 200 stunning photographs of homes, and it contains interior design tips to help you with your space.
Ever wonder how it is to live on the road? This is a good coffee table book for you. Written and compiled by Foster Huntington, who created the #vanlife hashtag on social media, this book chronicled his adventures of living in a van and driving it across the country.
Best Cabin Life Coffee Table Book
What's under Lake Tahoe? One of the world's most majestic lakes? This book captures it all. Be in awe of the lake's stunning beauty underwater with this coffee table book.
This book brings together 37 new and old cabins from across North America as an inspiration for families who want to explore cabin life and desire a peaceful retreat of their own. It contains 300 full-color photographs and 78 illustrations. The book captures various designs and the unique beauty of the many different cabins.
150 Best New Cottage and Cabin Ideas.. </h5
This book contains hundreds of illustrations and design ideas of modern cabins. It gives information on the latest trends in small space design.
Be captivated with elegant cabin designs styled by top designers in mountain resorts and various rural regions across the US. This book gives a clear view of a luxurious cabin living in places surrounded by natural beauty.
Here's a stunning feature of 30 gorgeous cottages and mansions and houses around Lake Minnetonka, one of the most beautiful lakes in Minnesota, built by well-known families. Be amazed at extraordinary interiors and unique features captured perfectly in this book.
Best Photography Coffee Table Book
This coffee table book perfectly captures Washington's beauty, including famous spots, iconic landmarks, and off-the-beaten-path destinations. There's certainly a treat at every turn of a page.
Perfect for the lovers of the outdoors, this coffee table book put together America's well-known national parks complete with details of the photographs, maps, and destination guides.
Here's another coffee table book about the stunning Tahoe. It contains gorgeous photos of the Lake Tahoe and Truckee, California area and one of the best coffee table books for those who love the lake and those living in the area.