10 Unique Gifts For Lake House Owners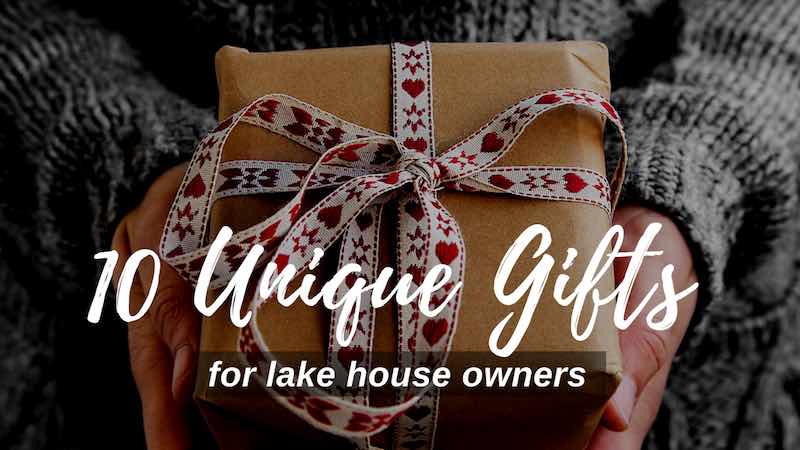 When you need a gift for someone who already has the best thing ever, a lake house, what kind of gift do you get them?
You get them lake living gifts that are unique and practical, which is sure to get you asked back to the lake house again!
Our List of The Top 10 Special Gifts For a Friend Who Owns a Lake House.
This face mask turns a necessary item into a fun statement about life on the lake that is very pertinent to today's world.
These masks will be a great gift for a lake house owner and wonderful stocking stuffers!
Very practical, the strap on this engaging mask can be adjusted to fit the size of your face.
Washable and reusable, the filter on the mask can also be changed, and the mask comes with two replacement packs.
The 100% polyester material is breathable and comfortable to wear. Once the need for compulsory wearing of masks has abated, this mask will still serve its purpose.
It is great to use when you are cleaning at the lake house to keep you from inhaling chemicals.
It is also perfect for keeping dust at bay when home projects require sanding or sawing.
Sensitivity from mowing grass, raking leaves, or any other allergy-inducing activities that require your attention will be significantly lessened with a mask that helps filter out the allergens.
This round rustic beach wall clock fits perfectly into a lake home. This can be an ideal gift for someone who owns a lake house, as a clock is always a useful item.
The large 12-inch face can easily be seen across the room with the numbers, hour, and minute hand in black against the clock face's blues and whites.
The non-ticking design makes it a quiet item to have in the bedroom at the lake house
The blue and white distressed wood planks design picture on the clock's face is a large decal on MDF, which makes the clock much more lightweight and easy to hang.
The shaded blue and white colors are reminiscent of all things nautical.
Great to have in the laundry room, kitchen, or bathroom, the clock operates using just one AA battery that you provide.
With one-year manufacturer protection, this rustic wall clock will keep eveeryone on time for all the fun at the lake house!
Maybe you have a friend or relative that has extended invitations to you to visit their lake house, and you would like to show your appreciation.
Both cute and cozy, the Ambesonne Duvet cover set will be ideal for either the guest room or master bedroom at a lake house!
Fun and inviting, the queen size duvet cover (just add a comforter) will be a welcome touch to the lake house.
This three-piece set includes the queen size duvet cover and two pillow shams. Made from 100% brushed microfiber fabric, the vibrant blue colors will liven up any room they are in.
The large graphics on the cover and both pillow sham state the obvious: Life Is Better at the Lake!
This ensemble would be perfect for extra guests staying overnight at a lake house and the ideal gift for someone who lives on the lake.
What better way to let others know how you feel than with this "Life is Better at the Lake" hoodie?
Wherever you go, and however you see, they will no doubt where you would rather be!
A practical gift that any lake house owner would be happy to wear, this gift will be a hit and not a miss!
This pullover hoodie has green and white lettering, made from cotton and polyester and comes in four different colors.
Choose from black, navy, royal blue, or dark heather. The hoodie has a sizable single pocket on the garment's front to put your hands, store your phone, or put the keys to the boat.
The design and colors will suit men or women, boys or girls, with sizes ranging from small to 2XL.
Great to have at the lake house for running errands or lounging at the dock. They also make great gifts for friends and family to remind everyone where life is best!
A murla showing a beautiful lake shoreline at the break of day with the mist still shimmering in the distance, and the sun glistening off a cluster of birch trees creates a lovely vista to gaze upon.
As lake house gifts go, this is a unique gift that will be like no others. This splendid scene can be available in any room of a lake house no matter the season!
With a lake wall mural from Brewster, you can give this stunning and unique gift that will set the tone for a lake house.
Measuring a large 72 inches by 48 inches, the serene lake view comes printed on four prepasted vinyl coated paper panels.
Easy to install in any room at the lake house, this captivating mural will bring the outside lake's beauty inside to the den, guest room, bathroom, or whatever room the lake house owners decide.
Truly an excellent addition to their home and a distinctive gift that will be prominently featured.
Oops! Too often, in the excited hurry to get out of doors at the lake, someone walks (or tries to walk) right through the screen door!
With so many people in and out and carrying items, or Fido scratching to get out or back in, screen doors at a lake house take their fair share of abuse.
This abuse can result in holes in the screens and needed repairs to keep the bugs out.
There is, however, an easy and unique way to signal to everyone that the screen door is closed and to cover any holes there might be on the screen without having to schlep the door to a hardware repair.
These round, flexible, and rubberized magnetic screensavers are the perfect answer to a simple yet annoying problem.
Place the two identical magnets back to back on the screen door to be visible to all or use them to cover a hole that pesky bugs can get through.
Pictured with a sailboat on a lake and pine trees onshore, these 5.75-inch magnets will do the trick and look good at the same time!
Quick, easy, and inexpensive to use; these magnets will not rust and will stand up to the weather.
The next time you visit your favorite lake homeowner, these screen door savers will be a big hit, and eminently practical!
A lovely "thanks for having me at your lake house" gift, this generous 16-ounce stoneware mug is the ideal gift that is sure to get you an invitation to visit again!
A soft, dusty blue, this mug will go with anything and has the inscription "Good Morning Lake Life."
The unique but casual design in a matte finish is sure to become the go-to mug for the lucky lake homeowner gifted with this.
The stoneware mug will hold the heat and warm the hands at the same time. It makes for a great gift, as everyone can always use a mug for coffee or hot chocolate.
This one is especially nice with its distinctive design.
As a great gift idea, the mug comes in a box with a printed cardboard cover to sign your "to" and "from" on.
This gift for your favorite lake house owner is sure to be appreciated, and you will be remembered each time they use it!
The next time you get invited to someone's lake house, take along these cool decals that are sure to bring a smile to the lake house owner's face.
A set of two decals proclaims "Lake Bum," and who would not want to be one of those? The decal is ideal for on the side of a car, on a window, a helmet, or even on a laptop.
In cursive writing, the outline of black letters lets the color of the accepting surface show through. Made from sign vinyl, these decals will withstand the elements for up to six years.
Easy to apply, you can install it in a matter of a minute. The decals are waterproof, UV, and scratch-resistant.
Definitely a fun and charming gift to take along on your next trip to a friend's lake house. They will appreciate the gesture!
"Life is better at the lake," and you know that for sure because this engraved wine tumbler proclaims just that!
The lake is the place to kick back and relax, and that can mean having your favorite wine to go along with you on the dock, the boat, or in the hammock.
Any lake house owner is going to appreciate one or more of these insulated stainless steel wine tumblers.
You need to be ready for anything at the lake house, and while you enjoy your wine, carrying a breakable wine glass around it is not very practical.
What better way to have the best of both worlds with this tumbler that also comes with a lid, which means you won't spill a drop!
A gift that is sure to be appreciated, the double-walled tumbler is vacuum insulated to keep your drink either warm, hot, or cold for hours.
The tumbler eliminates condensation and has a spill-resistant lid with a slider closure. When not used for a drink, this versatile tumbler is perfect for ice cream, yogurt, oatmeal, or soup.
A generous 12 ounces, this tumbler comes in teal or white teal ombre and pink or white-pink ombre.
A gift that will be practical and appreciated for any lake house owner. You might want to get several so that there will always be one for you to use on your next visit!
It would be hard to find a more fitting gift for the retiring lake homeowner than this comfy throw.
Embroidered in large letters on the corner of this grey throw is the statement "Retired to the Lake." Don't we all wish we could receive one of these!
The 50″ x 60″ throw is just the right size to throw over your legs as you watch the sunset over the lake.
The lake house owner can take this handy throw out to the hammock when it is time for an afternoon siesta.
Done in 100% polyester fabric in a herringbone pattern with tassels, this throw will go with any decor.
Sure to please any lake house owner, this is a gift that says it all and will be a delightful reminder of the fact that retired to the lake is the ideal place to be!
In Conclusion
The lake is a fabulous palace to be, and the next best thing to owning a lake house has a friend who does.
As a token of your appreciation, it is always lovely to give that friend a unique gift now and then when you visit.