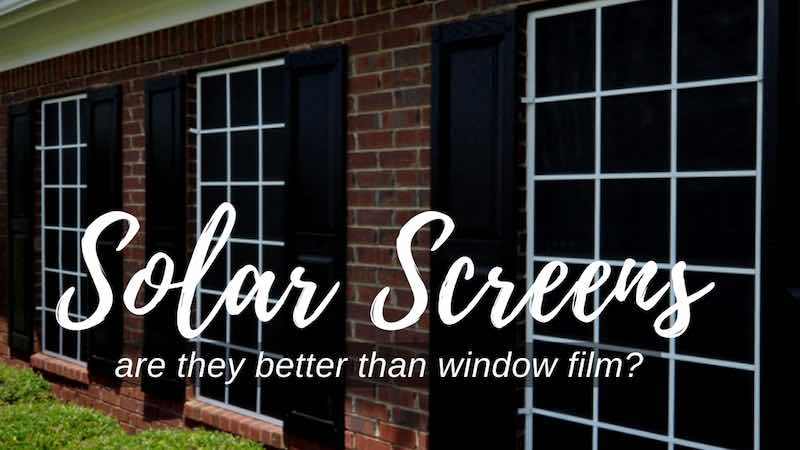 Solar Screens. Are They Better Than Window Film?
(Last Updated On: December 2, 2021)
You would like some protection from the sun and heat coming through your lake house windows and are debating whether solar screens or window film would be the best option. You want to make the right choice so that you don't waste your time, money, and effort, and you want to get the right product that suits your purpose. We have looked into the pros and cons of both solar screens and window film and come up with what we feel is the logical answer.
Solar Screen Vs. Window Film
When looking for a solution that will cover (no pun intended) all of your needs, you don't want a little of this and some of that; you want one product that will do the job. The job you want the product to do is to lower your energy costs, protect your possessions from damage, and still allow you to get air and light into your lake house.Solar screens will serve all of those purposes, and you will be able to use them in areas that window film is not an option.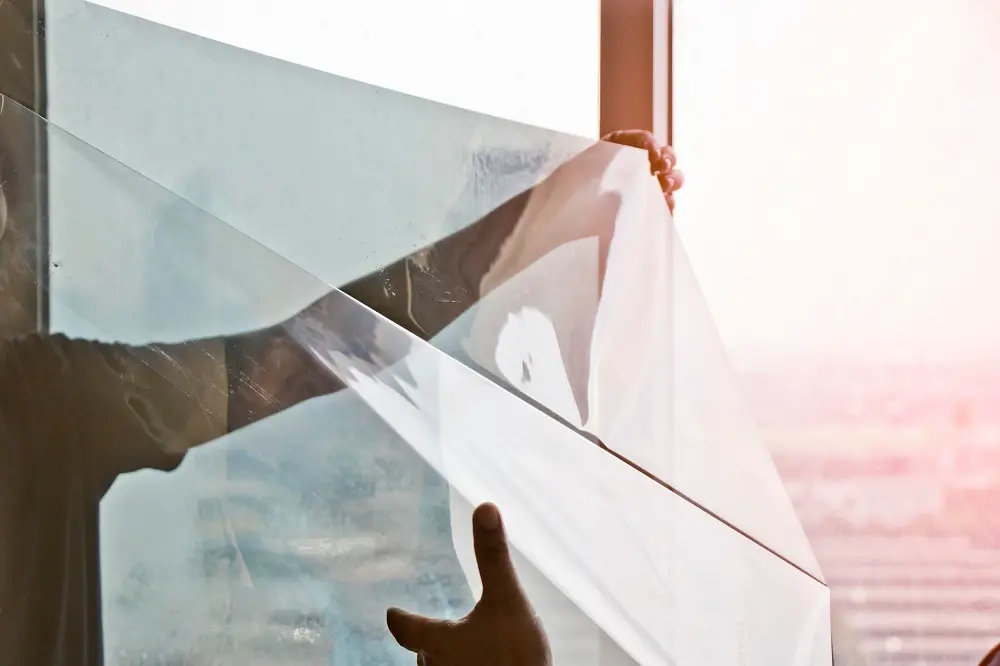 Characteristics of Both Solar Screen And Window Film
You want your lake home to be a place that is comfortable and relaxing to be in. One of the ways to do that is to regulate the heat that enters your house from the sun. You also want to reduce glare and prevent UV damage to your belongings. Both solar screens and window film can help with these issues. However, solar screens have an advantage over window films in a couple of distinct ways. Window film is placed directly on the window itself. The effectiveness of the film comes into play only if the window is always closed. If you raise or open the window, it no longer provides the needed protection. Solar screens are placed on the outside of the window, much like insect screening is. The other advantage solar screen has over window film is that it can be used in places that are not appropriate for window film. Solar screens work great to screen in porches, patios, and lanais that have no windows or glass structures. This is a much less expensive alternative to installing windows in these areas and then applying window film to the glass. The solar window screen can be used in these areas without the need for glass or windows. They will provide heat and UV protection and have the added bonus of providing protection from bugs and insects.Solar screens are more versatile than window film needing a frame rather than glass for adherence
Solar Screen Fabric
Manufacturers make solar screen fabric for residential use from PVC-coated polyester or PVC coated fiberglass. The main difference between these two types fabrics is thickness. The PVC on both improves the durability of the screen and allows for some variation in color.
Sun Guard Screen Factors
The fibers of solar screens are rounded in shape and so can refract light. These strands will diffuse the light that enters a space, whether it is a window or an outside area like a patio or lanai. The percentage of the sunlight that is reflected by the sun screen mesh is dependent on the openness of the mesh and the color of the screen. Openness refers to how dense the weave of the screen is. The more open the weave, the more light, and heat can penetrate. The color of the solar screen material is a factor because color affects glare and how much heat the material absorbs. Darker colors tend to provide the best glare reduction and visibility.
Pros Of Solar Screens For Windows And Patios Solar Screens
Exterior solar screens reduce glare from windows
Reduced heat in both living and outdoor spaces
Window UV protection from harsh rays by as much as 75% to 99%
A solar window screen can be a DIY project
Use solar screens on a patio sun screen or on a lanai
Cons of Solar Screens For Windows
Somewhat reduced visibility through the screen
Fixed screens will have the same impact no matter the season
Solar screen is not appropriate for outward swinging windows
Why You Should Use Solar Screens
If you live in an area that gets a lot of overheating because of the sun or even the glare off the lake, a solar screen can make your home more comfortable inside by reducing the heat and glare.
If you have views of the lake that you don't want to block with awnings or inside draperies.
You have areas like porches, patios, or lanai's that would benefit from being screened in.
You want to be able to open your windows and still have protection from glare.
Solar screens will protect your upholstery, carpets, and artwork from fading.
Sun screens are more effective at reducing heat transfer than window film.
Solar screens can reduce your energy bill by as much as 25% each month. They will pay for themselves in about two to five years.
The Best Solar Screen Material is Saint-Gobain Adfors Charcoal Window Screen
Saint-Gobain is a company with a history dating back over 350 years. They have learned a thing or two in that length of time. You can find their products everywhere in our daily lives and in buildings, transportation, infrastructures, and industry. Their Adfors division creates solar screens that fit today's requirements for comfort, performance, safety, and aesthetics.
The Saint-Gobain sun guard screen is the one product that will serve multiple purposes at your lake home. The Adfors brand from Saint-Gobain offers a sun guard screen made from Fiberglass blocks, much like a grid, that will block the sun's harmful rays from entering your lake home, patio or lanai. You can protect your family and your home from sun damage and control heating and cooling costs at the same time.
The unique design of the Adfors solar screen filters the light, giving more significant heat reduction. It also cuts down significantly on the glare. The solar screen cuts down on harmful rays, but at the same time, has enough space for fresh air to pass through to keep your area well ventilated. With the Adfors solar screen, you can help control the damaging effect of the sun and conserve energy at the same time. You will keep your rooms cooler and diminish the fading of carpets, drapes, and upholstery. The unique weave used in the solar screen design gives you better visibility and no distortion when you are looking out from the inside.
The extremely tight fiberglass weave provides protection from insects and pests, too. The weave of the solar screen will block 75% of the sun without blocking airflow and light. Not only does the Adfors solar screen protect you from the sun's harmful rays, but its screen itself is also ortho-phthalate free. The Greenguard Certification is a globally recognized standard that ensures a product is acceptable for use in environments such as schools and healthcare facilities. A ten-year warranty also backs the Ready Rolls.
In Conclusion
You can enhance the comfort and aesthetics of your lake house with solar screens. They are an efficient way to save on energy costs and to protect your furnishings from fading. Patios and lanais will also benefit from the reduction of heat and glare in those areas. You can enclose those areas to keep out the bugs and pests while still enjoying the view and fresh air. Solar screens will make life at the lake even more enjoyable if that is possible!