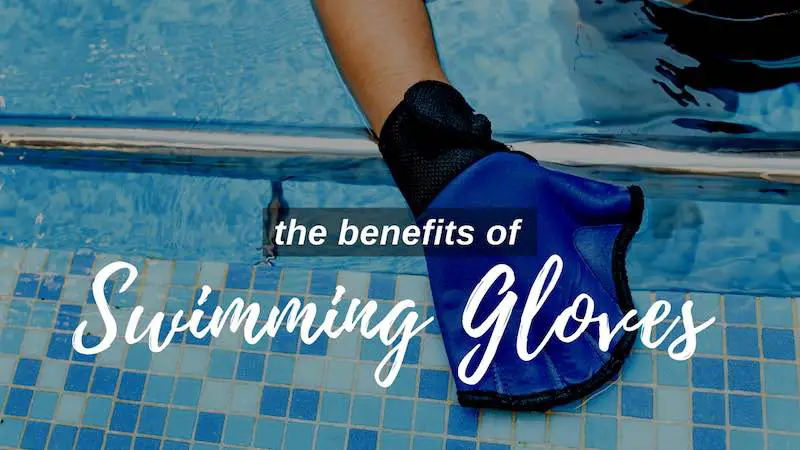 Top Benefits of Swimming Gloves
(Last Updated On: May 11, 2022)
Swimming is not only a fun and relaxing past-time, it's also a challenging and effective form of exercise. All you really need to get a great workout in the pool is your swimsuit and a pair of goggles. Swimming is a great alternative to gym workouts and gives you a total body workout that's lower impact.
What a lot of people don't realize is that there actually are some useful types of workout equipment and accessories that you can use to maximize your pool workouts. One of the most effective and easy to use items is swimming gloves.
Challenge yourself and get in a much more efficient workout with a good pair of swimming gloves, whether you're taking a water aerobics class, water jogging or simply swimming laps.
Swim Gloves Benefits
Swimming gloves are a pretty straightforward concept. They're simply gloves that add a webbing between your fingers. Some will cover your entire finger, while others just cover up to the knuckle. You can choose to get gloves with a more flexible rubber webbing that allows for more hand mobility or gloves with stiffer webbing that keeps your fingers spread apart. Although the design is so simple, they really make an impact and offer many benefits.
Added Resistance
In any workout, added resistance is one of the top swim glove benefits and one of the best ways to build muscle and stamina. The webbing in the gloves adds a dragging effect while you're moving your hands through the water. This forces your upper body to work much more intensely in both pulling and pushing motions, helping to strengthen and tone your muscles faster. The stronger your muscles become, the smoother your technique and movements in the water will be.
Endurance and Cardio
Along with strengthening muscles, training with gloves also provides you with a more intense aerobic workout. Swimming is already a great cardio workout, and with gloves, your heart will be pumping faster and harder because your entire body has to push against the extra resistance. If you're a competitive swimmer, this is going to be extremely helpful and make swimming without the gloves a piece of cake.
Increased Propulsion
This is especially beneficial if you do water aerobics, snorkeling or scuba diving. Since swimming gloves increase the surface area of your hands, your pushing more water with each stroke and this helps to propel your further than you would with just bare hands. So you'll be able to cover more distance in a much shorter amount of time.
They Keep You Warm
This is especially true in natural, open water or during the winter months. Swimming the ocean is wonderful and freeing, but it can be quite cold. This is can be distracting and cause your form and technique to suffer. Choosing gloves that are closed fingered will be the best option for situations like these.
Product Review
If you're just starting out or trying swimming gloves for the first time, these gloves are a great option if you want to strengthen and tone your muscles, and do so economically. They're made from very comfortable neoprene material and have adjustable closures on the wrists to ensure optimum fit and comfort while training. Although they're extremely comfortable, they're also a stiffer option which gives you more resistance to increased performance. You'll be able to move much faster and smoother through the water while getting a great upper body workout. Don't let the price fool you with these gloves. They're sewn together with water-resistant thread that allows staying perfectly intact through many uses. They're also made to easily slip on and off for quick changing. These gloves are ideal for everything from aquatic fitness, surfing, bodyboarding, diving, and general recreational swimming. If for any reason are you aren't satisfied or finding these gloves to be beneficial, Tagvo offers you a 100% money back guarantee within 30-days.
​Founded in 1914, Speedo is one of the most well-known and trusted brands when it comes to aquatic wear and equipment. So it's no surprise that they're at the top of the list when it comes to swimming gloves. These gloves are made from high-quality neoprene material and flexible finger webbing that allows for an efficient resistance workout for muscle and aerobic strengthening. You'll be able to comfortably move and adjust your finger width in and out of the water with more flexible webbing. These are very soft, comfortable and easy to put on and take off. They also feature useful rubber palms allow you to easily grip other exercise equipment your maybe using and the adjustable wrist closures keep the gloves secure and allow for a custom fit. In addition to providing a more effective and challenging workout and swim, the compression of these swimming gloves provides support to the hands to protect them from cramps and soreness during and after training sessions. The gentle compression also helps to keep your movements smooth and controlled.
If you're ready to get really serious about your swim training and want to invest in a great pair of swimming gloves, DarkFin's Webbed Power gloves are an excellent choice. When compared to swimming and diving with just bare hands alone, these gloves will greatly increase your paddling speed and propulsion by increasing your hand's surface area by 70 percent. The comfort and flexibility are unmatched. These gloves are ultra-thin and made to feel like a second skin. They're extremely flexible, allowing you to easily pick up small things, press buttons, adjust clothing, etc., while a cotton flock outer layer gives you a non-slip grip. The fingers are fully covered making them a great for keeping your hands warm during longer sessions or swimming in cold water. They are meant to fit tight but aren't too difficult to put on or take off, they also come in a variety of sizes so you're sure to find a perfect fit. Another great thing about these swim gloves is that they are 100% biodegradable and made from plant-based latex material. So they're perfect if you're vegan or environmentally conscience. Furthermore, the material is non-absorbent which prevents them from soaking up water and making them heavy. These gloves are a favorite of champion swimmers, scuba divers, surfers, and military divers, so you know they're of the highest quality and perform well.
Pros
Available in small, medium and large sizes for women, men, and children
Adjustable wrist strap provides comfort while ensuring that the gloves stay secure
Cons
New gloves will have a chemical odor; they must be exposed for 2 or more days or washed twice to remove the smell
Pros
Rubber padded palms for easier gripping
Flexible webbing allows for increased mobility and resistance in the water
Comfortable, adjustable wrist strap
Cons
Length of the fingers might be a bit long for smaller hands
Fingers might be too tight for people wider fingers
Pros
Ultra-thin, non-absorbent latex material acts as a second skin for maximum comfort and flexibility
Increases surface area and propulsion by 70 percent
Biodegradable material makes them safe for the environment
Available in 11 sizes to ensure a perfect fit always
Cons
To easily remove or put on these gloves, there is a bit of a process required. The company suggests using a silicone lubricant spray or putting them while they're submerged in water.
Conclusion
Regardless of whether you're working out, training for a competition or just want to improve your swimming experience, swimming gloves can be a great addition to your routine. Not only will they help make your movements more comfortable and smoother, but they'll also help you to build muscle and get in a little more cardio. Depending on your needs and goals, there are different types of gloves to choose from. Some will be more flexible, while others are stiffer. You also need to decide if you want open fingered gloves or closed ones for more insulation and warmth while swimming. If you're ready to take your time in the water to the next level, consider trying out one other great options we've selected. They're excellent quality and there's one for any price range or experience level. Once you've experienced the amazing benefits that come with wearing swimming gloves, you'll never want to train or swim without them again.