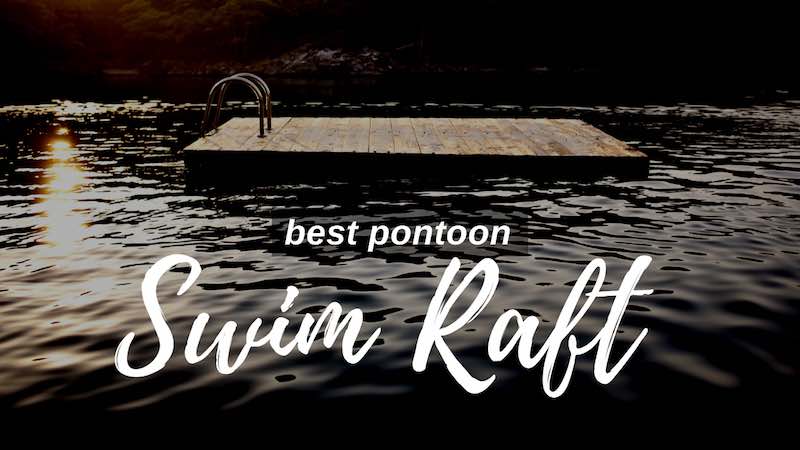 Best Pontoon Swim Raft
Last modified on July 16th, 2021 at 5:13 am
Everyone wants more space in their home, whether you're on land or on the water. Yes, on the water. If you own a pontoon boat, you already know how useful pontoon swim rafts are for adding to your limited space. However, you might feel hesitant about buying one. There are different sizes and options for families and different uses. In this guide, we'll take a look at the top pontoon swim rafts to help you make an informed decision.
This giant floating mat by Intex is made to give you lots of space to relax on the water with your friends and family. It's designed to provide you with the most amount of comfort by keeping you right at the water's surface. You'll be able to feel a bit of water to keep cool without feeling like you're being flooded.

Attach this floating mat to other floats using the float connectors. If you don't have enough room with one, you'll certainly have enough space when you connect them together. No matter how many mats you have, they'll all fold up small for storage until you're ready to get out on the water again.


x  It takes a long time to inflate, and there are few instructions for it
The Aqua Expandable Floating Island Raft gives you a large amount of space. As the name suggests, this platform is expandable, giving you more than enough room to relax in the water with your friends. Lay back on the water-activated fabric, which gets bolder and brighter when it hits the water. Not to mention that it's so soft, making it perfect for laying out in the sun.
This floating island raft isn't only eye-catching but durable too. It's heavy-duty, with extreme buoyancy and stability. There are zippers on three sides of it too, meaning that you're able to connect multiple planks to create an even bigger island of rafts.
Connect a whole bunch without worrying about toppling it, especially since you have anchor dock points as well. The mooring loops will help you anchor the raft so there are no worries about floating away.
When you're completely finished, use the EZ in-out air valves, which help the raft deflate and inflate easily. A portable air pump will help you get out on the water even faster.
x  It takes a long time to inflate, and there are few instructions for it
If you're looking for top quality, your search stops right here with the Solstice Inflatable Floating Dock. It's designed to be rigid with high pressure to stay afloat when you step out on the water. Thanks to the drop-stitch construction, this raft will remain strong no matter what you throw at it. This swim raft supports 3 to 5 people, standing or sitting.

Use the 6 stainless steel D-ring tie-downs to keep the raft completely stable. When you want to move it, the 6 reinforced grab handles can help you get a good grip. And once you're all done, the H3 high-pressure valve is meant to make inflating and deflating easy. Just be sure to inflate between 7 and 10 PSI for the optimal flotation once you're out on the water.
x  It might take some practice to stabilize this raft
Benefits of a Pontoon Swim Raft
All of these rafts are generally easy to install and that they can be used for many uses, not just boating. Attach one to help with swimming, snorkeling, scuba diving, or other underwater tasks. They're designed to be stable to increase your available space, but there's more to them than that.
It can be difficult to choose the best pontoon swim raft for your needs. You want something durable, strong, and not to mention spacious. Choose a larger option if space is your priority, or pick out one that has the quality you'd like when you go out on the water. No matter which option you choose, you can relax in luxury, floating out over the water in your very own swim platform.
(Last Updated On: July 16, 2021)