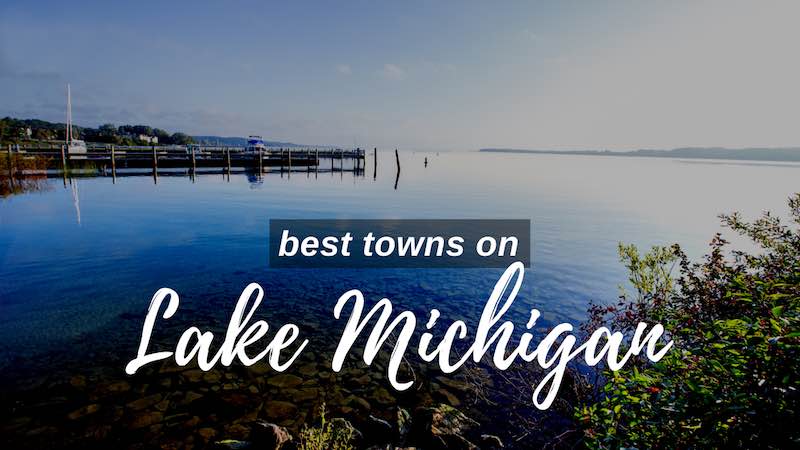 Best Towns on Lake Michigan
(Last Updated On: May 11, 2022)
With almost 1640 miles of Great Lakes shoreline, there's no shortage of towns along Lake Michigan. Just think about it: a lakeside town, your house along the water, the sand just outside. That's the dream!
You don't need to go to some tropical beach to live that dream, not with these nine towns that sit  along Lake Michigan. Whether you'd like to live in a small or large town,  a place with empty or full beaches, you will have your pick of options here.
You'll want to begin planning your move to Lake Michigan right away after you take a look at these beach towns. Not only can you relax with the water at your back, but you can experience the culture and community of the town itself.
 

View this post on Instagram

 
Yes, there's a Holland in the Netherlands, but there's also a Holland near Lake Michigan. Think of this town like a mini enclave of Dutch culture.
You can come here to experience both the lake life and some diverse culture too, as you explore activities like turning wooden bowls and woodworking with reclaimed materials.
These are perfect activities to do on a short weekend or if you're visiting for the season.
Beyond the activities, there's much more to see. Take a look at the various lakefronts and parks like Holland State Park or Tunnel Park. Check out the DeZwaan Windmill that was moved from the Netherlands. It is the oldest authentic, working Dutch windmill in the United States and you can still see the mill grind winter wheat and corn.
Whether you're looking to do some sight-seeing or you want to shop a little, Holland has no shortage of culture and relaxation.
 

View this post on Instagram

 
Holland State Park
Traverse City and area have much to offer from learning about the Great Lakes at the Discovery Center, to seeing amazing lakeside sunsets high among the dunes to sipping ice wine a local winery.
The surrounding countryside produces grapes, and is one of the centers of wine production in the Midwest. The area features varied natural attractions, including freshwater beaches, vineyards, downhill skiing areas, and numerous beautiful forests.
 

View this post on Instagram

 
Check out Clinch Park, which sits across the street from downtown. You'll find public beaches all along the region's 180-mile stretch of Lake Michigan shore, but this 1,500-foot beach and marina includes a trail that conveniently connects to downtown Traverse City.  Stretching 10 miles across Traverse City, TART (Traverse Area Recreational Trail) is one of several paths in a linked system that extends to the winery-dotted Leelanau Peninsula. Jog, bike or stroll past beaches, forests and city streetscapes.
 

View this post on Instagram

 
At the beach, you don't just have to sit on the sand. Rent a kayak or paddleboard and go out on the water.
You can even float down Boardman River south and paddle through Traverse City itself.
If you're looking for lots of activities to do, you'll never run out of options in Traverse City. This is one of the best places to experience the water and the city all at once. The Traverse City area is the largest producer of tart cherries in the United States. The city hosts the annual week-long National Cherry Festival in the first full week of July, attracting approximately 500,000 visitors annually.
 

View this post on Instagram

 

Big Sable Lighthouse – Ludington State Park
Ludington is a quiet little town. You won't find as much to do compared to a place like Traverse City, but Ludington is the perfect place to unwind, get away from the big city, and just be alone with your thoughts or your family.
Ludington State Park includes a seven-mile-long stretch of sand, which you can access outside the park if you don't want to spend the money.
There are so many Ludington beaches to discover! You'll find miles of clean, sandy beaches along Lake Michigan and Hamlin Lake, just minutes from wherever you are in the area. Stearns Park is the most popular beach, with free parking, concessions, playground, Skate Park, mini golf, and shuffleboard. Whether you enjoy swimming, skiing, tubing, boating, or fishing, Ludington's beaches and lakes provide hours of relaxing enjoyment and adventure.
 

View this post on Instagram

 
There are two lighthouses in Ludington. The North Breakwater Light is in downtown Ludington and the Big Sable Point Lighthouse is within the Ludington State Park. Just thirty miles north or south you'll find Manistee's North Pierhead Lighthouse and Little Sable Point Lighthouse in the Silver Lake State Park. Most lighthouses are open for tours in the summertime.
You can also head on over to Hamlin Lake Beach, which includes warm, shallow waters. Then visit the Nordhouse Dunes Wilderness to experience nature in all its forms, with the water right beside you.
 

View this post on Instagram

 
Because of its position on Lake Michigan, at the mouth of the Black River, South Haven has always been a port city. During settlement, major ship lines stopped there, both passenger and freight. In the early 1900s South Haven became a resort town, sometimes referred to as "The Catskills of the Midwest". South Haven is a major regional tourist draw because of its recreational harbor and beaches. It is the western terminus of the Kal-Haven Trail, popular with bicyclists and snowmobilers. Nearby are Van Buren State Park and the Van Buren Trail State Park.
 

View this post on Instagram

 
South Haven offers an interesting array of cultural attractions. The Michigan Maritime Museum, host of the tall ship Friends Good Will, is perhaps its most famous. The Michigan Maritime Museum also hosts an electrically powered river launch called the Lindy Lou. River launch boats were used in the 1890s to the 1930s to ferry passengers up the Black River to various resorts and parks. Visitors are able to buy tickets to ride either ship – the Lindy Lou stays on the river, while the Friends Good Will goes down the river and into Lake Michigan.
The National Blueberry Festival is held on the second weekend of August each year, and is one of the country's oldest continuously-running fruit festivals.
 

View this post on Instagram

 
If you like biking, you have no shortage of trails or bike rentals right around town.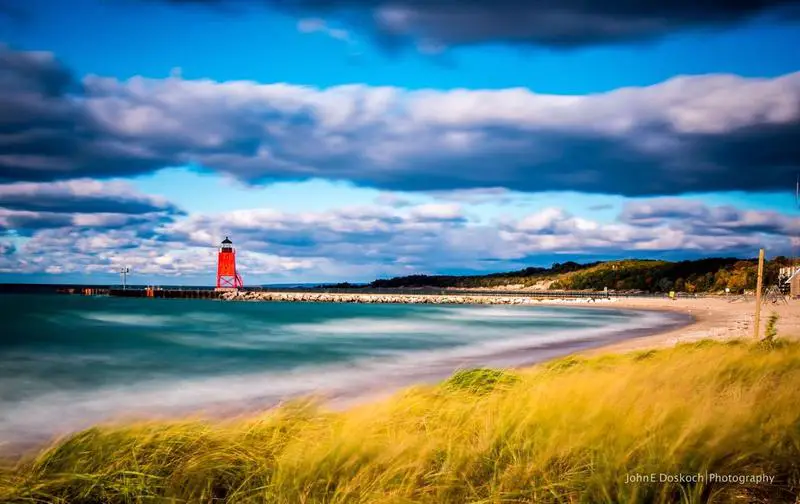 Enjoy a serene walk along the Charlevoix South Pier to the lighthouse right on the end. Grab a bike and choose a stretch of the 26-mile Little Traverse Wheelway to bike down.
 

View this post on Instagram

 
Not all of us are quite so fond of so much biking though. You can perhaps do a little hunting instead. We're talking about rock hunting here.
Start your search for Petoskey stones at Fisherman's Island State Park and head on over for a twilight tour at Castle Farms, where you can have a wonderful meal at a real French Renaissance-style castle built a century ago.
 

View this post on Instagram

 
 

View this post on Instagram

 
>
You can drive in from Chicago to visit New Buffalo for a day. You'll likely want to stay more than a day though once you arrive here.
If you want to try your luck, New Buffalo is the location for Southwestern Michigan's first gambling casino, the Four Winds Casino Resort.
New Buffalo includes the most amazing white, sandy beaches with just enough solitude to center yourself before returning to the Windy City. Fly kits or launch a canoe here for a relaxing day.
Beyond the beaches, there are masses of flowers, birds, and trees right in Galien River County Park. Just be sure that you're not afraid of heights since you'll be looking down from a canopy walkway that lets you look down from the tower.
You can also test your endurance by climbing dunes at Warren Dunes State Park, or just go to the park to stay at a cabin.
 

View this post on Instagram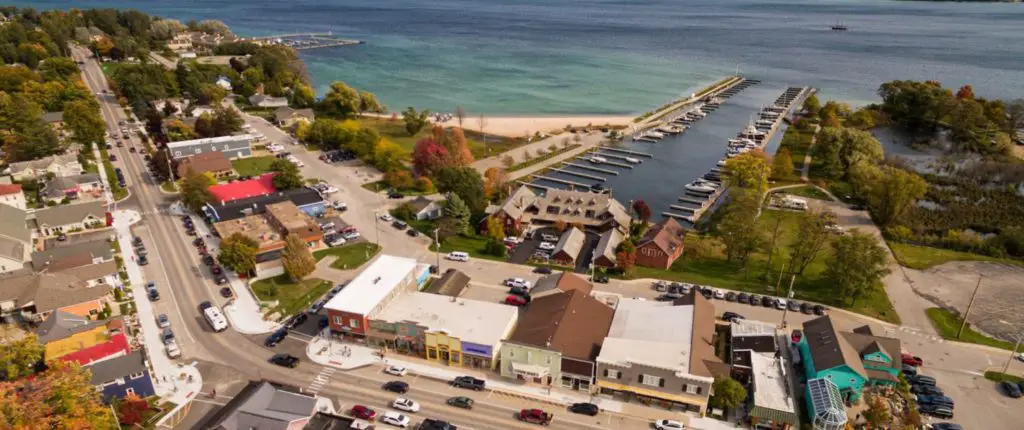 Located right on the Leelanau Peninsula, Suttons Bay is the perfect place for a romantic getaway, or if you just want to visit some of the wineries and vineyards. Suttons Bay is both rustic and sophisticated, and let's not forget: there's the beach.
You can visit the public beach, which is small, but cozy, and head on over to one of the amazing dining places after.
 

View this post on Instagram

 
Suttons Bay includes all the cute near-the-beach boutiques that you would expect, as well as wineries and tasting rooms that make your trip that much more amazing.
 

View this post on Instagram

 
Muskegon was built on the fur and lumber trade, is now a calm vacation spot on Lake Michigan, calling itself "The Riviera of the Midwest." Sunbathe on several beautiful beaches including Pere Marquette Beach, a certified Great Lakes "clean beach."
Muskegon State Park provides hiking and camping opportunities in the summer, and ice skating, cross-country skiing and even a luge track in the winter. The city is also home to Michigan's Adventure amusement park.
 

View this post on Instagram

 
The beach is really the shining part of Muskegon. You can go to see one of the two lighthouses, but once you have all your pictures, there's still a lot to do on the beach.
There are 40 sand volleyball courts set around ready for you to play at, and we can't forget to mention this: a dog beach! A day at the beach is much more fun when you have your furry friend with you.
 

View this post on Instagram

 
If you don't have your pooch with you for the day, you can still enjoy the beach and can go down the Lakeshore Trail bike path to see Muskegon Lake from a distance. It's impossible to pass up a tour of the USS Silversides, a World War II submarine museum, while you're there.

Previously named one of the most beautiful places in America, Empire is known as one of the best unspoiled American beach towns.
Not to mention that it's an affordable place to visit for the average person. Visit Glen Arbor while you're in Empire since these two areas are only separated by the lakeshore in between them.
 

View this post on Instagram

 
Sleeping Bear Dunes is a park located near Empire which covers a 35-mile-long stretch of Lake Michigan's eastern coastline, as well as North and South Manitou islands. The park has outstanding natural features, including forests, beaches, dune formations, and ancient glacial phenomena. The lakeshore also contains many cultural features including the 1871 South Manitou Island Lighthouse, three former stations of the Coast Guard  and an extensive rural historic farm district. In 2011, the area won the title of "The Most Beautiful Place in America" from Good Morning America.
 

View this post on Instagram

 
Conclusion
There is really nothing like lake living. When you visit one of these amazing lake towns right along Lake Michigan, you might just be tempted to stay.
You have your pick of towns, whether you're looking for something with a little solitude or lots of activity. Pack your car and take a trip to get a taste of the summer living you've been missing.
Lake house or cabin? Your perfect vacation awaits!