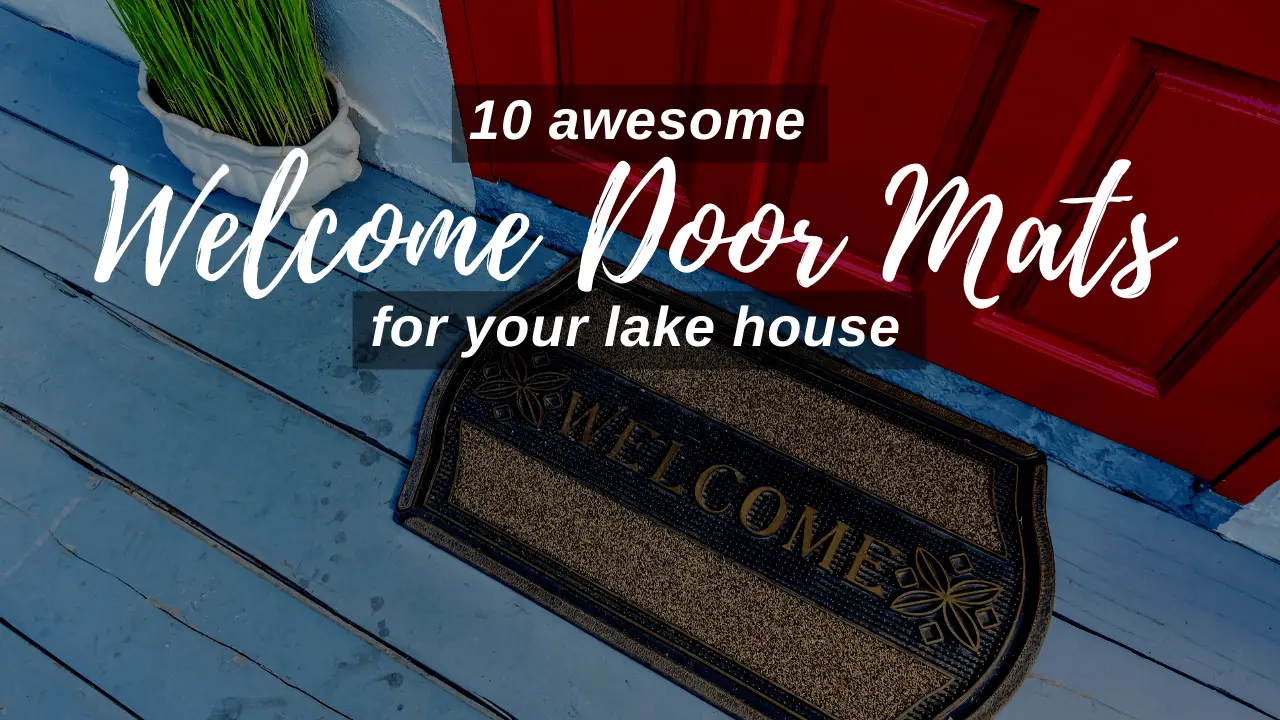 10 Awesome Welcome Door Mats for Your Lake House
(Last Updated On: March 11, 2022)
With a sigh of relief, you open the door.  You are finally here! You made it! You toss your keys in the bowl by the door and kick off your shoes.  You unwind, with no deadlines, time on your hands time is finally here! Yay!
There are few feelings quite like the feeling of release when you are at your lake house.  For a while time is your own, you make your own rules and regular conventions and pressures are suspended.
While you are in  this coveted capsule of time, you look forward to the lessening of duties and "have to's".  Even cleaning up should be on the back burner, and when it is brought to the forefront, it should be minimal and easy.
With that in mind, we have constructed a list of 10 awesome doormats for your lake house that will aid in stopping the dirt at the door.
In and out, out and in.  In the water, on the shore, running through the grass, walking down dirt roads, and in and out and out and in.  Exactly what you should be doing at your lake house.
All of this freeing activity brings dirt and debris along with it.  But we don't want it to be another issue to deal with it either, while we are decompressing.  Choosing one of these 10 door mats will help to keep the great outdoors close to the door, where you can shake it off…just like last week's department meeting.
BUYER'S GUIDE TABLE
PRODUCT
SUMMARY
Latex Backing Non Slip Doormat 
Overall Rating : 4/5

This mat comes in seven different colors and three sizes. You can machine wash this mat in cold water.

 Gorilla Grip Original Durable Indoor Doormat 
Overall Rating : 4/5

I didn't know that Gorillas came in so many different colors, but these ones do!  There are seven colors to choose from and two sizes.

Color Geometry Indoor & Outdoor Doormat
Overall Rating : 4.5/5

Add some fun at the door!  This welcome mat for your lake house comes in three different patterns and two sizes.

GRIP MASTER Durable All-Natural Rubber Doormat
Overall Rating : 4.5/5

The two sizes, four colors and patterns selection for this welcome door mat includes a really cute paw print that says "Must love dogs". I have a friend who has a plaque in her house that says "If our dog doesn't like you, chances are, we won't either"  All dog lovers will understand!

KAROLA Entrance Floor Mat Rug Indoor
Overall Rating : 3.5/5

These fun lake house welcome mats add a bit of humor and whimsy.

DII CAMZ34863 Indoor/Outdoor Industrial Doormat
Overall Rating : 4/5

These mats, which can be used as a welcome mat at the door, in a business or on a boat are also called hog mats.

Fasmov 2 Pack Indoor Outdoor Entrance Rug
Overall Rating : 3.5/5

So you have more than one door to your lake house that needs a door mat.  You have got it covered (get it?) with this two pack from Fasmov.

Mibao Entrance Doormat
Overall Rating : 4.4/5

Three colors and three sizes to choose from in this next door mat.  It has a 4.4 star rating on Amazon.

Calloway Mills Anchor Welcome Doormat
Overall Rating : 4.5/5

Ideal for the lake house atmosphere! The attractive mat has a bamboo color background and a jaunty black anchor with the word "welcome" superimposed.

Ottomanson Welcome Doormat
Overall Rating : 4/5

This is an inexpensive, one size door mat on the smaller side. As the description says, this mat would be ideal under pet food bowls.
PRODUCT REVIEWS
SUPER ABSORBENT FIBERS:  The fibers in this mat helps to absorb wetness and debris off shoes and paws.
INDOOR MAT: –  Use this mat indoors, and it can also be cut to fit if you need it in a specific area
NON-SLIP: – The non-slip latex backing won't slip or scuff floors. Low profile design so doors won't get stuck. Durable and the edge won't get curved. Perfect for homes with pets dogs, cats and kids.
EASY TO CLEAN: – Machine Washable or just shake or hose off with water.
CUSTOMER CARE: We are dedicated to providing premium products to you.
Buy Now
DURABLE: This beautifully designed door mat is incredibly durable and strong. It's perfect for indoor use and is versatile enough to use any season of the year.
CAPTURES DIRT: The mesh weave construction is designed to capture all of the dirt, mud and other messy unwanted debris from tracking into your home. Plus, it's water resistant, helping to create a protective barrier between your mat and the floor.
CLEANS LIKE NEW: Simply vacuum with a hand-held or full sized vacuum or shake off outdoors. For a deeper clean, use a garden hose to rinse the mat outdoors.
AND 10-YEAR GUARANTEE : All of our mats come with a 10-Year No Questions Asked Warranty.
Buy Now
ABSORBS MOISTURE AND DIRT: Uses double layer technology that quickly absorbs moisture from shoes, keeping floors clean and dry from water, dust, grit, mud, sleet, grass, rain and snow.
EASY TO CLEAN: The unique ribbed fabric design helps scrape dirt off your shoes to better protect the floor, and when your doormat gets dirty, just shake it off or hose it down and let it dry.
ANTI-SLIP: Anti slip mat has a rubber backing which is slip resistant.
DURABLE AND SAFE: Our mats feature dense polypropylene and polyester fiber weave in fashionable colors..Perfect for indoor and outdoor use!
GUARANTEE: 100% satisfaction and lifetime support
Buy Now
TOUGH CONSTRUCTION: This door mat is constructed of tough, high-quality all-natural rubber. Our door mat is designed to be durable and strong, yet soft and flexible for all-around versatility.
ABSORBS MOISTURE AND DIRT: The mat is designed with a strong, rubber beveled border that helps to form a retention dam to trap moisture, mud or other messy unwanted debris from tracking into your home.
EASY TO CLEAN: Simply vacuum, sweep with a broom, or shake off outdoors.
GUARANTEE:  All of our mats come with a 10-Year No Questions Asked Warranty.
Buy Now
Choose from starfish, red and black plaid, two different Christmas theme mats and one that tells you to go home if you did not bring refreshments!  Good way to weed out the slackers!
INDOOR: Low profile & thin design: 18″(W) x 30″(L),46cmx76cm

MULTIFUNCTION: Use indoors in front of the sink or as a bath mat

SLIP RESISTANT: Non-slip rubber backing

EASY CARE: Easy to clean dirt off, just shake, sweep or hose off.
Buy Now
The last thing you want in your lake house is hogs, or relatives.  But in this case, the "hog" refers to the mats ability to absorb the wet from rain, damp dogs or shoes.
KEEP THE DIRT AND DEBRIS OUTSIDE:  This hog door mat has a ridged construction that helps trap dirt and moisture to keep floors clean

MATERIAL GREAT FOR WET CONDITIONs:  Polypropylene fiber mats dry fast and can be used for your entryway, mud room, laundry room and more

FOR YOUR BUSINESS, TOO: These hog mats are not just for home use but can be great in warehouses, restaurants, offices and various other high-traffic industrial locations

EASY CARE – Easy to clean, just hose off with water and hang to dry

DII:  DII is a highly trusted brand for home décor needs.
Buy Now
USES: Use on a patio, in a garage, laundry room, entryway, and anywhere there is high traffic from outside
CLEANING: Can be easily cleaned by shaking, sweeping or hosing off.
COMPOSITION: Made of high quality polyester and rubber, non slip rubber backing prevents moisture from seeping through and keeps the mat in place
Pack of 2, doormat measures 20"x31.5"
Buy Now
MAT DETAIL: 36″ x 60″, 1/2 inch thick. The mat is heavy duty, resistance to wind and snow in winter.
MATERIAL AND DURABLE DESIGN:. It is made of natural rubber and wicking polypropylene.. It is designed to be durable and tough.
ABSORBS MOISTURE AND DIRT, EASY TO CLEAN: Polypropylene fabric helps to trap dirt within its patterned grooves. You can simply sweep, vacuum, or hose it off.
NO MORE SLIPPING: This durable mat has a powerful non-slip backing that grips.
PLACES TO USE; Heavy duty, can be used for entryways, garages.
Buy Now
LARGE SIZE:  24 inches by 36 inches. Over-sized to provide more coverage
USE INDOOR OR OUT: All-season, colorfast and weather tolerant if in a sheltered area.
DURABLE: Made of natural coir, a dense fiber that is naturally mold & mildew resistant. The coir fibers help to  scrape shoes clean
SLIP RESISTANT: Vinyl backing to help prevent movement
Buy Now
Although, to me, it might not be the best option for a heavy duty, high traffic area, like some of the others we have reviewed. This one would be good for other needs.  The pet food bowl option, in front of the sink in a bathroom, or an easy to pick up and shake out mat for an RV. They do have several patterns and colors to choose from.
MANY USES: Keep your entryway nice and clean with the addition of this stylish doormat. Great for pet feeding or litter area or under a pet water/food bowl as it also offers a naturally stain resistant nylon pile and an easy-to-clean no-hassle maintenance

DURABLE: Non-slip rubber backing that stays in place. Low-profile design glides under most doors without catching and curling.

GUARANTEE:  If you are not totally content with this rug, return it hassle-free for a full refund – we pride ourselves for having amazing customer service.

CARE INSTRUCTIONS: Rotate periodically, absorb moisture with paper towels, spot clean with mild soap or detergent and vacuum regularly.
Buy Now
CONCLUSION
The rugs reviewed above will serve a variety of purposes in various sizes and colors.  The main purpose that these welcome door mats will serve is to give you more of what you are at a lake house for: time.
You can achieve a relative and healthy amount of cleanliness by stopping dirt and debris at the door.  They are mats that can be picked up and shaken to remove stones, sand, dirt and twigs that otherwise would find its way into the living areas of your lake house.
Not all of it will be stopped, and that is not the point.  Part of the atmosphere and experience of a lake house is the bits and pieces of the outdoor that are inside.
You want the items in your lake house, welcome mats included, that will work for you, not another item that requires maintenance and care.  We know that we can't eliminate all upkeep, that is not realistic, but we do want to minimize the time spent doing so.
The time away at a lake house is precious, and if a welcome mat at the entry doors help keep the debris where we can fling it back where it came from, then it is a good item to have at the doors.
In thinking of the variety of colors of door mats, my favorite in any of the selection of welcome mats for a lake house would be a darker brown.  On this color, dirt would be less visible and if I can't see it, it doesn't exist!