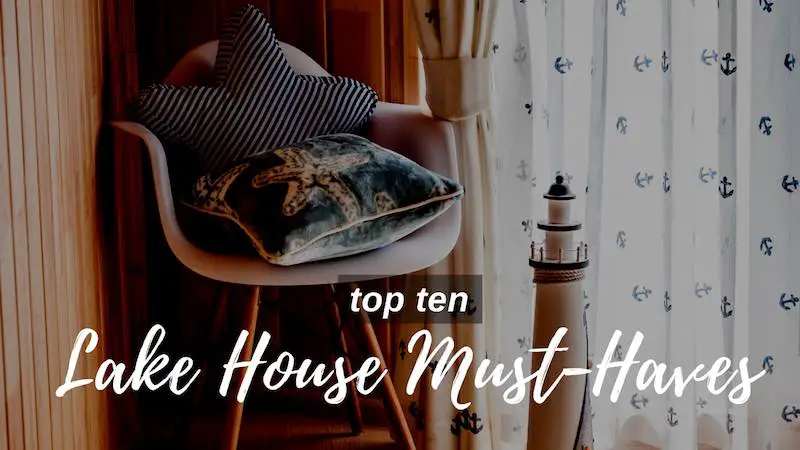 Top 10 Lake House Must-Haves
(Last Updated On: May 11, 2022)
Top 10 Lake House Must-Haves
Everyone loves spending summers out on the lake. Lakehouse trips are great fun for the whole family, and there is always something for everyone to do. Children love swimming and splashing in the water, and long summer nights listening to the wildlife can be serene. There are a few items that are an absolute necessity for any lake house. These fun accessories will help you get the most out of your lake trip and help you enjoy the time you spend out on the water. This summer, make your trip to the lake house even better with these fantastic items.
Product Reviews –Lake House Must Haves
If you enjoy hammocking, you'll absolutely love lounging in a comfortable hammock chair. It would be a great accessory to any lake house porch and will provide you with a comfortable spot to relax, nap, read or simply enjoy the view. The chair is equipped with a sturdy wooden rod to keep it supported and comes with everything you need to hang it. It also includes the seat cushions for maximum comfort.
Pros
Quick, easy set up
Sturdy
Can handle a good amount of weight
Cons
Buy Now
Many outdoor chairs are bulky, uncomfortable and awkward. Thankfully, these outdoor folding rocking chairs are a great alternative to conventional outdoor folding chairs. This chair is ultra comfortable with padded armrests, a convenient cup holder and a tall height to make sitting and standing easier. In addition, it also rocks back and forth so you can have the comfort of a traditional rocking chair in the outdoors.
Pros
Easy to fold and carry
More comfortable than other folding chairs
Large seat
Cons
Frame does not have longevity
Buy Now
If you haven't been out to the lake house for a while, you may return to find that your lake shore or dock has been overcome with weeds. The Weed Razor comes in handy to help you smoothly and swiftly remove all the weeds with a limited amount of effort. The v-shaped tool is razor sharp and covers a path of 30 inches. All you have to do is throw it out in the direction you want and pull it back, eliminating all the weeds in between.
Pros
Strong and durable
Cuts cleanly and smoothly
Very lightweight
Cons
Assembly instructions aren't clear
Buy Now
Relaxing in the lake will never be as easy as it is with a floating raft. This raft is completely designed for comfort with a backrest to lean on and a mesh bottom to keep you comfortably supported in the raft. You'll also love the sturdy handles to hold onto and the cupholders are definitely a plus. You can relax with friends or simply float by yourself in this fantastic inflatable raft.
Pros
Has a comfortable backrest and mesh bottom
Comes with cup holders
Sturdy and stable
Cons
Buy Now
Although it's not as common as other lake toys such as innertubes and rafts, a floating mat is an absolute lake house must-have for summer fun and relaxation. It can be used to sit on and pull behind a boat, it can be tethered to relax and sunbathe out on the water, or it can even be used as a floating table to set drinks and play games on. At 9'x6′,  you'll be amazed at how much fun this mat can bring the whole family.
Pros
Difficult to sink
Does not tear easily
Holds up to a lot of weight
Cons
Difficult to roll and unroll
Buy Now
This floating pong table is the perfect toy for the adult's trip to the lake. It's extra long – 6-foot –  strong, durable and easy to inflate. Each side has 10 cup holders in a pyramid shape, and there are more cup holders outlining the perimeter and a slot for pong balls. A great feature of the table is the cooler in the middle, so you don't have to get out of the water to get another drink. Finally, the table can also be used as a lounging raft, as it can hold the weight of an adult.
Pros
Great for outdoor parties
Large and deep to store many drinks
Easy to drain and refill all day long
Cons
Buy Now
A day partying on the lake is incomplete without cold drinks and plenty of food. That's where this awesome inflatable bar tray comes in handy. Simply inflate, set up, load with ice, then fill up the tray with ice, drinks, and party snacks that need to be kept cold. The tray is convenient to drain and refill, so it can be used all day long.
Pros
Great for outdoor parties
Large and deep to store many drinks
Easy to drain and refill all day long
Cons
Buy Now
Everyone loves to spend time in the water, but swimming and back floating can get tiring after a while. This multi-functional floating hammock is perfect for kicking back and relaxing in the water. It is constructed with comfortable, floating head and foot rests connected by a strong sheet of mesh to keep you supported in the water. You can use the hammock to lay on your back, float on your stomach or sit in, like a chair or saddle seat.
Pros
Easy to pack and store
High weight capacity
4-in-1 design
Cons
Buy Now
If you need a good weed-cutting tool but prefer a more traditional method, this simple weed remover is the one for you. This weed cutter has a 54-inch handle that will give you great reach for tackling weeds in difficult places. It is guaranteed to destroy weeds with its heat-treated, self-sharpening blade that works by removing weeds from below the soil.
Pros
Works better than using a regular hoe
Great for use in gardens as well as the lake
Self-sharpening
Cons
Not good for large clumps
Buy Now
A lakehouse won't feel like a home until it has a little bit of personalized decoration. You can use it as a throw pillow on the couch, a decorative bed pillow, or even put it on your porch seating area. It's small size makes it adaptable to any space and it is completely machine washable, so it's easy to clean if it gets dirty outside.
Pros
Machine washable
Looks nice on furniture
Insert is easy to find
Cons
Buy Now
Lake House Must-Haves – Selecting Lake House Furniture
Begin with the Bare Essentials
Start off decorating your home with the most basic pieces of furniture, such as chairs, tables and couches. Be certain that the furniture you select will fit in the space you have, and will fulfill the function you want. After you have selected and arranged your more basic pieces of furniture, you can move on to thinking about other accessory items such as bookshelves or stereos
Think of the Functionality of Your Furniture
Take some time to think about the functionality that your furniture will provide and what activities you will be doing the most. Both aspects will be important in choosing what type of furniture you will be purchasing and where you place them. If you want your living room to serve as an entertainment center for you and your guests, you may choose to have a television as a centerpiece of the room. Or have a place where you can serve drinks and food to your guests while hosting a party.
Measure Living Room and Take Note of the Existing Architecture
Before buying any of your furniture, you will need to do an accurate measurement of your living room and create a floor plan.
This way, you can figure out how to make proper placements for each piece of furniture while still having clear pathways to move around easily. In addition to furniture placement, you may want to have them arranged in a way that suits your personal tastes. After taking measurements, outline each item on the floor itself with either masking or painter's tape. This will give you a visual of the space each item will take up and you will be able to clearly see traffic patterns. Also take some time to evaluate the existing architecture of your living room, such as the windows, columns, and the design of the room itself.
Make sure that the furniture you select will fit the interior design while fitting properly according to the floor plan you created. You and your guests will take great pleasure in a well planned and constructed interior design
Choosing and Coordinating High Quality Furniture
Once you are ready to move to the next step, choose some high quality furniture that will look good in your lake home.
Design alone should not be the determining factor for the furniture you select though. Quality matters too.
High quality furniture will be a bit more expensive than regular furniture, but it will be more valuable and remain durable for much longer in comparison. To coordinate your furniture, make sure that it goes well with the other furniture and design elements of your lake house.
The theme of the interior and the placement of the furniture should complement each other and make sense design-wise. The same goes for any other types of accent furniture you choose to place in your lake house.
Lake House Design Tips
Know the Different Styles
There are two commonly popular lake house styles to consider when you are thinking of building it from the ground up. One is craftsman style and the other is cottage style. Craftsman style houses make use of natural materials for its construction and has a centrally located fireplace. Cottage style houses are open-plan homes that are usually constructed with diamond panes and bay windows, which contribute to its overall sense and appearance of coziness.
Learn how to Best Construct Each Area of the House
Every room will be constructed differently but they will ultimately work together to create a nice and welcoming atmosphere for you and your guests. Keep in mind that your exterior may have as much impact on the appeal of your lake house as the interior. So design your exterior in a way that you and your guests can relax while taking in the gorgeous scenery and other amazing features that your lake house offers.
Lake House Must-Haves – Safety Items
First Aid Kits
One of the biggest lake houses must-haves in regards to safety is a first aid kit. An emergency can strike at any moment and it is essential to always be prepared for accidents or medical emergencies with an accessible first aid kit. First aid kits will usually consist of multiple adhesive bandages, compress dressings, antiseptic wipes, and tweezers among many other items. Buy a first aid kit here.
Smoke Alarms
Smoke alarms are a necessity for every home. Make sure your smoke alarm is up to date and place full batteries into them upon installation and replace them every six months. Install smoke alarms on every level of your house so you can have the best maximum smoke alarm detection. Click here for different types of smoke alarms.
Carbon Monoxide Detectors
Carbon monoxide detectors should also be installed on every level of your house for safety purposes. The Carbon monoxide gas is an odorless, colorless, and extremely dangerous. It is difficult to properly detect without a carbon monoxide detector. Make sure that your carbon monoxide detectors are on at all times and that you replace their batteries every six months. Click to buy.
Battery Operated Flashlights
Battery operated flashlights are useful during power outages and traveling outdoors at night. Make sure you carry a battery operated flashlight if you plan to be outside during the night. Stock extra batteries for when you need replacements. Click here to purchase a flashlight.
Life Vests
Since you are surrounded by a lake based environment, there is a good chance that you own a boat and enjoy recreational water activities. Life vests are essential for the safety of you and your family. Even if you and your family are expert swimmers, life vests are still a necessary safety precaution that can save your life in dire situations. Click to learn more.
Conclusion
Your lake house is meant to be your home away from home. It's important to be well prepared and to stock up everything you need to have the best vacation. Go through our list of lake house must-haves and make sure you're all prepared to have the best time away from home!