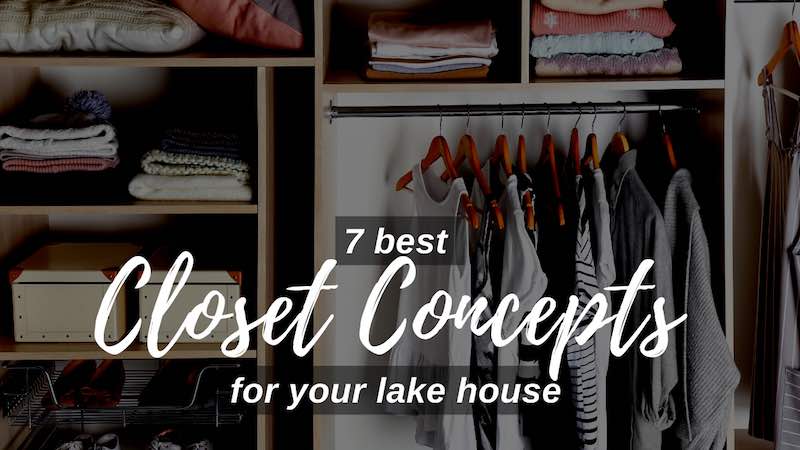 7 Best Closet Concepts for Your Lake House
(Last Updated On: March 9, 2022)
Living at the lake house is a beautiful place to be. Often you have others that come and spend a day or so with you enjoying the time on the water. The last thing you want to do at the lake house is to be looking for misplaced items or continually sorting through packed closets.
Clutter and disorganization should be forbidden at your lake house, as it just detracts from your reason for being there in the first place. We have seven of the best closet concepts to use to keep on top of organizing necessary items, but you don't want to waste time keeping track of them.
ONE: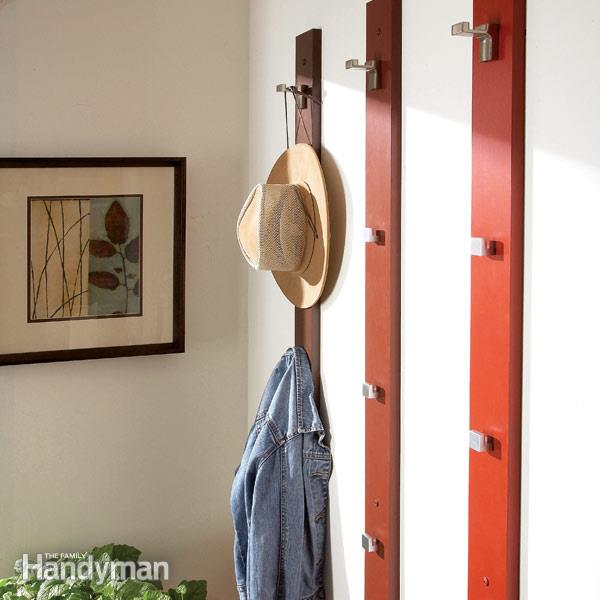 Make good use of the entryway to your lake house. Frequently, items will be brought into the main part of the house simply because there is no storage near the front door. They get sat down in the first clear spot in the house and add to the clutter. Then when you need the item again, you have to sift through piles to find it.
Set up some stations in the foyer so that these often-used items have a home. An umbrella stand for umbrellas and walking sticks will keep those items handy. Cubes that are stacked become storage units that hold shoes and prevent them from being a tripping hazard. Hooks on the walls will be perfect for hats and coats. They can be hung up immediately upon entering the lake house and retrieved on the way out again. There is no more throwing them over the back of furniture or in piles on a bed.
Here are instructions to Create a Sleek and Simple Coat Rack and Hat Rack
TWO: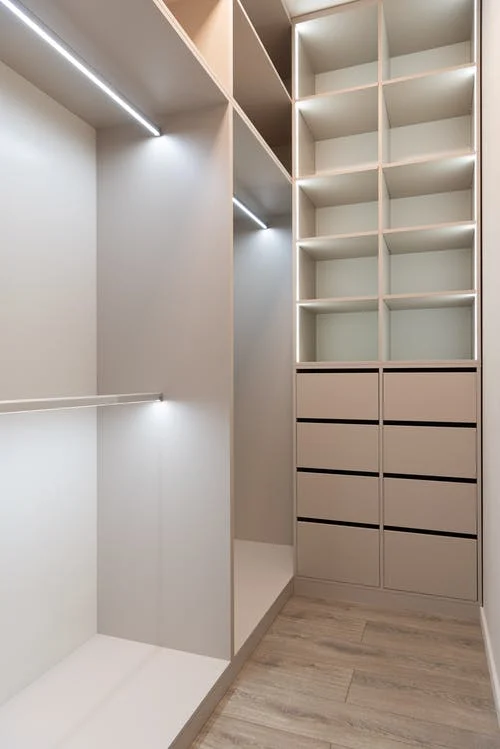 Drawers in a closet are a handy concept. If the room is on the smaller side, drawers in the closet create a place for clothing. Home improvement stores will have drawer units that can be put together and added to your closet space. Or, you could put a small dresser in the closet and free up floor space at the same time. You could find an inexpensive set at a garage sale or thrift store, or you already have one.
The clothes rod will still hang above, and the dresser below will provide storage for folded items.
THREE:
Having clothes dividers in your closet saves time spent hunting for particular items. You may have a variety of clothes at the lake house, some for each of the seasons or various occasions. Maybe the closet is shared with others, or you have one closet that several children use. You can print out clothes dividers on heavy-duty cardstock.
To ensure their sturdiness, you can laminate them. Looking much like a hotel "Do Not Disturb" doorknob hanger, you can print a person's name on each divider. You could print any category that you need, like spring clothes or boating outfits. Using these dividers in closets makes it easy to stay organized, and you will know where items belong. Kids can find their belongings, and there will not be the usual hunt for articles of clothing that get lost in the shuffle.
This is especially handy if you have clothing you leave at the lake house, you will not have to hunt for them upon your return. Click here to purchase.
FOUR:
A great way to keep your accessories easy to find is to hang them up. It is easy to add a simple chair rail to the inside of a closet or along a wall. It would only need to be about two inches wide and whatever length you choose. Place the rail at a height that is convenient for adding items and getting them down again.
Add simple hooks to the chair rail, and use those hooks for various things. Perfect for belts, hats, and scarfs, it will keep those items from being misplaced and always accessible. The hooks will also be ideal for jewelry. Necklaces, chains, and bracelets will be at the ready. Hanging these items will keep them from becoming a tangled mess on top of a dresser.
Your time at the lake should be spent relaxing, and a rail with hooks makes organizing easy. Take a look at different hook options here.
FIVE: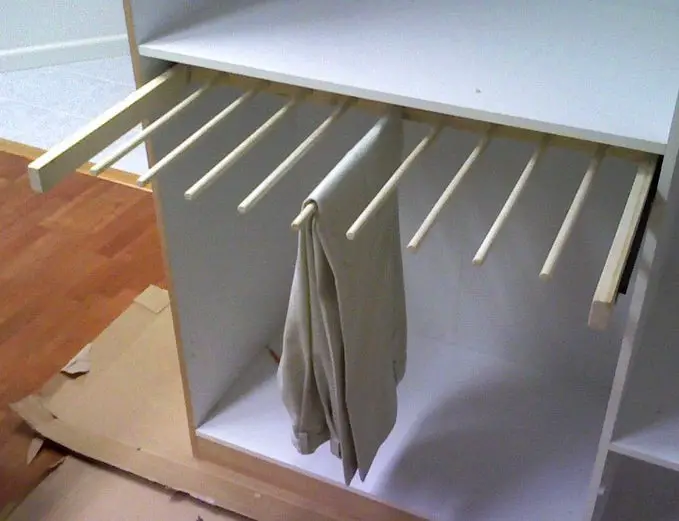 If you have pants that take up a lot of room in the closet, you can either purchase sliding pants rack or make one of your own. Storing your pants this way gives you better access to them. Instead of fumbling through lots of hangers, slide the unit out, and it is then easy to see all your pants and to choose which pair you want. It also makes it a simple proposition to hang pants back up. Anything that makes keeping clothes under control is a big plus, as it gives you more time to spend on the water!
Click here to purchase from Amazon, or if you decide you would like to make your own, here are the instructions for a  Sliding Pants Rack.
SIX: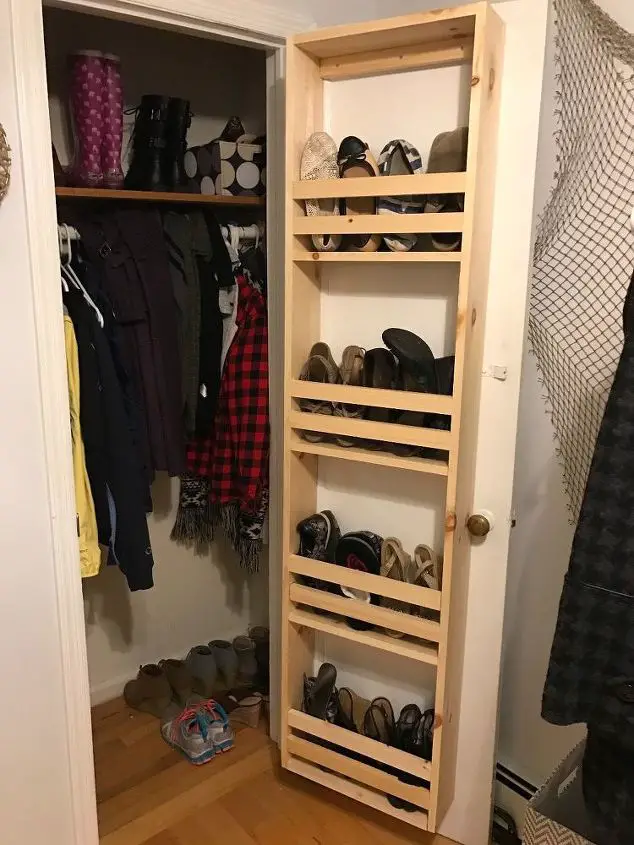 Closet door storage. You might not have thought about the back of the closet door as storage, but it can be! There are a variety of items for storage, like those that hang over the door. Those can be made from different materials like vinyl or coated wire. You could also build your own Closet Door Built-In Storage that you could customize for your needs.
The back of the closet door could hold board games and puzzles. It could also hold extra towels for the guests that visit your lake house. It could store sheets and other items, like toiletries, that your guests can keep at the ready when they are there.
Whatever way you choose to use it, closet door storage can provide the extra space you need to keep items under control. Click here to purchase.
SEVEN:
At the lake house, you want to spend your time on the deck, in the hammock, or on the water. You don't want to be spending your time trying to find the missing shoe, swimsuit, or hoodie. If you have a couple of kids, the chances of losing needed items increase exponentially. One of the ways around this is to make sure that there is a place for everything. This Closet Organizer from One Sheet of Plywood gives you the perfect closet organizer for people who might be sharing the same room at the lake house.
It has the area nicely divided so that there is space for hanging items and for storing folded items. As we said, it will give kids a place for everything, and all you need to do is get them to put it there. Unfortunately, we don't have instructions for that!
If you would rather purchase an organizer than build your own, click here!
In Conclusion
The first suggestion for getting and staying organized and keeping the closets at your lake house clutter-free is to have an empty box that remains in the same spot in the garage or by the front door. Every time you run across an item that you don't use, place it in the box to be donated once the box is full. There is no reason to keep something that takes up space and adds to clutter. Once the box is full, replace it with another empty box and donate the full one.
The only way that any organizational system works is if you use it. You can have all the coolest containers, systems, and closet organizers, but if you don't use them, they won't work to free up your time. Only have the items at the lake house that you need and use. If you brought something out that you thought you would use but find that you don't, get rid of it.
There are thrift stores in practically every town that will accept donations or have a donation box conveniently located. Time at the lake house is precious and special. Using some of the closet organizing tips listed above will help you have more free time while you are there!