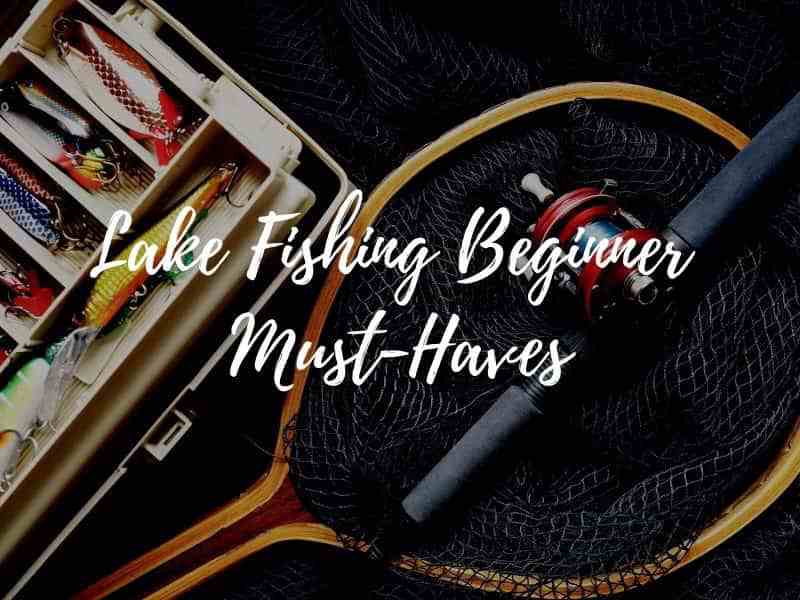 Lake Fishing Beginner Must-Haves
(Last Updated On: April 12, 2022)
If you are just beginning to learn how to fish, you are not alone! More people in the United States participate in recreational fishing (both fresh and saltwater) than bowl or play basketball, softball, or soccer. Recreational fishing is an American tradition that is as old as the country itself. By learning how to fish, you will be acquiring a sport that you will be able to participate in all your life long. We have listed below some items that will come in handy to help you get started and gain some experience.
Lake Fishing Beginner Must-Haves
Product Review:
Closed Face Reel For Fishing On The Lake
Zebco has been a trusted name since 1954 for quality fishing products. The Omega Pro Spincast is no exception. This closed-cast fishing reel comes pre-spooled with a six-pound fishing line. This reel features aluminum cores, an extra Dual-Paddle handle, and a soft-touch thumb button for smooth and easy casting. The 7-bearing drive has premium components to last for years. With a mono capacity of 85/6, this reel is especially ideal for walleye, bass, catfish, and striper.
Freshwater Fish Hooks For Starters. Different Size Fishing Hooks In One Box
This set of Drasry fishing hooks will give you all you need to start with as a beginner. All of the hooks are made from strong carbon steel with high strength and corrosion resistance. These hooks are great for use in fresh or saltwater. They are designed with extremely sharp barb hooks, so be sure to take care when handling the hooks. Packaged in a portable plastic box, they are divided into separate compartments to keep the different sizes easy to access. These hooks will be a great addition to your beginners arsenal.
Braided Fishing Line For Beginners
Definitely a must-have, this double-knit fabric braided fishing line has a strong knot strength to allow you to tie a more substantial knot easily. Made in a low-visibility gray, this line has low memory, so it will not easily conform to its regular shape but will help you achieve a better, farther cast with less chance of wind knots. The greater abrasion resistance helps the line remain strong and prevents breaking. Make sure to pick up a spool of this ultra-high sensitivity and zero-stretch line that will increase your catch ratio.
Fishing Line Spooler
You will not want to be without a Piscifun spooler machine. This indispensable tool will load your reel with a braid or mono line. Don't even think of using a pencil or a friend to help load the line when you can do it quickly by yourself with the Piscifun. This line winder works with both wide and narrow spools. It comes with a ⅜ inch bushing and is compact and lightweight. All you need to do is to tie some line on the reel first, attach the reel to the handle, attach the line spool to the rotor and start spooling your line. Made from high strength graphite; the Piscifun can be easily disassembled, making it convenient to take wherever you go.
Different Types Of Fishing Lures In A Single Set
A great way to start with a variety of freshwater and saltwater fishing lures, this kit from Topconcpt has 275 pieces that will give you a wide selection of lures. There are frog lures, fishing spoons, saltwater pencil bait, grasshopper lures for bass, trout, and salmon. These 275 lures come in a plastic two-layer tackle box that is easy to store and transport. You can use these lures in the lake, river, sea, pond, or stream. Besides getting a set for yourself, these lures make a great Christmas or birthday gift for any angler.
Long Sleeve Sun Protection Fishing Shirt
When you think of fishing equipment, you might think of rods and reels, but not a shirt. Having the right kind of shirt to fish is important. Whether you are outside on the shore or in a boat fishing, it is an essential consideration. You will need a long sleeve fishing shirt that gives you protection from the sun, as the Baleaf does. This quick-dry shirt has a UPF rating of 50+ fabric that will keep the sun's harmful UV rays off your skin. With flatlock seams and no tag construction, the Baleaf is quick-drying and moisture-wicking, all while preventing chafing. The long-raglan sleeves give you a wide range of motion for casting. This angling shirt is also great for hiking, running, and other outdoor sports.
Biodegradable Sunscreen With SPF 50. All Skin Type Friendly Sunscreen
Sunscreen is one of the items that you shouldn't leave home without. We all know the dangers of UV rays and the need to protect against them. Sun Bum is dermatologist-approved, non-comedogenic lotion, and packed with Vitamin E. Oil-free and water-resistant, this sunscreen is also reef friendly. It will work on all skin types. Before you go out in the sun, apply to all the exposed skin areas, and reapply after 80 minutes of swimming. You can reduce the risk of damaging your skin or contracting skin cancer by 80% when you regularly use sunscreen.
Fishing Trucker Hat
You will need a hat to keep the sun off your head and out of your eyes, so why not get a fun hat? This baseball-type hat has a flag-type emblem, with the US's red stripes being all kinds of fish.
Not only will this be handy for days that you are fishing, but it will also be a good conversation starter for like-minded individuals. The ventilated mesh back to the hat adds breathability for comfort.
This Columbia form-fitting ball cap is made of soft, quality fabric and is ideal for fishing or everyday wear
Ultralight Lake Fishing Rod For Beginners. Easy to Use and Carry
Crafted from the highest quality material to ensure durability, this five-foot Ultralite two-piece Okuma Celilo fishing rod is made to be lightweight. The sensitive graphite composite blanks have aluminum oxide guide inserts and stainless steel hooded reel seats. Go for trout, perch, and panfish with the Celilo rod that will give you smooth execution with fore and rear cork grips.
In Conclusion
You may be a beginner, but you will be one of over 49 million anglers that enjoy lake fishing at all stages of their lives. Learning a new sport is fun and exciting, and as you learn to fish, these accessories for beginners will be valuable items for your lake fishing arsenal.