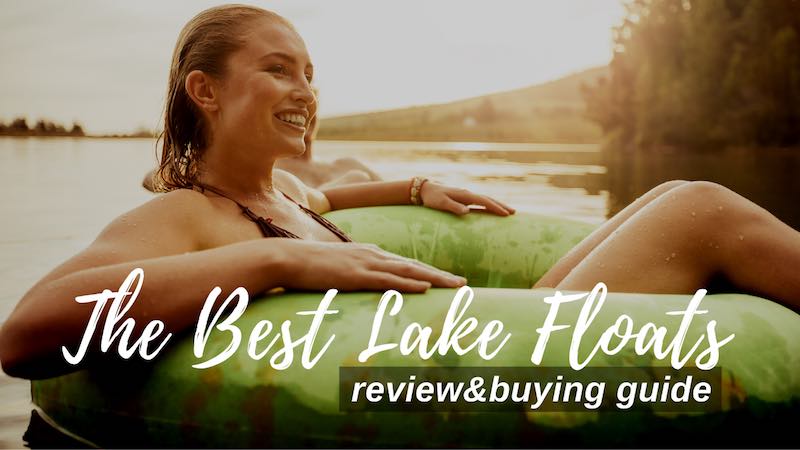 Inflatable Fun! The Best Lake Floats Review and Buying Guide
(Last Updated On: April 12, 2022)
The lake is a great place to be, but it is even better with inflatable fun! Lake floats are a must-have when you want to spend time on the water.A lake float allows you to hang out on the water without having to gas up the boat. You can get a float that holds one person, a group of twelve, and any number in between.Lake floats are a truly fun way to enjoy the lake, the conversation, and each other's company.
Best Lake Floats Review And Buying Guide
Here are some of the more popular lake floats that are sure to deliver inflatable fun at your lake house.
If you have always wanted to ride on a rainbow unicorn, you now have a chance to do so! You can have one for your very own and ride it to your heart's content! The Jasonwell Giant Inflatable Unicorn is a huge 114 inches x 55 inches x 47 inches when fully inflated. This pretty pony can hold two adults or a gaggle of kids, for a total of up to 400 pounds. Made from thick, soft, and durable premium raft-grade non-phthalates material, it is easy to inflate this beauty. You can use a hairdryer or an air pump. This unique unicorn has the Fast Valve, which makes inflating five times faster than usual. Great to use, in a pool as it will keep the kids entertained all day. It also makes for the perfect gift for a birthday or pool party; it will be a hit!
This inflatable has everything you need for chilling out and going with the flow! It is the best party float for groups of any age. Each person will have an extra-wide pillow backrest with room for four adults or four kids, a cool mesh bottom, and their very own built-in cup holder. A grab rope makes for easy entry from the water. As if that was not enough, two built-in coolers allow you to take extra drinks or snacks along for the ride. Fill the coolers with ice and drinks, and you are ready to go! The Bestway rapid rider is ideal for floating down a river or on a lake with friends. It is constructed with a high-grade PVC and puncture-resistant Fortech to enhance durability and flexibility. Inflates in about ten minutes and is perfect for summer fun for you, your friends, and the kiddos! Four grab ropes with built-in grommets can connect the Bestway to anchors, boat, docks, or other floats.
The Intex Inflatable Relaxation Island is an excellent way for you and your friends to spend a day unwinding at the lake. Built for six people, there are six cup holders and a built-in cooler for extra drinks and snacks. Easy to get into from the water, the Intex has a boarding platform with grab handles, so if you choose to float alongside, you can quickly board again. Four of you can use the oversized backrests to lounge, and the other two or three people can perfect their tan on the float's contoured deck area. Take along the included anchor bag to moar where you choose. The Inflatable Relaxation Island is the ultimate way to spend the day soaking and floating and having good conversations with your friends.
The absolute best party float, the Bestway CoolerZ Rapid Rider Quad inflatable raft, is like having your own floating island. Six people can fit comfortably with the extra-wide pillow rests, and each has its cup holder. If you want to float for hours, put on the detachable sunshade to provide some protection from the sun. The nice thing is that there is still an area on the float that is always open to the rays so that you can choose sun or shade. The mesh floor area allows you to dip our feet and legs in the water for a refreshing feel as you float. There is a convenient built-in cooler bag, so you can float for hours without having to stop to refresh your drinks or snacks. Made from durable and tear-resistant PVC, the inflatable raft is great for the beach, river, or lake. An all-around grab line and handles make getting on and off easy or tie off to the dock, boat or anchor.
This extraordinary inflatable will hold up to six occupants. There are three integrated boarding platforms to make getting onto the raft easy. And you will want to get on to this raft! The Body Glove is a party on the water with its waterproof speakers. You can listen to your MP3 music by just plugging it into the speakers without worrying about your device; just put it in the waterproof case provided. Six drink holders for your favorite beverages and two built-in coolers means you can drift on the lake for hours or stay put with the anchor bag. A mesh cooling area will keep you cooled off as you enjoy the sun's rays. A great addition to your lake home arsenal, the Body Glove Aqua lounge will be fun in the day and a great way to round out the night.
Wow is right! This enormous 12 person island is a full twelve feet in diameter! The true floating party inflatable. You will be the most popular person on the lake! You will be able to offer a seat to 12 of your nearest and dearest. There is a separate mesh seat for each person. Create your private island in the lake! The open center is like an oasis to dip in and out of the water. If you want to stay put in one spot, use the included anchor bag or the large grommet for tying off to the dock or a boat. The bright orange floral pattern will increase your visibility on the water. Wonderful to have at the lake to use as an offshore raft and gathering spot.
Another great offering from WOW, the Tube A Rama has seating for eight partygoers, with a large mesh central deck that people could relax in as well. Another fun feature is that four of the eight seats are open to the water (the other four are mesh), which allows for diving out of the float and popping back in. Two cooler wells will hold ice and beverages, and snacks for when you get the munchies. Eight recessed cup holders keep your drink close at hand. This is one large float at twelve feet in diameter and will be sure to be the favorite place to hang out on in the lake
Buying Guide For a Lake Float
When at your lake house, while you may want to do some swimming or take a tour of the lake in your boat, there are many more times when you would just like to lounge on the water and let the world go by. Lake floats will help you accomplish that goal. You will be able to drift on the water and paddle yourself back (remember to take a paddle along!), or you can tether yourself to a favorite spot near the dock and just soak up the sun. When looking for the inflatable that will work best for you, consider what you will use it for. You may end up deciding to get more than one, especially if you frequently have friends and family visit your lake house. You might want to get one solely for your use on days when you need solitude and get a large one for the company.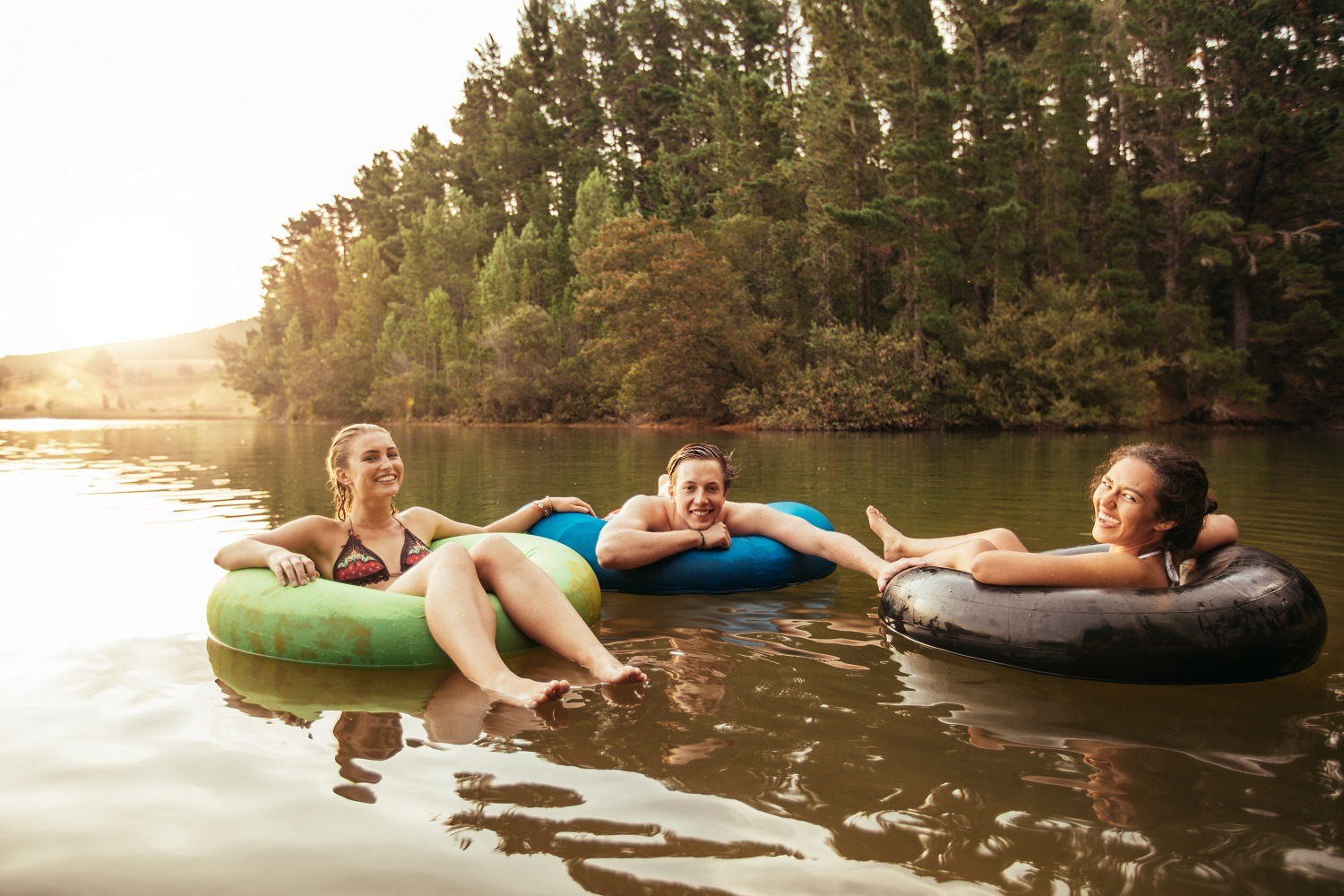 Check The Material The Float is Constructed With
When you are looking for any inflatable, consider first the material that the float is made out of. You don't want to purchase a float, have a bunch of excited company or kids, and then have a rip or tear ruin all the fun.Look for a float made with a high-grade PVC that is tear and puncture-resistant. A good quality float should last you several seasons of fun on the water.
Inflating Your Inflatable
An inflatable should be easy to inflate and deflate. There is no way in the world you will be able to blow these up like you would a toy; you would have to start in the fall to be ready for summer.The easiest way is to use an air compressor, but very few of us have an air compressor. There are several, easy options for inflating your float.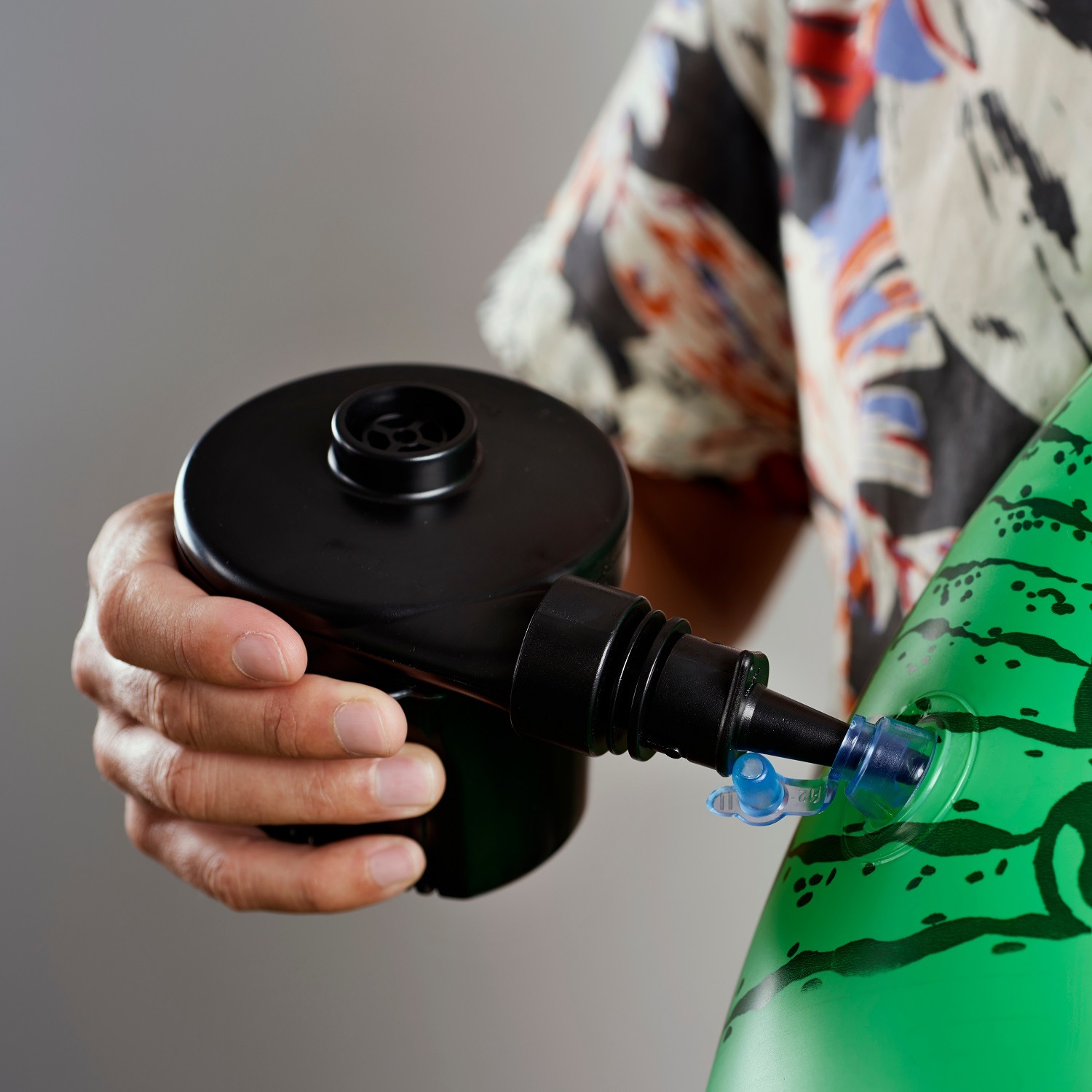 Use an Electric Air Pump
Consider picking up some type of electric air pump. Most of them come with various nozzles and are relatively inexpensive, with most around $20. Most electric air pumps have adapters to plug into an electric outlet or your car adapter.
Use a Shop Vac
Another option is to use a shop vacuum. Check out the instruction manual for your shop vacuum to see how to do so. It is a pretty straightforward procedure, and this video shows you how this man uses his: How to inflate using a shop vacuum.
Use a Hairdryer
Some inflatables can be inflated using a hairdryer. Make sure that the hairdryer you use is in the cool setting. That makes it handy to inflate as most of us have a hairdryer in one of the bathroom drawers
Use a Manual Pump
If you are somewhere, you have no power; you might have to resort to a manual air pump. Rather than a hand pump, which will take forever and be tedious, look for a foot pump. It will also be tedious but won't make your arm feel like it will fall off.
Use a Garbage Bag. No, Really
There is no way I am advocating that you try this method to get air into your lake inflatable. However, it is quite entertaining to watch, and you have to give the guy credit for ingenuity: How to blow up an inflatable using a garbage bag.
How Many People Do You Want To Accommodate?
When you consider how large of an inflatable to purchase, you should have a rough idea of how many people might be using it. There is no sense in buying an inflatable that will hold 12 people when you will only ever have three or four. Conversely, a lake float that contains just two people when you usually have eight or ten, will put a damper on the fun.
Soak Up The Rays, Or Not
The idea of spending time just floating on the water sounds enticing and relaxing. And it can be, but depending on when you are on the water, it can also be hot in the sun. Some inflatables have detachable sunshades and will protect you from the sun while still allowing you to float in peace. This is an excellent feature to have with kids who don't want to come in off the water; a sunshade will keep them out of the sun and let them remain in the water. Remember, too, to always put on sunscreen before you spend time on your lake inflatable.
Amenities On Your Inflatable
While you are gently bobbing on the water and enjoying the view, doing nothing can be a thirsty business. You can bring along your favorite drink, but unless you have a spot for it, it will be rolling around and spilling before you can finish it. The beverage holders on a lake float are a genius idea that you will appreciate after using one. They are handy if the passing boat's wake jostles you or if the water is slightly choppy. Another amenity to look for in a lake float is the built-in cooler. Part of the inflatable, the cooler can have a zippered or Velcro opening that covers a well where you can put additional drinks. Put in some ice cubes to keep everything cool, and you will be able to stay out for hours. Bring along snacks or sandwiches, and you won't have to come back to shore until dinner!
Grommets Are a Necessity
Grommets on a lake float allow for a guideline to pass through on the float's outer side. With this guideline, you can quickly move the float from one place to another or pull it out of the water. The presence of grommets also allows you to tie up to a dock, a boat, or another inflatable. It is also possible to use an anchor bag when you have a grommet to hook it to. Before purchasing an inflatable, make sure that it has grommets; otherwise, the lake float will be unwieldy once inflated.
In Conclusion
Your lake house is a fun place to be. The water that drew you to the lake in the first place is where you want to spend time. An inflatable float will enable you to do just that, and it will be a great way to spend time with your friends and family. Floats are truly inflatable fun, and every lake house should have at least one!
FAQ
How much do lake inflatables cost?
Prices will range depending on the inflatable size, but they can be as little as $40 or as much as $400.
Are inflatables difficult to take care of?
No, they are not. You need to take caution when using an inflatable that you don't drag it over sharp rocks or puncture it when putting it in or out of the water. Tether your inflatable when it is not in use, so you don't have to go hunting for it across the lake.
How do I store an inflatable?
At season's end, bring your inflatable onshore and give it a cleaning. Use equal parts of white vinegar and water and spray the inflatable down. Rinse with fresh water. If you feel you need something a bit stronger to clean the float, use half a cup of bleach to a gallon of water and spray the inflatable, letting it sit for a few minutes. Rinse with fresh water. Allow your inflatable to dry thoroughly on all sides before deflating and packing into a large mesh bag until it is time to have fun on the lake again.
Can I use an inflatable without knowing how to swim?
While you can have enough fun on the water without knowing how to swim (usually using a life vest or in the company of experienced swimmers) we advise you to take swimming lessons. It's never too late for that!