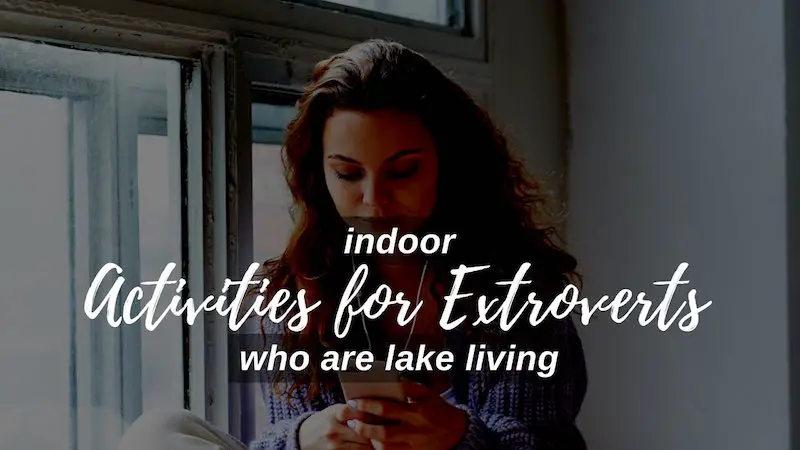 Indoor Activities for Extroverts Who Are Lake Living
Last modified on April 22nd, 2021 at 7:01 am
Extroverts revel in social situations and even deliberately pursue as such because being around people gives them a sense of fulfillment.
Some of the most common traits of an extrovert:
Plenty and diverse interests
Talking is the primary medium in communicating
Enjoys being at the center of attention
Impulsive tendencies
Flourishes in group works
Too much time spent alone leads to reclusiveness
Scopes for others and outside sources for ideas and inspiration
Comfortable in relaying of thoughts and feelings
It is a nightmare for almost if not all, extroverted people to be put in isolation for whatever reason.  For those who thrive in the company of other human beings, being in seclusion can be tormenting. But if one has to stay home for long periods, it might be intimidating to think of indoor activities for extroverts. So we want to help out by loading you a list of sure-fire ways you can keep your sanity in check. 
Indoor Activities For Extroverts
1. Virtual Interactions
From simple hellos to dinner dates. You can learn (or relearn) spending hours on the phone, not really talking about anything in particular; it is comforting to have a chat with someone we care for. When you are stuck at home, you can ditch the pajamas, shower, and prepare a meal before hosting a dinner meeting with your friends. You can agree upon the theme of the night to make it more exciting. Perfect when you are distanced from your coworkers while you're vacationing on a lake house.
It isn't quite the same, of course, but having someone to talk to and a face to look at that is not your own should ward off hysteria for at least a few more days. 
2. Learn New skills
Learning a new skill is one way to keep you stimulated, plus it doesn't take a lot of time to learn. It may take years to master a new skill, but two to three weeks can be enough for you to grasp the basics and get yourself started. Make the most of your stay by the lake and try some of the following:
Studying and becoming fluent in a new language will significantly increase your value, and you will find a whole new array of opportunities available. You can access a lot of language learning online, and some of them are for free.
Various websites provide an extensive catalog of free videos in hopes of teaching amateurs how to play musical instruments, and some even feature professional musicians.
As per the Skills Shortage List in many countries, you'll find that IT personnel,  programmers, and web developers are always on that list. As humans continue to advance technologically, coding is one of those skills that can only become more in demand, and you might want to get aboard.
3. Pending tasks
Everyone has at least one pending task that has been shelved for a long time. From a personal website, a half-finished knitted scarf or a painting lounging unfinished in the corner of your studio.  These are just some of the projects that we often place on the backseat and give way to more pressing matters.
4. Virtual Tours
When cabin fever strikes and you're far from the city, take heart because there are museums who offer virtual tours of their works, which can be freely accessed for a certain period. You can check out Google Art and Culture, and visit more than 500 museums all over the world. 
5. Indoor Work out
Nature will truly encourage you to get your health back on track. Your city gym might be far but a few mobile applications offer free ready-made workouts that work on specific muscle groups and use ordinary objects that can be found lying around the lake house to perform the movements. Among the options are the Home Training, Nike Training Club, and 8Fit all free and available for Android and iPhone. 
6. Cook your extrovert heart out
Sites such as Allrecipes, Yummly, and FoodNetwork provide thousands of recipes that home cooks can reproduce and even intensify. Cooking videos and text tutorials, enlisting ingredients, and step by step procedure. Take full advantage of the fresh catch of the day form the lake.
7. Get your green-thumb into working
Indoor gardening can be a great way to make yourself productively pass the time. Plants are great companions and have been known to ease anxieties. As an extrovert, staying home might be extra challenging and might cause unnecessary stress. Growing indoor plants can provide a sense of serenity, and if you choose to grow herbal plants, you can get fresh produce as an extra reward.
8. Meditate
Meditation allows you to train your mind into focus and rear your thoughts. It gives you a new and deeper appreciation of quietness. The more you linger in meditation, the more receptive and patient you become. This might not be the most popular indoor activity for extroverts, but we're sure that this will provide massive benefits on both your mental and spiritual health.
9. Host a Netflix Party
In an attempt to bridge the gap between friends, relatives, even lovers, Netflix offers simultaneous streaming of TV shows and movies on your desktop. All you have to do is invite your friends and make sure they are signed up for Netflix. Everyone in the invited group can pause, play, fast forward, and rewind the movies to ensure that all of you are on the same time frame. To make it closer to reality, a side chat bar lets you and your friends discuss and react to what's going on in the movie. It's like having the gang in the same room. Here's a simple guide to your Netflix Party;
**Make sure that everyone's logged in on their computers and ready to download the Netflix Party extension. 
1. Open your Google Chrome browser and visit netflixparty.com.
2. Click Get Netflix Party for free.
3. After you're redirected, download the extension. Click Add to Chrome.
4. A pop-up box will open, then select Add Extension. 
5. A grey NP icon will appear on your browser toolbar. 
10. Try Listening to Podcasts and even launching your very own.
TV might get too old when you spend too much time on it, you might want to try listening to podcasts as an alternative. With great diversity on subjects such as technology, education, politics, sports, science, humor, celebrities, and a whole lot more. 
But it is also known that one notable trait of an extrovert is talking… a lot. If listening is not enough for you, you can try starting a podcast from the comfort of your home. It will allow you to release stored up knowledge on certain topics that can be helpful for others. While keeping your mind off being indoors, since hosting a podcast requires a lot of planning, research, and preparations. 
At the end of the day, indoor activities for extroverts are not supposed to just keep you busy but rather productive. Make the most of the time you spend alone. We are hoping that these indoor activities for extroverts can somehow alleviate the sorrow of being alone and help bring out a better and happier you.
(Last Updated On: April 22, 2021)