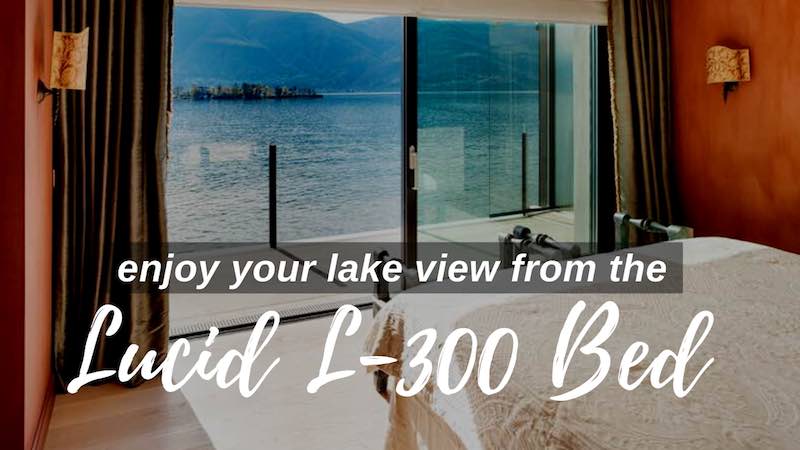 Enjoy Your Lake View From The Lucid L300 Queen Size Adjustable Bed
(Last Updated On: December 2, 2021)
Lake living is lovely and wonderful! When you are at the lake, you feel your best and life, in general, seems better.
It might be hard to believe that it could get any better, but it can. Here at Lake Living Guide, we love all things that have to do with being on or near the lake. 
Highlighting products that enhance that lake living lifestyle is our way of passing along suggestions of things that work for us.
The Best Adjustable Bed For Your Lake House
The Lucid L300 queen size adjustable bed is one of those products. Hard to believe, but the Lucid L300 will make lakehouse sleeping even better! 
The market recognizes Lucid for its catalog of mattresses and for being competitively priced. They have added an adjustable bed to their reasonably priced line up.
Adjustable Beds Give You A Good Night Sleep
Fortunately, you already experience some valuable Health Benefits of Living by a lake.
One of the essentials no matter where you are is a good night's sleep. Nobody can minimize the importance of good sleep.
You have had times when you have been sleep deprived and remember how your body has reacted to the deprivation. 
It can make you incoherent and physically ill. Some people may wonder why we need sleep and how important it is.  This article will help to answer that question. 
So when it comes to getting a good night's sleep, being at the lake house will undoubtedly be advantageous. 
You can give yourself an extra edge by having an adjustable base for your mattresses. 
Our choice for enjoying a great night's sleep is the Lucid L300 queen size adjustable bed.  
How An Adjustable Bed Base Gives Your Lakehouse Comfort
Most of us know what an adjustable bed is, but just in case, here is a brief explanation of what an adjustable bed it entails. 
It is a platform that has a multi-hinged surface that can be raised or lowered to various positions. 
The mattress on the foundation needs to be able to bend to accommodate the positions to which the base will adjust.
Adjustable beds have been around for a long time but were used primarily in hospitals, and not so much in homes. 
Those unfortunate enough to have to stay in the hospital realized that there were advantages to being able to sleep in a bed you could adjust. 
You Use Your Lake House  Bedroom For More Than Sleeping
Another factor that contributed to people wanting a bed they could adjust was the television making an appearance in the bedroom. 
Rather than just being a place to sleep, the bedroom and the bed in it are now entertainment centers.  
You read, you surf the internet, watch movies,and binge-watch your favorite NetFlix series. 
Manufacturers of beds began to notice the desire people had to be able to use their beds for these pastimes in a more comfortable manner. 
A wall of pillows was no longer cutting it, and people were looking for more. So manufacturers of mattresses started to sell flexible frames. 
These frames allow you to raise and lower the bed's head and foot to suit your needs. 
Underneath the frame, two small electric motors power the unit.
Unless you already have an adjustable bed, your only option for propping yourself up in bed is a tower of pillows. 
While it might work, it only works if you don't move. 
Once you stretch or shift your position, the pillows start to tumble from the tower, and you are back to being uncomfortable.
Purchasing A Lucid Adjustable Bed Frame
Specs
Materials: Steel, Polyester
Height: 15 inches from the floor
Weight Limit: 750 pounds
Warranty: 10 year limited
Queen – 59.5 inches x 79.5 inches
Delivery and Assembly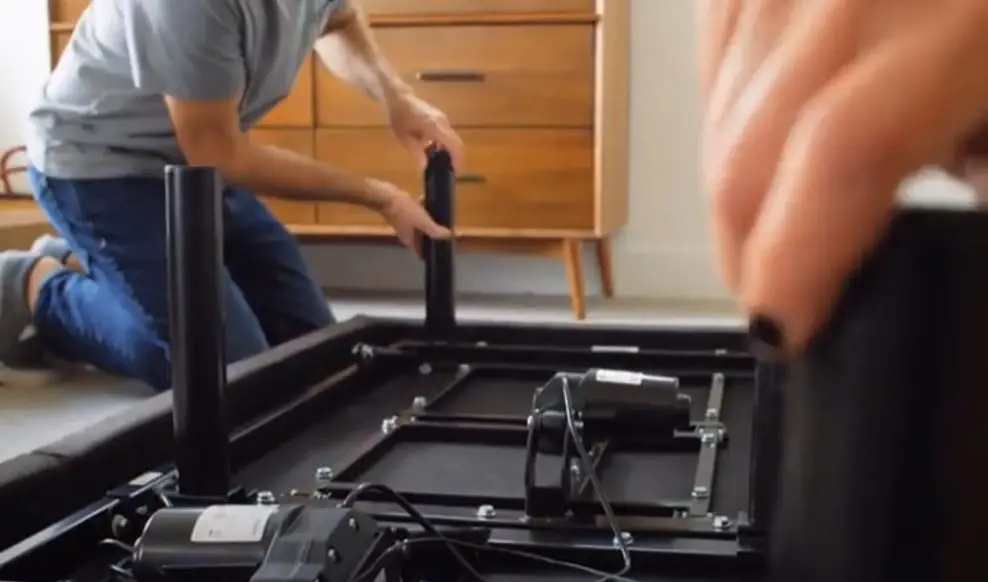 Lucid has a catalog of sleep products like mattresses, bed frames, and more. They are one of the top-selling bedding companies on Amazon. 
The Lucid L300 queen size adjustable bed frame has a 4.6-star rating on Amazon and is an "Amazon Choice" product. 
Shipping will be free and come right to your door. 
The boxed frame will be heavy at 150 pounds, so if you plan on having this set up in a second-floor room at your lakehouse, you may need some muscle to get it upstairs. 
When you check out on Amazon, a prompt will ask you if you want expert assembly for an additional fee. 
But if you live on the lake you already have many skills, and you will not need this assistance.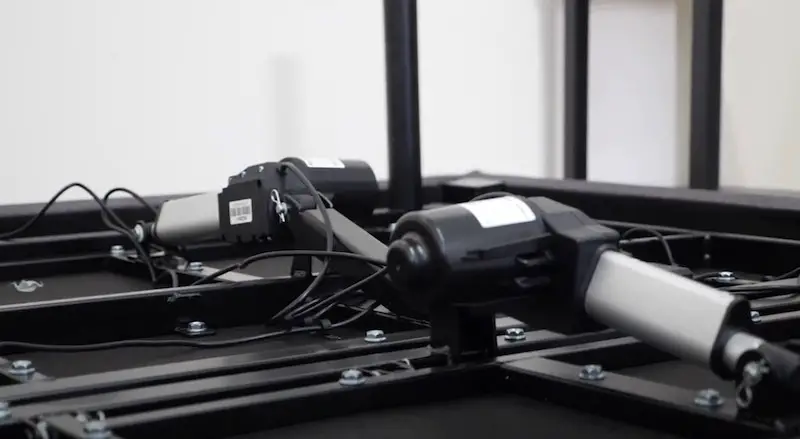 Assembly is straightforward, and you can accomplish it in less than 10 to 15 minutes. There are no tools required for assembly. 
Again, the only consideration is the weight of the frame. You will want someone to help you flip the frame over after assembly, as it is heavy. 
The reverse is also true, and the Lucid L300 is easy to disassemble if you want to move it to a different room.
Here is what to expect when you receive your Lucid L300
Included In The Package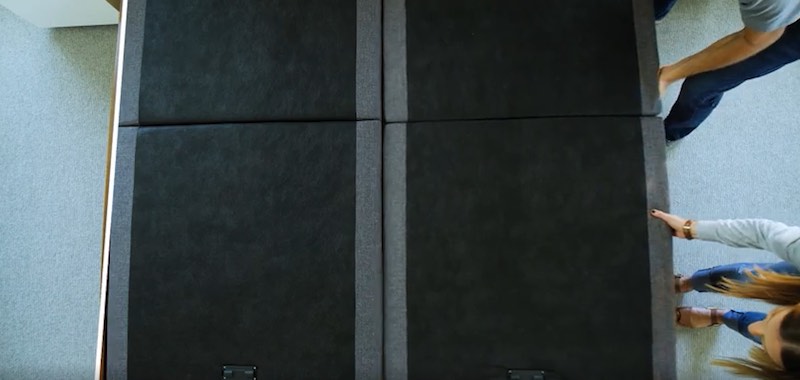 In the package, you will find two retainer bars that keep the mattress from slipping off the frame. 
There will be four detached legs and two legs that are already attached to the frame. The power cord and the power supply box are included, too. 
You will also have a remote control for the Lucid that comes complete with two triple-A batteries.
You will have 30 days from the date of delivery to return the frame, which also comes with a 10-year pro-rated warranty.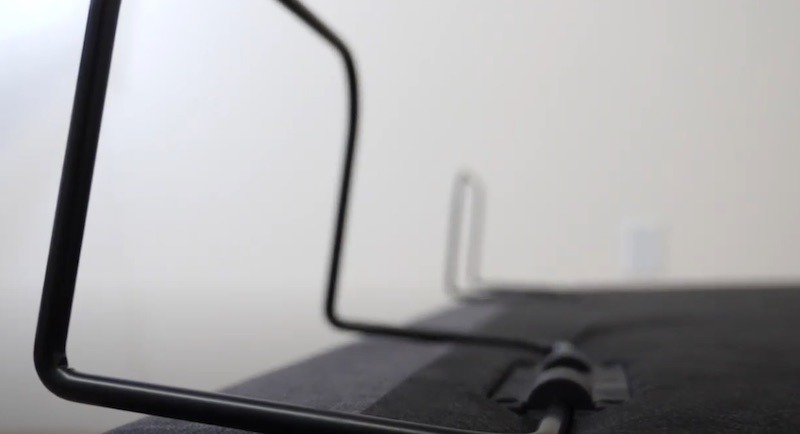 Construction
Constructed from steel, the frame is sturdy and stable. The manufacturer covered the sides of the frame in polyester foam.  
When you spring out of bed in the morning to rush down to the lake, you won't bang your shin of a metal bed frame. 
The polyester material is in a charcoal grey tweed that compliments the black frame. 
In total, the Lucid L300 adjustable frame can hold 750 pounds. 
That translates to one mattress that weighs about 150 pounds and two people who weigh 300 pounds each. 
It also translates to you and a couple of giggly kids and the family pooch.
Remote Control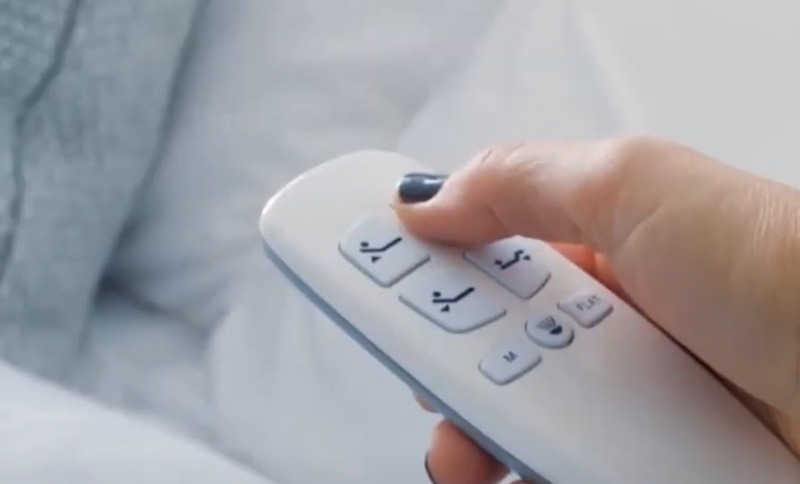 Older model adjustable beds had a corded control attached to the bed. 
The Lucid has a remote that is powered by two triple-A batteries (included). The remote is already programmed. 
Easy to use, the remote is back-lit with descriptive images on each button. The left side raises and lowers the head, and the right side raises and lowers the feet. 
When it comes time to make the bed (which is NEVER at the lake), just press the "flat" button, and the foundation will return to a flat position.  
There is also a button marked "M," and that is your memory button. 
Once you find your sweet spot in the Lucid L300, press the "M" button and the "flat" button simultaneously, and the bed will remember your favorite position. 
This feature is especially handy for movie viewing. 
Last but not least, your remote also has a flashlight button that engages a low power flashlight for the times you need to find your way to the bathroom in the dark.
USB Ports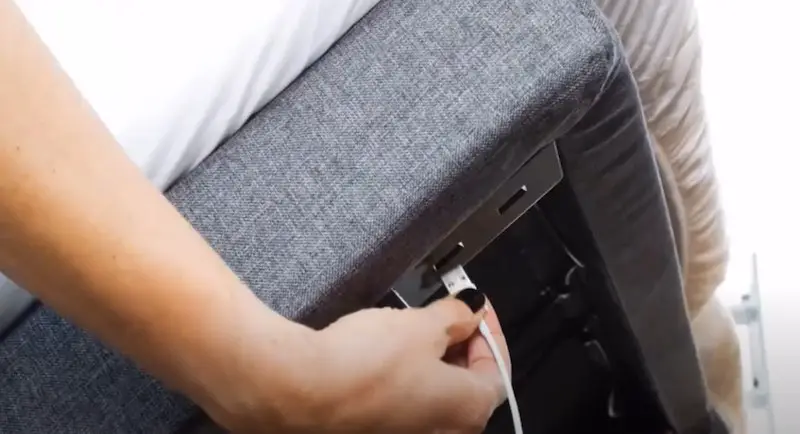 This is a feature that I loved! The Lucid L300 has two USB ports located on each side of the frame near the head. 
That gives you charging for up to four devices at the same time. 
There is no more running out of outlets for your chargers because the lights and clocks and radios have taken up the outlet space. 
You can hook up your tablet and your phone in a jiffy to this appreciated feature of the Lucid.
Adjustability
Being able to adjust the frame on your bed, as with the Lucid L300, is excellent for those who might have aches and pains, digestive issues, or insomnia. 
Especially great for someone who is pregnant, the Lucid can elevate your feet and help relieve swelling.
Positions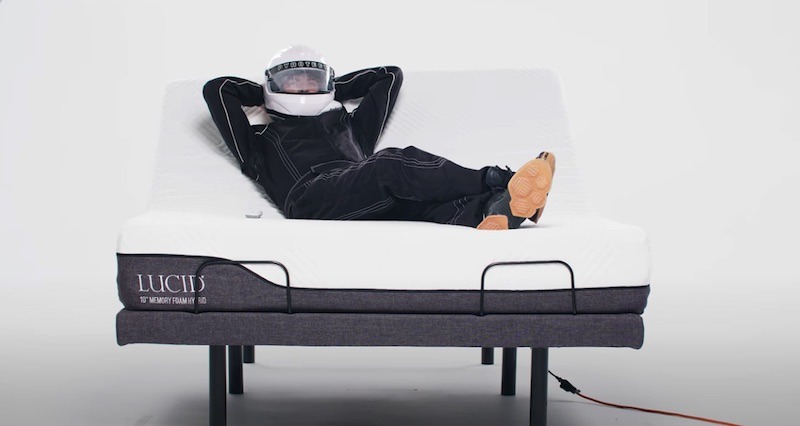 Side-sleepers
Even if you sleep on your side, as I do, the Lucid will work for you. Elevating the head and foot slightly gives just the right angle for side sleeping and relieves pressure on my knees.
Lower back
If you have issues with your lower back, you can sleep with your legs raised and your torso flat. The slight elevation takes the pressure off your vertebrae and spinal nerves. 
Upper back
Your upper back will benefit if you keep your head elevated and your legs flat.
Chronic back issues 
Specialists associate chronic back pain with the vertebrae moving closer together. 
The Lucid L300 helps you "perform" an exercise that can gently move the vertebrae farther apart. 
Start flat in the bed and then elevate the head and the foot all the way. Return the bed to the flat position. 
This gentle stretch along your entire back can help ease discomfort in your back.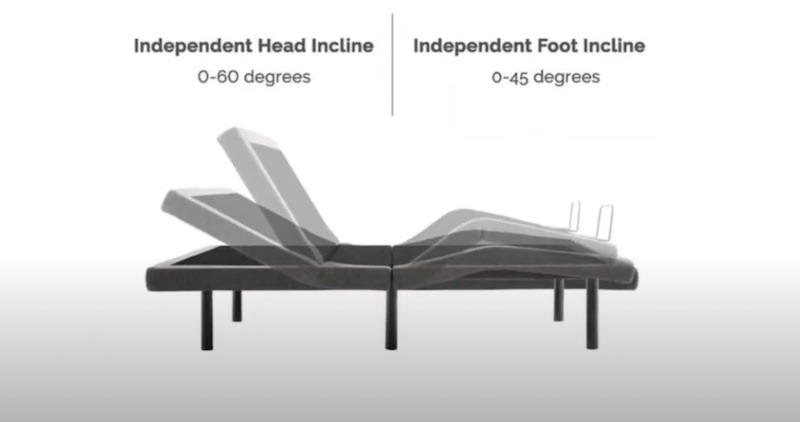 Pros and Cons Of An Adjustable Bed Frame
As with any product out there, there are pros and cons to owning an adjustable bed.
Pros
The good point of having one of these beds at your lake house is that it provides a higher level of blood circulation at night. 
Being at the lake is already a known stress reliever, and having an adjustable bed builds on that good vibe in the same way. 
Sleeping in an adjustable bed also relieves typical aches and pains. You can get better blood flow and take the stress off problem areas of your body. 
Adjustable bed frames are especially helpful for your back. Those who experience back issues find that sleeping on an incline helps alleviate pain. 
An adjustable bed will also lessen acid reflux and heartburn, ease insomnia, and reduce leg swelling. 
You are already at your favorite place, the lake house, and you want to have a great night's sleep so you can enjoy your time at the lake. An adjustable bed frame will help you do just that.
Cons
An adjustable bed is more expensive than a regular bed. 
However, if you already have mattresses that can flex, an adjustable frame is within reach. 
And let's face it, caring for ourselves properly can be expensive. 
Over the bed's lifetime, you may have to replace motors that no longer function, and you don't have to do that with a conventional bed. 
Adjustable beds are heavy. The average is about 150 pounds or more without mattresses. 
You'll want to decide where to put your bed and know that you won't often move it. 
Because of the motors on the frame, an adjustable bed is not quiet when you engage its motor.
The View From Your Lakehouse Bed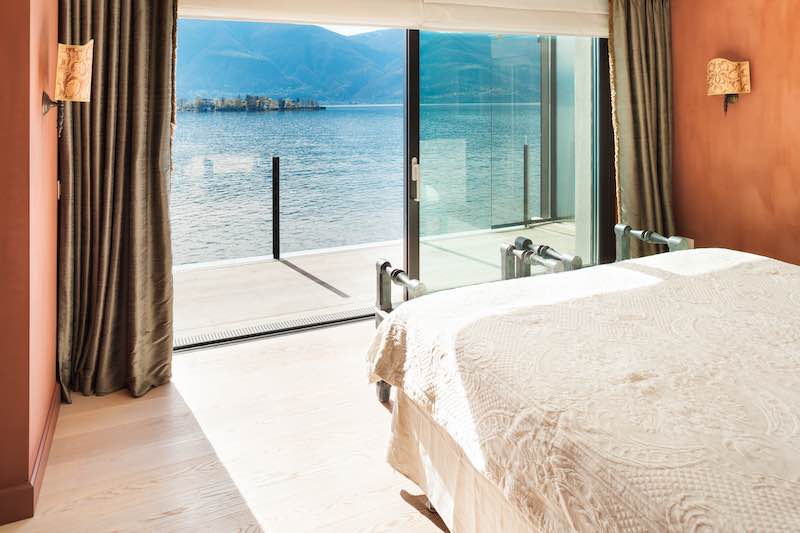 The view at the lakehouse is one of its biggest and best assets. 
Being able to enjoy that view comfortably has a value that is hard to put a price on. 
In the case of the Lucid L300 adjustable bed, that price is about $700. 
That is an affordable option for an adjustable frame that will serve you well at the lake house in many different ways.
It is going to help you attain a better sleep, and you know the importance of that. 
If you have older relatives that stay from time to time, an adjustable frame for their bed (cause you need one of your own) will help with the aches and pains. 
You will get a better sleep, which will be better for your health and make your waking hours more fun and enjoyable. 
Take Full Advantage Of The View
As we mentioned earlier, your bedroom at the lake has become a center for TV viewing, for movie watching and surfing the web. 
You can also position your Lucid L300 adjustable bed frame so that it is in the perfect position to view the lake.  
And while movie watching and web surfing all have their places, the epitome of the lakehouse experience is in shutting off all electronics, pressing the "M" on the Lucid L300 remote, and watching the water.  
If it weren't for the weather, I would place mine at the shoreline. 
Since that is not a viable option, the next best thing is to place the frame so that it faces the window that looks out over the lake. 
Lake houses have windows that take advantage of the view, as enjoying the scenery is a principal activity at the lake. 
In Conclusion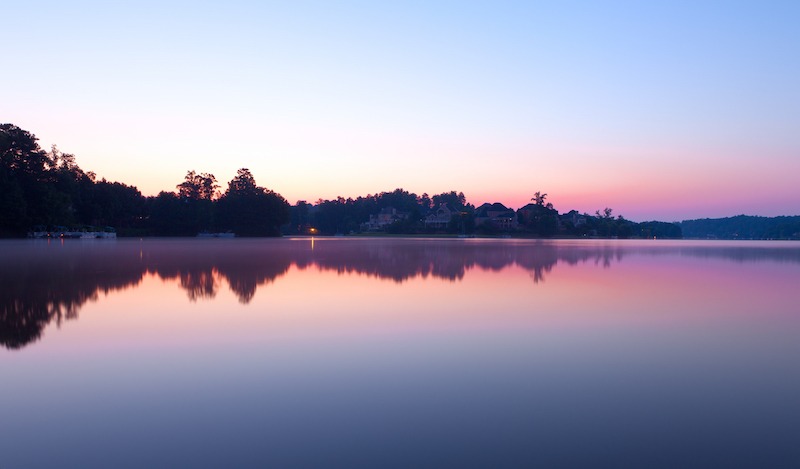 Few movies can rival watching the water. It is constant but ever-changing. 
The color of the water varies depending on the sky. It is sometimes a deep blue, and other times an emerald green. 
Just before a storm, the water gets dark and starts to stir. The waves charge the shore and retreat. 
Over and over again. It is mesmerizing to watch and never gets old. 
Being able to soak in the view from the comfort of your Lucid L300 adjustable bed will be one of your favorite pastimes. 
You will be able to fall comfortably asleep and wake in the morning to your beautiful lake view. It does not get much better than that!