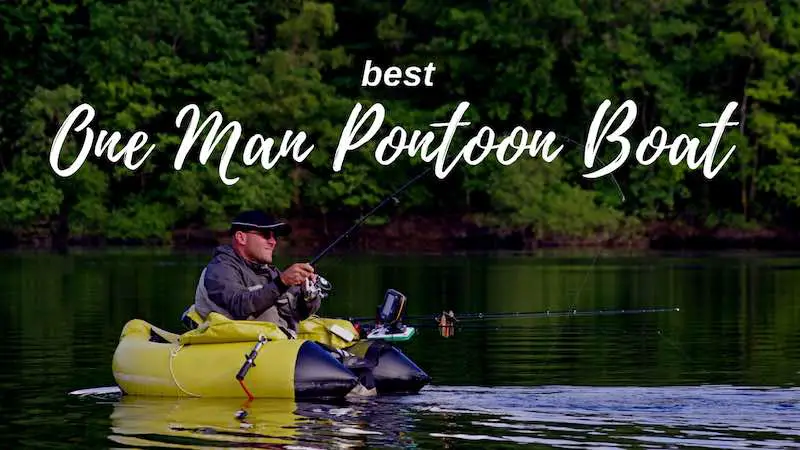 Best One Man Pontoon Boats
(Last Updated On: August 10, 2022)
If you are planning to go on a fishing trip this summer, then finding a one man pontoon boat would be useful. Pontoon boats are one of the best boats for lakes and can help you reach areas of the water that you could not normally reach with normal, heavier boats. They add an extra level of enjoyment to your fishing experience and help you escape the bigger crowds of people in favor of more remote fishing locations.
One man pontoon boats have a much higher level of maneuverability than larger boats and usually come with a wide capacity of storage space. They tend to also be less expensive than many other boats available on the market. In this guide, we'll show you some of the best benefits of investing in a one-man pontoon boat, as well as some recommended brands.
Benefits of a One Man Pontoon Boat
Armed with this list of benefits, weigh your options on which pontoon boat you would like to purchase for your fishing trip. The best ones will normally include these quality features and so much more. They are more versatile than larger boats and may even offer some different qualities that larger boats may not even have.
Maneuverability
One man pontoon boats are perfect for maneuvering in most types of water, even in some of the shallowest levels of water. The smaller the boat, the easier it tends to maneuver. If you want to be able to move around as easily as possible, then a one man pontoon boat will definitely benefit you. The level of maneuverability that pontoon boats offer is also perfect for beginners. Larger boats are harder to steer and they are not able to travel to some of the more closed off locations that pontoons are able to reach. Pontoons can be a good starting point when teaching someone how to steer a boat so that they may one day be able to steer a larger boat if they desire.
Price
One man pontoon boats are often much more affordable than regular large boats. With all of the areas of water you can travel in a pontoon boat and how easy it is to move in water, the price is often worth it.
Search for the most affordable pontoon boat to fit your budget while also taking advantage of all of the features.
Storage
One man pontoons have a wide variety of storage spaces and it can be stored away easier than regular boats. The pontoon boat that you purchase will need to accommodate all of the equipment you bring along on your fishing trip. Most pontoon boats normally include 20 storage pockets and 2 insulated cup holders so you will be able to easily store your items wherever you want. As for storing the pontoon, they will be able to fit inside of garage space or on a backyard dock since they are smaller. You will not have to worry about where to store them as much as you would with a regular sized boat. This eliminates the frustration of trying to find a bigger place to store your boat.
Durability
Most pontoons are built with some of the sturdiest material to prevent them from breaking or wearing down. Durability is an essential feature of any pontoon if you want to maneuver easily on any water surface without worrying about your boat getting ruined in the middle of sailing. The denser the fabric that the pontoon boat is made out of, the better.
Product Reviews
The Classic Accessories Colorado Inflatable Pontoon Boat offers huge storage capacity with more than 20 pockets and two insulated drink holders for maximum convenience. It weighs 71.5 lbs with a 400-pound capacity, perfect for holding you and your equipment. It is made with abrasion-resistant PVC bottoms and tough nylon tops to allow you to explore even the shallowest waters. The non-slip footrests and bronze oarlocks will be able to keep the two-piece aluminum oars in place while you continue to sail smoothly. The seat and the footrests also adjust for maximum leg comfort. For extra comfort, this pontoon is built with padded fold-down plastic seats.
Pros
Built with a weatherproof motor mount
Rod holder can be mounted in three different positions on each oar stand
Comes with an extra option to include a hand pump
Cons
Paddling the boat might become detrimental over time
Might sometimes need to continuously pump air into the pontoons
4.5 of 5 Stars
Buy Now
​The Sea Eagle 285 Inflatable Frameless Fishing Pontoon Boat is portable, lightweight, spacious, and can become compact to store inside a bag and other small places. This fishing pontoon raft weighs 42 pounds with a loading capacity of 450 lbs and has an engine capacity of 3hp (45 lbs. max) or 55 lb. thrust (min 30″ shaft). It is made of reinforced 1000 Denier, with quadruple overlapping superior glued seams. This pontoon is perfect for almost any type of water and lack frames for easy folding and storage purposes. This pontoon will allow you to travel to different levels of shallow waters that most heavier boats will not be able to access so you can find the perfect fishing spot. You also have the option of customizing it to your heart's content since it lacks frames and is built with universal Scotty Mounts.
​A comfortable swivel seat is included with the Pro Package
Includes AB285 oars
Comes with its own boat carrying bag
Cons
May not maneuver too well
The speed may be at lower levels
4.3 of 5 Stars
Buy Now
The Classic Accessories Colorado XT Inflatable Pontoon Boat has flexible storage options built for your convenience. The boat weighs 68 lb with a 400 lb holding capacity. Built with abrasion-resistant PVC bottoms, tough nylon tops, and a powder-coated steel tube frames, it also comes with two 7′ aluminum oars. This pontoon boat has 20 pockets, two insulated drinks holders, and comes with its own removable gear bag for your own customizable storage. You can adjust the seat and footrests in order to enjoy wider space for your legs. The non-slip footrest allows you to rest your legs while preventing you from falling out of the boat.
Pros
The side pockets can be removed and combined to create a portable gear bag
Includes a two-position weatherproof motor mount
Fulfills the strict safety standards of the ABYC
Cons
May not inflate correctly sometimes
Powder coating quality on the frames may be low
4.4 of 5 Stars
Buy Now
The Classic Accessories Colorado XTS Inflatable Fishing Pontoon Boat is an 80 lb boat with a huge amount of storing capacity and removable side pockets that combine into a portable gear bag. Its high level of durability comes from being built with abrasion-resistant PVC bottoms and rugged nylon tops. It comes with a transport wheel that will help you get to your favorite fishing spot.The padded swivel seat that is built into the boat provides you with an extra level of mobility and comfort while you are out on the water. It has a weight capacity of 400 lbs to hold you and your gear sufficiently. This pontoon boat is built to the American Boat and Yacht Council standards.
Pros
Comes included with a two-year limited warranty
Includes 20 pockets and two insulated drink holders
Has an option to purchase an air pump with the pontoon boat
Cons
The motor is not included
Seat may recline too far
4.2 of 5 Stars
Buy Now
​The DAMA Fishing Inflatable Rafts Pontoon Tube Boat is built with a detachable seat and awning canopy. The heavy-duty pontoons are built with abrasion-resistant PVC bottoms and rugged nylon tops. It has a weight capacity of up to 380 lbs and has an anchor system with a fillable mesh bag. The hydrodynamic hull is shaped for superior tracking and steering and it comes with 2 aluminum oar paddles to help you sail wherever you need to. There is also a repair kit included in the case of an emergency. Having a repair kit on board your pontoon boat eliminates the concern of being stranded in the water if an important part of your boat suddenly breaks or starts wearing thin.
Pros
Comes with a manual air pump
Built with a detachable comfortable padded seat and adjustable backrest
Cleat and pulley controls can fit on the right or left side of the boat
Cons
A little more expensive than others
5 of 5 Stars
Buy Now
Conclusion
With all of this information in mind, consider which one man pontoon boat would work best for your needs. There are many options to choose from, so pay attention to all of the advantages that any pontoon boat has to offer before you make your final decision so you can get the best value out of it. Improve the quality of your fishing trip by investing in a one man pontoon boat that will allow you to travel in areas you would not be able to reach otherwise.