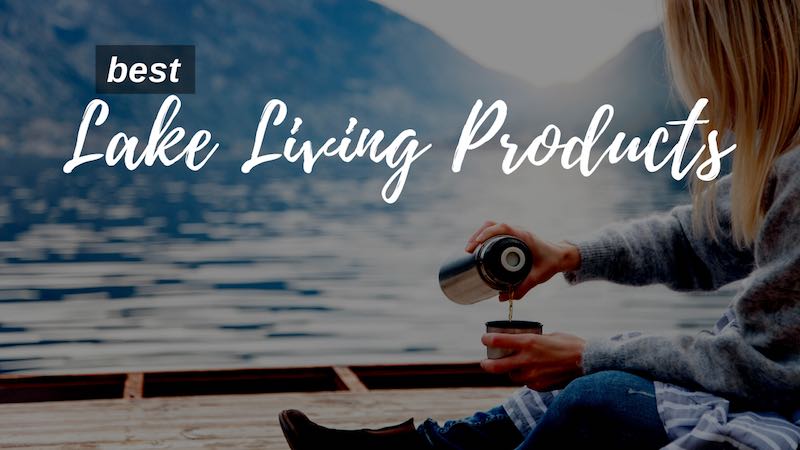 Best Lake Living Products for 2022
(Last Updated On: March 1, 2022)
Everybody wants to be ready for lake life season, and now's the time to get your gear in order before the season arrives! If you want to be sure you're getting the best lake living products, then look no further. Here's the roundup of everything you need to make this lake living season the absolute best ever:
Best Lake living Products
LAKE LIFE DECAL

If you want to take your lake life pride with you on the go, you need a high-quality decal to show it off. Even better, how about a couple of decals to keep on your car, laptop, or travel mug? If that sounds like your cup of tea, you don't want to miss out on these lake life decals.
These vinyl decals have a bold design that any lake life fan is sure to love. Not only does the decal look great, but it'll also endure wear up to 6 years. The transfer tape is clear, so only the white lettering shows up.
Want to get yours now? You can buy your lake life decal here.
LAKE LIFE SWEATSHIRT
For gals:
When you're enjoying your time at the lake, you'll want a warm hoodie for nights around the campfire. Luckily, this chic lake life sweatshirt for gals doesn't need to sacrifice style for comfort.
This sweatshirt is designed with a tapered fit that compliments your figure. The soft fabric blend is perfect for cool mornings at the lake and camping out at night.
If you're a lady that likes to show off your love of lake life, the high-quality chenille lettering gives a classic vintage feel that practically, and literally proclaims, "lake girl." The zip front adds to the convenient, comfy feel of this hoodie.
Can't wait to get your own? Pick up your Lake life sweatshirt here.
You've got to have the right gear for a cool night on the lake, so make sure you have a hoodie to match your lake lifestyle. This is the perfect sweatshirt for the outdoorsy guy that likes to keep it simple and bold.
Whether it's for yourself or a gift for an adventurous buddy, this sweatshirt was made for the lake.
This sweatshirt is soft but tough, and it's the classic black that all guys can get around with. The bold blue lettering is true to the lake lifestyle with the font that brings outdoor adventures immediately to mind.
Ready to get your lake life sweatshirt? You can find it here.
LAKE LIFE MUG
Here's the lake life product that makes every morning feel like waking up at the lake, even year round.
This lake life mug is especially perfect for the tea or coffee drinker that likes to wear their heart on their cup. Functional, classic, and sporting a lake style design, this is the ultimate mug for lake life fans.
This mug is made of strong, high-quality ceramic that you can put into the microwave or dishwasher without worries. The lake life imprint is featured on both sides in vivid full color that doesn't fade. With an extra large C handle, this mug is a perfect fit for every lake goer.
You can get your lake life every morning by buying your own Lake life mug here.
LAKE LIFE STICKERS FOR CARS
When you love living the lake life, you already know it can take its toll on less durable gear. If that's the boat you're in, you'll be glad to have found these heavy duty sticker decals.
Featuring the same iconic Lake Life typesetting, these stickers go on without the black space in the background. Made of super strong vinyl, these stickers can take the weather and wear for up to 6 years.
This classic black vinyl decal can be applied just about anywhere it fits, but it's definitely a great addition to your vehicle. Both UV and weather resistant, this sticker will take the elements as well as you do.
If your car's missing one of these, you can pick up your Lake life stickers for cars here.
LIFE IS BETTER AT THE LAKE DOORMAT
Let your visitors see how much you love lake life every time they come by, or just remind yourself of your favorite lakeside memories every time you get home.
This non-slip mat wicks away moisture and helps keep debris contained, making it perfect for when you get home from your lake life getaways. This is a tough mat that stands up to extreme weather, so you can enjoy it for years to come.
This colorful doormat embodies lake life from the woodsy design to the vibrant but natural color scheme. With plenty of nature, a canoe, and paddles featured, it easily displays everything about lake life.
Make sure you've got this mat to welcome you home. Pick up your Lake life doormat here.
LIFE IS BETTER AT THE LAKE SHOWER CURTAIN
Real lake life fans take the spirit of the season into their homes year round, but since the season is fast approaching, you'll want to make sure you've got this 'life is better at the lake' shower curtain.
This product is not only highly functional (unless you want wet floors), but it gives any bathroom scheme a little pop that goes a long way.
With classic lake life phrases, the typography is both modern and timeless. It features complimentary lake themed design accents for a seamless flow that'll bring you right back to lake season. This shower curtain is a feature you'll look forward to using every day.
If you can't wait to get hopping into the shower with your own, pick up the Life is Better at the Lake shower curtain here.
Conclusion
These are the must-have lake living  products for this season, so make sure you get your gear in time. Whether you want to sport your love of lake season, your car, yourself, or even with a quirky lake life shower curtain, all the things you need are right here.