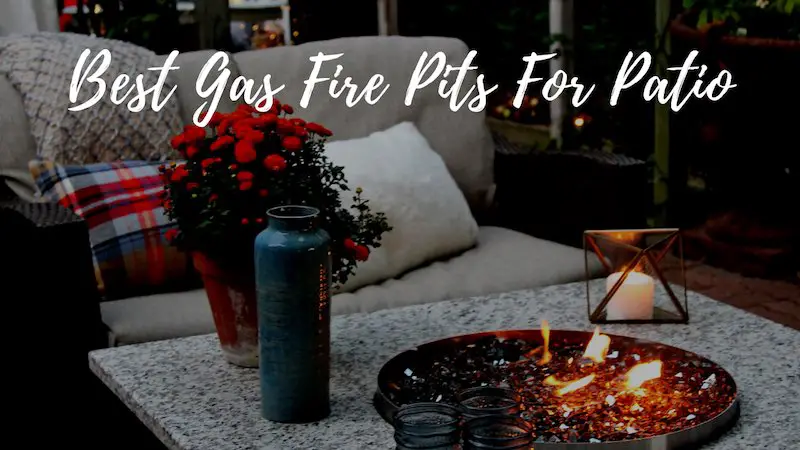 Best Gas Fire Pits For Patio
(Last Updated On: May 4, 2022)
What do you love the most about living by the lake? We believe one of the best things about being at the lake house is having a gas fire pit for the backyard.
Everyone loves the warmth and ambiance of a fire, and gas fire pits for the backyard at the lake house will be a popular addition.
There are several gas fire pits on the market, and we have reviewed some of our favorites. Here are our selections for the best gas fire pits for patio and backyards.
Best Gas Fire Pit For Your Backyard
Gas Fire Pits

Rating

4.7/5

Powerful 52,000 BTU output will keep you warm, and the natural lava rocks (included) provide a realistic campfire.

4.4/5

An integrated ignition gives way to a propane heater that will emit up to 40,000 BTU's of heat.

4.2/5

With an output of 58,000 BTUs, there is a ten-foot hose that will keep your propane tank out of the way.

4.0/5

An integrated ignition gives way to a propane heater that will emit up to 40,000 BTU's of heat.
LLG Favorite Fire Pits For Backyard Decks, Patio, Or Backyard
Life at the lake is great, and it can be made even better by spending it outside. The portable outdoor propane fire pit sets the ambiance when you are hanging in the backyard by the water or having guests over. Powerful 52,000 BTU output will keep you warm, and the natural lava rocks (included) provide a realistic campfire. This type of fire offers a clean and smokeless fire. An enamel surface will keep the portable fire pit long-lasting. It is easy to take with you to the beach, the parking lot of a sporting event, or a friend's house. Includes a CSA gas regulator that is easy to set up to the propane tank that you provide.
Features
52,000 BTUs
19 inch
Portable
Cover and carry strap
10-foot long hose
Lava rocks included
The Hiland slate top fire pit heater blends in beautifully with any outdoor seating area. Made from solid steel construction, it is very durable. The black finish gives a rustic yet simple style that blends in perfectly with your lake house setting. An integrated ignition gives way to a propane heater that will emit up to 40,000 BTU's of heat. Clear fire glass covers the burner and acts as a foundation for the flame, which adds to the ambiance of the unit. The easy access door on the base of the Hiland propane fire pit heater gives you the place to store a 20-pound propane tank that you provide. As a safety feature, a thermocoupler flame failure device is standard on this fire pit.
Features
40,000 BTUs
30 inches X 30 inches tabletop
14 inches X 14 inches square burner
Clear fire glass to cover flames
Cover included
Uses standard 20 lb (5 Gallon) propane tank
You can have a campfire wherever you choose with the lightweight and portable Project One fire pit. A generous 24 inches, this fire pit will be great at the end of the dock or the water's edge. No need to cut or haul wood. All you have to do is to plug it into the propane tank you provide, and you will be ready to go. The Project One fire pit delivers a sherry fire and heat without any smoke or ashes to clean up. With a carrying belt and cover, you can move this wherever you would like at your lake house. Take it along when you go tailgating or over to a friend's house. With an output of 58,000 BTUs, there is a ten-foot hose that will keep your propane tank out of the way. The Project One comes with natural lava rock designed to enhance the flickering effect and made with high-quality steel and covered with protective enamel coating for longevity.
Features
58,000 BTUs
24.5 inches X 24.5 inches
Cover and carry handle included
Lava rocks included
Smokeless
Portable
The SereneLife fire pit serves double duty as a fire pit when you want and put the cover on when you would like to use it as a table. This unit creates an elegant atmosphere in your lake home backyard or on the patio. The SereneLife is sturdy, weather-resistant for outdoors, and uses propane gas, making it easy. You provide the propane tank and store it under the table, so you don't have an unsightly tank in view. A heavy-duty fire pan construction material that makes it durable and will last long-term. With the included PVC cover, you can protect it from UV rays, rain and dust, and dirt. You can have a fire whenever you want, in a matter of minutes. The SereneLife works great on your lake house balcony, patio, or by the water's edge.
Features
40,000 BTUs
Double duty as a table or fire pit
Stainless steel chassis
Lava stone included
Electric igniter design
Steel cover lid
Uses standard 20 lb (5 gallon) propane tank
Gas Fire Pit For Backyard For Lake House Buying Guide
Local Regulations
While your local building codes and local authorities may not have any rules or regulations regarding gas fire pits, it is always a good thing to check beforehand. 
There may be regulations about where you can place a fire pit, even if it is portable. A rule of thumb is to have your gas fire pit at least ten feet away from buildings and fences. Check to see if it is okay to place one on your dock.
Decide On The Size Of Your Lake House Fire Pit
When looking for a size, make sure you get one that will be big enough to suit your purpose. Most of the units that you get from a store will range from 19 to 30 inches. If you get a gas fire pit that is too small, the chances are that you will not use it much, if at all. 
If you know where you are most likely to use the fire pit regularly, measure that area. Use painter's tape or even cut out a cardboard pattern and place it in the area you are most likely to use the fire pit. This will give you a visual to determine if the unit is large enough or maybe even too large.
The height will also be an essential factor. Knowing how you will use the gas fire pit will let you know what height to get. If you like being able to gaze downward at the fames, or if you want to use the unit as a table when not using it for a fire, that will also dictate what height you need to look for.
Know that if you like for the fire to warm you while sitting, look for a lower gas fire pit. When you keep the fire pit between 18 to 20 inches high, it directs more heat to your body. 
Generally, when considering the space that you will need for your gas fire pit for the backyard, you should allow for seating and moving around. A rule of thumb is to plan for about five to seven feet around all edges of a fire pit for both chairs and movement.
Decide On The Style Of The Gas Fire Pit For Your Lake House
Fire pits come in all shapes, sizes, and designs. Some are round, some rectangular, and others are square. There will be a shape and design that will work for your lake house. The biggest challenge will be deciding on which one you like best. 
You might want to see what fire pit coordinates with your existing backyard or patio. Decide if the gas fire pit fits in with your patio's color, shape, or material. Look for features that will fit you and your family. 
If you would like something stationary and would also like to move one from place to place or take it tailgating, you might want to invest in two. If you don't choose the gas burning fire pit for the use, the chances are that you will end up not using it at all.
In Conclusion
Outside at the lake house is a wonderful place to relax and enjoy life. That prospect can be enhanced with a fire pit.
That is even more incredible because it is smokeless, has no ash to clean, and you can start it with the turn of a switch.
With a fire pit in your backyard or patio of your lake house, you will find you and your family more often drawn to enjoy the outdoors.
FAQ
Do gas fire pits emit smoke?
No, gas fire pits do not produce any kind of smoke. This is a real advantage with gas fire pits. Even if there is a breeze, you will not have smoke blowing in your face or eyes.
Do you need to cover a gas fire pit when not in use?
Yes, a gas fire pit should be covered when not in use. This will help to protect the burner and the structural components from the elements. It will help to keep surfaces from rusting. It will also keep bugs and debris out of the unit.
Can I break out the marshmallows with a gas fire pit?
Absolutely! Toasted marshmallows are a staple around any fire, as most kids could tell you. Take it up a notch and make s'mores around your gas fire pit. Just remember to invite us!
BONUS!
A Sweet Recipe For Your Gas Fire Pit
The Food Network brings you this Traditional S'mores Recipe from an episode of the program called Smoldering Sweets. The recipe is courtesy of Girl Scout Troop 1404.
8 full honey-flavored graham cracker sections
(can substitute cinnamon-flavored graham
Level: Easy
Total: 10 min
Prep: 7 min
Cook: 3 min
Yield: 8 servings
Ingredients:
One 6-ounce chocolate bar (recommended:
Hershey's)*
8 jumbo-size marshmallows
crackers or chocolate-flavored graham
crackers)
Chopped nuts
Caramel, chocolate, or strawberry ice cream
topping
Mini chocolate chips
Whipped cream
Directions:
Preheat a grill to medium. Alternatively, you can roast the marshmallows over
Bananas
Chocolate candy pieces (recommended: M&M's) 
an open fire.(this is your gas fire pit)
Break each graham cracker section in half.
Divide chocolate bar into 8 equal parts.
Place each chocolate piece on top of half of a graham cracker.
Divide marshmallows among several long skewers, spacing them far enough
apart so that they won't melt together.
Place marshmallows on the grill and cook over medium heat, turning slowly until golden brown. The process is the same for the open fire from a gas fire pit.
Carefully remove marshmallows from skewers and set them on top of chocolate pieces.
Add toppings of your choice.
Place the other half of the graham cracker on top to form the perfect S'more. 
Cook's Note:
You can substitute the chocolate bar with any candy bar, such as Snickers, Milky
Way, Nestle Crunch, or peanut butter cups. Just chop the candy into 8 equal-size
pieces and divide among the graham crackers as described in the recipe.