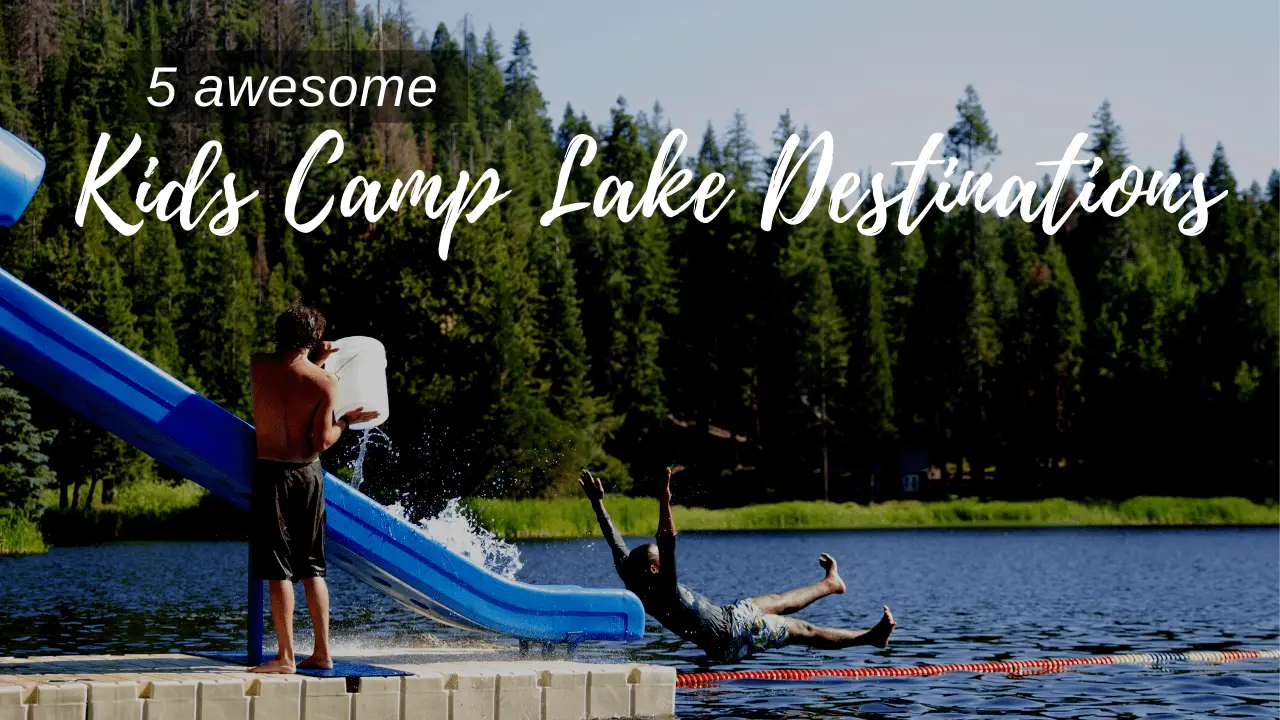 5 Awesome Kids Camp Lake Destinations
(Last Updated On: November 25, 2021)
We have put together a list of 5 of the most awesome kids camps that are on a lake so that they have the opportunity to have time in the water. After all, summer and water go together.
As circumstances change, be sure to check with the camp directly to confirm dates and sign up instructions for these summer camps.
1. Falcon Camp, Carrollton, Ohio
Located in Carrollton, Ohio, Falcon Camp has been in operation since 1959.
Although it first started as a boys camp, Falcon Camp welcomes both girls and boys to its ACA accredited camp.
Children ages 6 to 16 can join a two, four, six, or even eight-week session.
If you happen to be a first-time camper aged 6 – 10, there is a special one week program called Young Adventures that helps introduce first-timers to camp life.
In a beautiful lakefront setting, Falcon Camp's motto of "Fun for Now, Skills for Life" is appropriate. Campers choose their schedule every day within a general framework.
While daily activities are separated by gender, there are co-ed events. Every activity has an instructor that runs from beginner to advanced.
There are lots to choose from: Archery, tennis, crafts, riding, sailing, drama, mountain bikes, and riflery.
Falcon Camp strives for a non-competitive environment in which campers can try something that they have never done before with confidence.
The ratio of 1:4 staff/camper ratio ensures that campers get the attention that they need.
Visit here: Falcon Camp: Private Summer Camp in Ohio – Best Residential Camp for Kids.
2. Camp Manitou, Oakland, Maine
Manitou is one of the nation's foremost camps. Founded in 1947, the summer camp is held for boys ages 7 to 16.
Camp Manitou prides itself on its experienced staff and excellent facilities. Campers get to choose their own programs. Each program is designed to challenge their minds and develop their skills.
There are plenty of team sports to choose from: baseball, softball, football, roller hockey, basketball, soccer, lacrosse, volleyball, and European handball.
Individually, campers will not lack in activities as they choose from: climbing, riflery, a ropes course, archery, golf, camping, tennis and track, and field.
The creative side of campers is explored through acting, photography, pottery, animation, radio, videography, and set design.
Located in the Belgrade Lakes region, there is no lack of water sports.
Swimming, water-skiing, canoeing, wake-boarding, kayaking, sailing, SCUBA, windsurfing, paddle boarding, snorkeling, and fishing is sure to keep campers engaged and busy.
Visit here: A Maine Summer Camp for Boys | The Best Boys Camp in Maine Camp Manitou
3. Camp Vega, Fayette, Maine
Located on Echo Lake, Camp Vega was founded in 1936 and is an all-girls camp named after the brightest star in the summer sky.
Camp Vega prides themselves on their motto of "the most exciting thing a girl will find at Vega is herself."
Choice-based, Camp Vega allows the girls to choose what they would like to focus on.
Campers can pick from tennis, softball, crew, wake-boarding, lacrosse, and figure skating and then design their own schedule for the second half of camp.
There is also hip-hop dance, ballet, jazz, along with horseback riding, windsurfing, sailing, field hockey, gymnastics, jewelry, mountain biking, Zumba, and stained glass.
Campers that come to Vega love the experience, and it shows with their 97% return rate.
Visit here: Camp Vega All Girls Camp
4. Raquette Lake Boys and Girls Camps, Raquette Lake, New York
Raquette Lake Camps is a group of summer camps located in the Adirondack Mountains in upstate New York.
There is the opportunity to canoe for a 100-mile radius around the camp. The camp is for boys and girls ages 6 to 15 and is a place to build lifelong memories.
Many of the campers return year after year. With over 100 years of camping experience, Raquette Lake Camps have been hosting its Boys only and Girls only camps since 1916.
Their goal is to build strong and lasting friendships while imparting confidence in each camper as they grow into extraordinary adults.
There is not a lack of activities at either the Raquette Lake Boys camp or the Raquette Lake Girls Camp.
There are volleyball and basketball courts along with hardball diamonds, a batting cage, and both soccer and lax fields, not to forget the tennis courts.
Water activities include sailboats, kayaks, canoes, wind-surfers, power boats, and also includes Ski Nautique water ski and wake-board boats.
As if that was not enough activity, Raquette Lake has a gymnasium with balance beams, mini-trampolines, uneven parallel bars, vaulting horses, springboards, mats, a Tumble Trak and a springboard floor.
An arts and crafts center, a theater and social hall, and a jewelry-making studio and ceramics facility give campers the opportunity to explore their creative side.
A three-sided climbing wall, zip lines, and ropes challenge course that includes high and low levels keeps campers the chance to gain confidence in their abilities.
Visit here: Raquette Lake Camps in New York, Boys & Girls Summer Camps.
5. Camp Walt Whitman, Piermont,  New Hampshire
With an impressive 2:1 camper to staff ratio, Camp Walt Whitman fosters a warm and welcoming atmosphere where campers can make lifetime friends and achieve personal growth.
Founded in 1948, the 300-acre campus is near the beautiful White Mountains and along the shores of Lake Armington.
The camp was named after poet Walt Whitman because of his poem "I Hear America Singing," which inspired the camp's mission.
The poem describes the working men and women of America each performing their own job and singing their own individual song with pride, but interwoven together to form the great community of America.
The camp runs for seven weeks, as the founders believed that kids could only get a real immersive experience if camp lasted an entire summer.
There are shorter camps for kids in the first through third grades that might not entirely be ready to be away from parents all summer long.
Camp Walt Whitman has a well rounded of activities. They offer ceramics, woodworking, crafts as well as drama and music programs.
There are rope courses, weekly hikes, overnight camping, and whitewater rafting.
The campers will participate in six activities each day, with four of them being prescheduled. Two of the activities each day are ones that the campers themselves want to explore.
Lake Armington is the site for the camp, and Walt Whitman is the only camp on its shores.
Certified Water Safety instructors are on hand both in the lake and in the Olympic size swimming pool.
Campers can learn how to sail, kayak, water-ski, paddleboard, and more. A particular favorite, the water trampoline, Aquaglide Rockit, and Corcl boats add to the fun in the water.
Visit here: Camp Walt Whitman
Practice Beforehand
There are many good reasons to send your child to summer camp. Camps help children to experience different and unique things such as archery, riflery, and all of the various water sports.
Summer camps allow kids to expand their horizons with new friends and a completely different atmosphere.
They are starting with a fresh slate to write their story on. It is in this type of setting that kids can blossom and grow.
You have the ability, at home, to prepare your child for the summer camp to come by staging a few nights under the stars in anticipation of their time away.
Set up a mini campsite in the backyard, or even the living room with an Everest Double Camping Hammock with Mosquito Net.
Everest Double Camping Hammock
The Everest Double Camping Hammock with mosquito net is the perfect option to get your child familiar with sleeping in the outdoors.
It is big and roomy. It is also sturdy and durable so your child will feel safe and secure lying in the hammock.
The mosquito net will keep any unpleasant bugs away, and enhance their experience. Best of all, an adult can use the hammock for their own backyard get-away while the kiddo is off at camp!
It will be a fun exercise that allows you to spend some quality time before they go off on their new adventure.
Reasons Why Summer Camp Is Good For A Child
In a camp setting, children acquire a new set of skills.
They learn that they can thrive in an environment that has slightly looser constraints, where personal freedom is partnered with personal responsibility.
They can gain confidence in their ability to tackle a new experience and learn from it. They also have the time and place to immerse themselves in a particular activity and turn it into a honed skill.
Kids are encouraged to move outside their comfort zone and try something new in a safe and supported atmosphere where there is not a fear of failure or judgment.
Instead, their confidence is reinforced by success as they experience and grow proficient in new endeavors.
Friendships formed at camp often last a lifetime. It is a time of fun and bonding like no other.
In today's electronic age, we can forget that there is a whole big, beautiful world out there waiting to be explored.
Summer camps will couple both mental and physical activity. Not the sit in your seat type of learning as in school, but the kind of learning, by doing, that children thrive on and crave.
Summer camps tend to be free of judgment. Rather than situations being a pass or fail, it is the chance to try. That is success in itself. There are no grades involved, no report cards.
Camps build resilience that comes naturally to kids when they are allowed to try and experiment and test their abilities in a supportive environment. Not least of all, camp is fun.
It is a time for kids to have the world at their fingertips.
A time to explore and discover, to play and create. A summer at camp makes more than just memories. It helps a child to learn that they are capable of navigating their way in this world.