15 Fun Team Building Activities To Do in Salt Lake City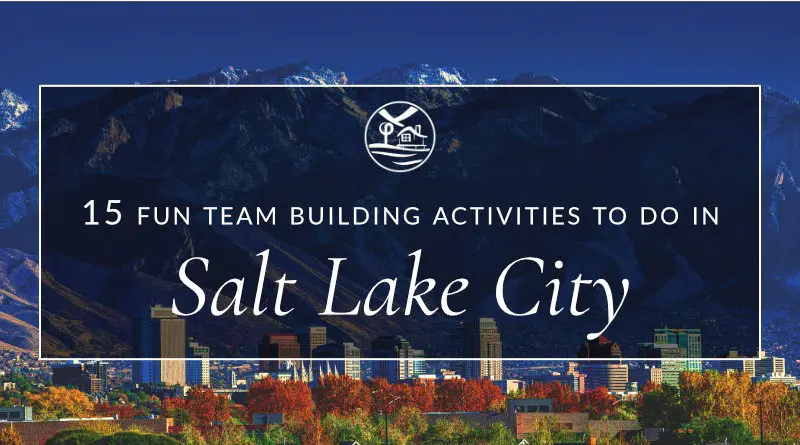 Team Building activities are designed and developed to improve productivity, boost morale, and create motivation. Taking employees out of the office and confined spaces helps break down political and personal barriers, and enables those employees to have some fun. The benefits of team building programs have been shown to add significant value to an organizations' mission and vision. It has led many companies to incorporate team building strategies into their standard training curriculum.
If you are in need of team building activities in Salt Lake City, allow us to guide you! You don't have to settle for something basic – you can up your game with our list of 15 fun, unexpected, and local events.
1. Wild goose chase with The Team Bonding of Salt Lake City, Utah
This is an exciting scavenger hunt activity that will help your team think outside the box, and bond as a group while exploring the city. A fun, timed hunt where you first divide your group into teams and then download the app to access Wild Goose Chase. Your teams will complete challenges by taking photos and videos around the city. Finally, the team who completes the most tasks when the time is up wins!
Mystery Escape Room offers three team building bundles; A full team building bundle, a mini team building bundle, and on site activity events. They are located at The Gateway, in downtown Salt Lake City. Enjoy this fun activity with the whole team brought to you by the winner of 8 Best of State Awards.
3. Enjoy the rush of indoor karting with K1 Speed
K1 Speed developed its team building events to improve employee morale, team connectivity, productivity, and effectiveness. The activities are designed to promote friendly competition and inspire team loyalty. Perfect for groups of 20, they also tailor the race events to best accommodate your group's size. They start off by welcoming the group with a Track Walk to help drivers get acquainted with the track layout. They then provide three competition challenges for the teams; The Ball Challenge, The Pit Crew Challenge, and last but not least, The Head to Head Racing. If you're looking to add a touch of excitement and thrill to your next team building, K1 Speed will surely not disappoint.
4. Customized scavenger hunt by Xperience Adventure
A custom-designed scavenger hunt, Xperience Adventure will perfectly suit your team's objectives on your desired location. An experience that is branded with your very own logo and hosted on a mobile-friendly website, participants can easily pull it up from their devices as the event rolls out. Along with the package is the briefing documents that you can go through before commencing, and a 24/7 support group that is available leading up to, during, and after the event to ensure high quality and satisfactory experience.
5. Dare to escape the Castle of Chaos
Feel free to choose from one of their intense and interactive storylines for your group. This encourages unity and camaraderie in your team to find clues, solve riddles, and escape before the time runs out. You can start planning now with your team and check your survival skills while attempting to decipher highly challenging puzzles.
6. Take on the slopes with Adventure Haus Midway
A quiet, peaceful place to enjoy the slopes Solitude area with its light crowds and miles of untracked snow. They provide beginner, intermediate and advanced terrain, and an entire village inside Solitude complete with lodging options. Geared with all the equipment that your group might need, all you need to bring is a heart ready and pumped for adventure.
7. Let loose and start dart tagging
Dartside Indoor Arena provides the perfect accommodation for your team event in honing their strengths and skills. Encourage the team to get up and move, boost morale, and increase motivation with an hour of team dart tag.
8. Don't miss out on Team Builder Plus
Team Builder Plus presents resources for all of your team building needs. From engaging team activities, intensive group development processes to charitable works. If you have specific team issues that have to be resolved, Team Builder Plus is the right place.
9. Cook with Park City Culinary Institute
One of the most unique events your team could ever try! Just imagine holding your group's very own Master Chef mystery box. Park City Culinary Institute has established programs that have been designed to spur creativity, build trust, increase efficiency, and a whole lot more.
10. Get creative with AdVenture Games
SpyGame is one of Adventure Games most popular and successful activities. The boss is kidnapped, and teams work together to finish tasks while trying to find the mole. To recover their boss, the team must go through tests that will develop their teamwork, strategic planning, time management, and communication. AdVenture Games Inc. also provides other programs that would suit your group's needs.
11. Bobsledding in Utah Olympic Park
Intended for the 2002 Winter Olympic Games, the Utah Olympic Park is open to the public all year-round and offers a fun variety of summer and winter activities. You and your team can try bobsledding, luge, ski jumping, extreme tubing, ropes courses, rock climbing, and ziplining.
12. Work your arm with Social Axe Throwing
An old Celtic game, this is an event where real axes are thrown at bullseye targets. You will find this activity exhilarating, and the best part is you do not need to be an expert at it. To ensure your group's safety, your session will include an instructor to guide you on how it's done.
13. Explore the beauty of Timpanogos cave
Do you feel like your team needs a bit of exercise and a breath of fresh air? Timpanogos Cave is the perfect spot for you. Put on your hiking shoes and bring enough water, flashlights, and a sense of fun. Cave temperature averages at 45 degrees, so a sweater or light jacket is a must.
14. Let your creative juice flow with Paint Mixer
Creative thinkers have always found ways to revolutionize our world with innovation. Paint Mixer will assist you in fostering creativity within your organization. They provide specialized activities that will suit your team's essentials.
Focus is reinforced in Easton Foundations, both individually and corporately. All the equipment you'll be needing is furnished. You really have to zero in on your focus as every shot comes with a fee. Make sure to book your reservation 72 hours in advance because this is a popular center and slots depend on availability.