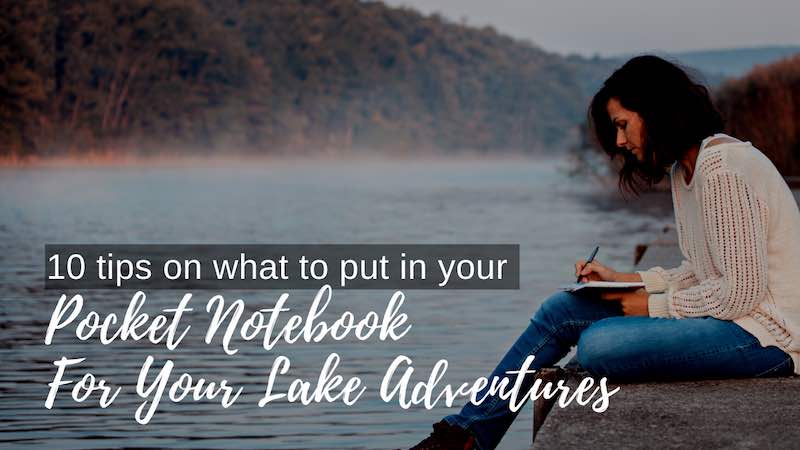 10 Tips On What To Put In Your Pocket Notebook for Your Lake Adventures
(Last Updated On: March 1, 2022)
You are fortunate enough to have time to spend at your lake house and get away from the demands of the everyday world.  Each time you get away is like an adventure, and even if it is just for the weekend, it is still a vacation from the mundane.
So how do you make the most of that time at the lake? One of the ways to enhance the time at the lake is to include a pocket notebook.
A pocket notebook is an essential, yet easy, tool to have with you at all times.  It is easy to carry, convenient and helps you stay (or get) organized.
When thinking about a pocket notebook, consider a study done in 2014 that showed the benefits of hand writing notes  were greater than had been previously known.
The findings of the study were that people learn and retain information longer if they write notes by hand.  When a person captures information in this manner, it stimulates neural pathways between motor, visual and cognitive skills.
So, consider that when you are writing something down, you are doing so, not to remember it later, but to remember it now.  Writing it down can make you smarter!
We have compiled 10 tips on using your pocket notebook when you are living life at the lake:
Networking:
Your house on the lake might not be your primary residence, and you might be a distance from where the house is located.  It is a good idea to have the numbers and addresses of those neighbors that are in the area when you are not there.
Yes, you can add those names, numbers and addresses to your phone, but with a notebook you can add other important details.  Make a note of where the neighbor is in relation to your house, and note if this is their primary residence. If not, when do they usually visit their lake house?
This will also be the spot in your notebook where you will record the names of their family  members, if they have pets or any other pertinent information that will serve to create a bond with the people that you share the lake with.
Your pocket notebook is a networking device that can pay dividends.  If there is bad weather in the area, you will know who to call to check on your own lake home.  Conversely, you will be able to get calls from those same people if they see anything at your property that you need to know about.
Projects and Maintenance
Seldom do we walk around our lake houses in search of things that need to be done.  But as you are going about your day both in and out of the house, have your pocket notebook handy to jot down things you see that need your attention.
Maybe you see that there is a piece of siding that is coming loose as you are swaying in the hammock in the backyard.  While out on the boat, you look toward the house from the water and are able to better notice branches growing too close to the roof line.
Maybe you think of improvements to the dock as you approach the launch.  Making a quick note of it to refer to later will help you keep on top of those small issues that can become major when forgotten.
The notebook is also the best spot to write down phone numbers of local businesses, like the hardware, grocery store and supply stores such as the local Home Depot.
When visiting those stores for whatever goods you might need for projects, you will have your notebook at the ready for helpful suggestions given to you by these establishments for any repairs or improvements you need to do.
Write down who you spoke with, any quotes given and what those quotes included.  This takes some of the burden off your shoulders when you are getting advice from several different quarters.  You will not need to remember who said what, you will have it all down in your notebook.
It also makes comparing services and quotes easier when you have it all laid out in front of you.  It is invaluable when the guy at the local hardware tells you how to fix it yourself and you write it down step by step to refer to later.
Fishing Log
When you go out on a fishing trip, make a note on the top of the notebook page that includes the day and date.  Note the time of day and where you are at on the body of water that you are on.
Make a note of the weather conditions at the time, such as the temperature, if there is any cloud cover and what the wind speed, if any, is.   Record water conditions, such as the clarity of the water and what its temperature is at the time you caught that prize fish.
These notes will give you an overall picture of when to go fishing again, and when you might have a better chance of snagging dinner when you go out again under similar conditions.
You will also want to make a notation of the size and weight of the fish.  Jot down what type of bait and the presentation (choosing a target, casting and manipulating the bait) you were using at the time.
If you record these items in your pocket notebook, you will be able to match them to similar conditions.  As you continue to note the water and exact areas you are fishing in, you will be able to see, over a period of time, "hotspots" for fishing.
Add personal details of the day, like losing your hat overboard or the beauty of the day.  These notes will add to the flavor of your notes and give a boost to your memory when you refer back to them.
Develop a Lake Management Plan:
Lake living can be a wonderful adventure!  You will want to protect that special area and keep it healthy for years to come. One of the ways in which to do that is to be aware and make note of the lake and conditions that might negatively impact it.
If you collect, and use, information that your record in your pocket notebook, you will have a good start on maintaining the health of the lake you love.
Keep track of anything that might adversely impact the water or shoreline. Make a note of any spills, such as gasoline from boat motors or excessive use of fertilizers or pesticides.
Being able to keep track in your notebook of events that might impact the lake will give you some insight into remedies that might be needed.
The  Guide to Lake Protection and Management, Second Edition will give you information on the chemistry of lakes and management practices.
Where Did The Day Go?
I ask myself this all of the time.  Take a few minutes and sketch out what the day was like.  Every day at the lake is an adventure; a mini vacation that should be savored.  By jotting down the events of the day, whether big or small, you will be able to look back and reflect on just where the day did actually go.
When you are sitting in your cubicle or waiting for the next interminable meeting to end, discreetly pull out your notebook and flip through the memories.  It will remind you why you do this in the first place and make the next round of meetings a bit more palatable.
I have found that recording the mundane happenings affords me a glimpse at what is important to me.  I learn what activities and people bring me joy and comfort, and as importantly, I learn what does not work for me and can seek to avoid it in the future.
No Electricity Needed: 
Everything has a plug, needs a battery, or it has to have tower reception or be connected to  WIFI. Your pocket notebook and pen or pencil need none of those things. It is good for the mind and the soul to get back to basics.
A magical contraption, the pencil was invented in 1795 by Nicholas-Jacques Conte.  He was a scientist who was serving in the army of Napoleon Bonaparte at the time. Conte used a form of pure carbon called graphite to supply his invention with the ability to make marks on paper.
The rest, as they say, is history.  The Banks, Son and Company opened its doors in Keswick, England in 1832 and is still in business today under the name of Cumberland Pencil company. Talk about longevity!
That simple writing instrument will serve its purpose yet today.  You won't have to plug it in, or recharge it either. It will be handy and at the ready in our pocket to record a phone number, a thought, an inspirational quote, or a grocery list whenever and wherever you need to.
Play Games:
Again, you need no cords or cables or reception.  Just a pen or pencil and your trusty pocket notebook.  I have found that I have learned more about friends and family when participating in a one on one venture, such as playing games.
There are several that you can do with your notebook while sitting on the back deck or lazing on the lawn near the lake's edge.  And since you are at the lake, there is no need to keep score, you are just having a good time and enjoying each other's company.
Pictionary
Pictionary is a favorite, and usually produces a good amount of laughter, as not too many of us are artists.  All you need to do is to think of a word that you want the other person to guess. And you try to get them to guess the word by drawing a picture of it.
Bulls and Cows
It will help you stretch your thinking process.  Each player will create a numeric sequence of four numbers that they will keep secret.  Take turns guessing the number with "Bulls" indicating the correct number of digits in the correct place.  "Cows" will indicate the correct number in the wrong place. Try to guess the secret sequence in the least number of turns.
Categories
It tests how much you really know about any given subject.  Start with any category, whether it be fruit, vegetable, movies, book titles, things that give off steam, or anything else in a broad or narrow category.
Each person will list everything that they can think of that comes under that category in a certain time frame, for example, in one minute.  Once the time is up, compare the lists and cross off identical items and see who ends up with the most items listed.
Close your eyes and draw
It is a form of Pictionary that is as funny as it is challenging.  Think of an object that you would like to draw, close your eyes and draw it (or attempt to) on the page of the notebook. The other person will then try to guess what it is.
I have done several of these games with family and friends. As I said before, these games can result in conversations about things that might not have come up in normal conversations and have enabled me to get to know those people better.
The notebooks, with the games recorded inside, have been saved for future gloating, or simply to bring them out and relive the fun and laughter looking over the silly pictures and the good times shared.
Contemplation:
Frank Sinatra once said, "You only go around once, but if you play your cards right, once is enough".  Another favorite quote of mine comes from Mary Engelbreit. She said "Life is just so daily!". Exactly.
Life can be relentless.  It does not slow down for us when we need a minute to get our bearings or to catch our breaths. There is little time to think about the big picture when the everyday details and demands of living never allow us time to see ahead.
When you are at the lake, on your mini vacation or weekend adventure, take a few minutes to think ahead.  It does not have to be a soul-searching epiphany. It can be just a moment in time when you pause to consider what should come next.
Where would you like to be in your life five years from now?  Choose a few ideals that will help you to achieve those goals and that will steer you in the direction you would like to go. Write them down in your notebook.  Rather than going with the flow, direct the course you want your life to take.
Periodically refresh your memory of those goals and desires by reading what you wrote in your notebook, and then ask yourself if your actions today will get you where you want to be tomorrow.
Having put pencil to page, this reminder will guide you in fleshing out a game plan. Your chances of succeeding will increase when you have a firm idea and track your progress.
Sketch and Doodle.
If you are one of those few fortunate individuals who can actually draw a recognizable cat, take a bit of time to sketch your lake surroundings in your pocket notebook.  Draw it at different times of the year, or day, to capture the seasons. Yes, you could just take a picture, but this will be personal. It will be what YOU see, and how you interpret  the world around you.
If you can't sketch to save your life, then do the next best thing: Doodle.  This might seem like a simplistic time waster, but it actually is not.
Doodling is the brain's way of staying in the present.  I remember that when I was going to college, there were certain instructor's in whose classes I would regularly doodle along the edges of my notes.
It was always in the class that I found just a bit more challenging, and I had thought that it was my way of escaping from what I could not conquer.  I have since found out that the opposite was taking place.
A study published in 2009 in the journal Applied Cognitive Psychology,  has stated that those who doodle during a lecture or meeting remembered more information than those non-doodlers.
Those of us who are busy with our pencils tips swirling in our notebooks retain 29% more than those who did not.  The key is to listen as you doodle.
Instead of checking your phone, or looking for the next distraction, take some time at the lake to sit and listen to what is going on around you.  Maybe it is the wind, or the birds, or the water lapping against the shore.
Get out your pocket notebook and doodle while truly listening to the world around you.  This exercise will help to connect ideas to visuals and help you to remember better.
Lake House Recipes
A small, pocket notebook is so handy for jotting down dishes to prepare at your lake house.  Being at the lake, and away from everyday obligations, can open up time in which to try new recipes.
Mealtimes become more of an event, and less of a necessity, when you are less pushed and pulled by your work week schedule.
Keep the notebook handy, and when you run across an interesting dish, jot it down…along with the ingredients…to refer to when you are shopping for the lake house.
Ask coworkers if they have favorites that might sound interesting to try. Or even experiment with coming up with your own, one-of-a-kind recipe.
Once you have run across a "go-to" favorite, make sure to note it in your pocket notebook.  If you have any adjustments in the amounts to accommodate a larger crowd, note those in your book so that you have them for future reference.
Don't forget to note comments from your guests, either pro or con.  Maybe it needed more salt or less rosemary. After you keep adding to these notes for a time, you will develop a repertoire of favorites that will make mealtime at your lake house a delicious and fun event.
To get you started, I have added my own favorite for you to add to your notebook.
Heavenly Treats
Ingredients:
1 Package White Chocolate Chips               2 rounded TBSP of Peanut Butter
1 ¼ cups Rice Krispies                                 2 cups miniature marshmallows
½ cup Spanish Peanuts
Directions:
Melt chips slowly in a pan.  Add peanut butter, melt chips and peanut butter together and take off heat.  Stir in Rice Krispies, marshmallows and add peanuts. Drop by spoon onto waxed paper or foil and allow to cool.
Place them on a plate for friends and watch them disappear!