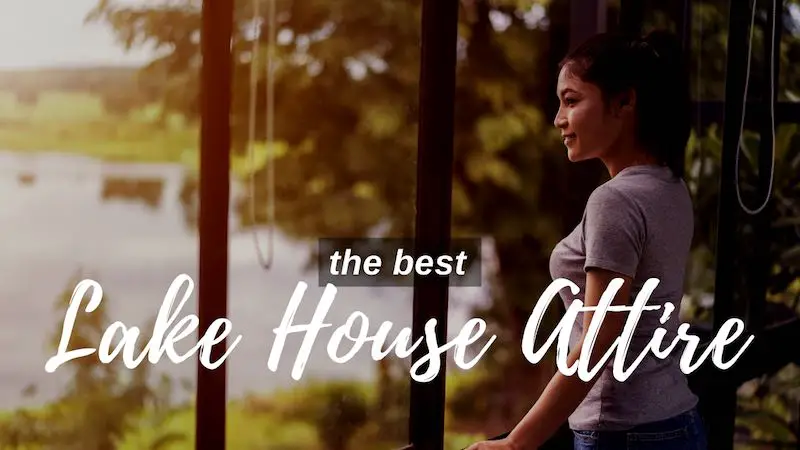 Lake House Attire: What to Wear at the Lake (Top 10 Picks)
(Last Updated On: August 10, 2022)
10 Best Lake House Attire
There's nothing more difficult than packing. Instead of grabbing whatever you've got and running off to the lake house, check out these 10 best lake house outfits to make your packing a little easier.
Product Reviews: LAKE HOUSE ATTIRE
Wrangler MEN'S OUTDOOR CARGO SHORT5
It's hard to find a good pair of outdoor cargo shorts for men. Check out this option from Wrangler to see if it works for you. Made from 99 percent cotton, these shorts zip closed and can be machine washed. They're in the traditional cargo style, meaning that they're built for both versatility and comfort. Slip your phone into your pockets, since you have six pockets in total, and still look great with the relaxed fit of these shorts. It helps that the 10-inch seam will keep you comfortable for the entire day even underneath the sun near the lake.
Pros
The bit of spandex in the waist keeps you comfortable
Generally comfortable
Very lightweight
Cons
The colors and materials are sometimes off
Patterned blouse
Honestly, finding a good blouse can sometimes feel like too much trouble. You want an option that looks great but that won't leave you feeling too hot when you're by the lake. Make your lake house attire with this patterned blouse though, which hangs off your shoulder comfortably with a lot of fits. The flared sleeves look great, and the loose fit will cover all body shapes. Show off your beauty with this blouse for all seasons, and in casual and formal venues, or just at the lake.
Pros
Fits well due to the flowing quality
Drapes very well to cover you
Made very well with good quality
Cons
Sizing may be a little snug
Blouse Tie Knot
​If you're looking for a cute top, look no further than this blouse. You can button it up to feel the comfortable polyester and spandex. It's made to be very soft, although do know that the white color is a little bit see-through. You might not even care about that with the knitted design and breathable fabric. It's a lightweight lake outfit option that's perfect for outdoor wear lots of time spent right around the water.
Pros
Fits great for the money
The shirt is soft
Doesn't shrink from washing
Cons
You'll need to order larger for a baggier look
One-piece swimsuit
It can be difficult to find a good one-piece swimsuit that doesn't look like a train wreck, but this option is both elegant and beautiful. It has a high neck design with a padded push-up bra and hooks closure. This means that it will support you and shape your figure. The see-through mesh style in the front will help you be flirty without you needing to show too much skin, while the quality will keep you comfortable when you've come in from the water. It's wonderful that this one-piece comes in all sizes for all body shapes as well.
Pros
Very sexy while still covering you up
The band under the chest will help contour you
Curves all body shapes
Cons
You'll need to go up a size to feel comfortable
Cropped Pants
Who says that women can't find a good pair of pants with pockets? These cropped pants look great, have two patch pockets that Velcro on the side to hold all of your items. The waist is elastic, which means that it will fit all body shapes and sizes, and the length is cropped. This lake attire is made to look great on you while the elastic bands on the legs keep you feeling comfortable. Pick out your color and hang back on the lake with this spandex and polyester blend.
Pros
It has an easy fit
Many body shapes feel comfortable with it
The fabric is great underneath the sun
Cons
Not a lot of people have tried these
Striped Polo
A polo is always a good option when you're relaxing outside. This striped polo option is made to be a comfortable cotton and polyester blend, with a button closure up near the neck. Throw it in the washing machine after you've worn it, but hopefully, you won't be dealing with too much sweat thanks to the moisture-wicking fabric. This shirt is designed to stay cool and dry for the entire day, making it perfect for the man on the move. Not to mention that the design and fabric are crisp and can stretch to keep you completely comfortable throughout the day. It helps that the collar is roll-resistant and doesn't require ironing either.
Pros
The fabric is soft and durable
Great air circulation during the summer
The shirt has a natural stretch to it
Cons>
The fabric will shrink a little in washing
Denim Shorts
​For a good pair of denim shorts that aren't too short, look no further than this amazing option. It closes with a button and has a straight fit that makes your curves look great. The fabric itself is distressed lightly with a bit of a frayed hem for the sake of style. They're designed with a mid-rise style for a low-slung slouchy fit without being uncomfortable. The best part of these shorts is the easy casual look, and of course, the classic five pockets that will still fit even larger items like your phone.
Pros
The fit is very well
It's easy to wash these shorts since they're durable
The fabric resists wrinkling
Cons
Not many people have tried these shorts
Straw Hat
You'll never know that you need a straw hat until you're sitting outside trying to squint out at your family out over the lake. This straw hat is made to help shade your eyes while fitting over your head comfortably thanks to the adjustable closure. If it rains, you can easily hand wash this hat, but otherwise, you can pick out your color and just relax with it on your head. Thanks to the style, you can feel comfortable and relaxed while enjoying some time outdoors.
Pros
The cowboy shape is comfortable
Using oil makes it more bendable
Great shape to cover your eyes
Cons
It's quite fragile, dry, and brittle
Hoodies
A night out on the lake is always relaxing—until you're cold and you don't have a blanket with you. There's nothing better than having this hoodie though. It closes with a zipper and washes easily in your washing machine.
The fleece is thick and soft to keep you warm, while the cover-seam neck and armholes will keep out air as you move. On top of that, the pill-resistant fabric is made to have high-stitch density, which means that this hoodie will be even more durable. For style, you can't go wrong with the ribbed waistband and cuffs, along with the kangaroo pocket.
Pros
Extremely comfortable
Very durable and great for the outdoors
Warm and soft for the winter
Cons
You might want a size up; they're snug in your size
Dress for Kids
Let's not forget about getting a dress for your kid for the lake. This polyester and spandex blend is perfect for your little girl since it's made to be comfortable and to slip on easily. The dress is short-sleeved to keep her comfortable, while the ruffled sleeves add a classic cut. But rest assured that this dress is made for more than looking nice. Since the fabric is slightly stretchable, you don't need to worry about your kids playing together outside or about the dress getting dirty.
Pros
The sizing matches children perfectly
Very comfortable and soft
The fabric is lightweight and breathablev
Cons
Can be a little big for some children
Reasons to Visit a Lake House With Your Family
There is any number of reasons to go along with your family to visit a lake house. Besides the obvious fact that it's an amazing vacation option, of course.
Activities
You're right on the water at a lake house. This is pretty obvious, but think about everything that you'll be able to do with your significant other, your family, and your children. You can be out on the water at any time of the day on a boat, reading, or in your swimsuits. There are so many things for you to do right in your backyard.
Vacation Time
Take a load off and relax. If you're feeling exhausted from the city life and daily life, take a minute to go out and relax on the lake. Let the water calm you down and just take out the stress from your daily life. Honestly, that's one of the best things about being at the lake house: you can take a little break from your daily life.
Food Options
​Even if you're just cooking for yourself, going to the lake house with your family is a great opportunity to enjoy some new food options. Check out the fresh food around the area, and try cooking new things with some ingredients that you might have not tried at home.
Outfit to Pack for Lake House Tips
You're going to the lake house, but the real problem is what to pack before you get there. Instead of the usual vacation method most people use—packing everything—let's think about what outfits you can coordinate to wear while you're there.
Comfort
​Think about your comfortable clothing. On those rainy days out on the lake when you just want to sit inside, you'll want a soft sweater to relax in. Pair that with a good pair of shorts that you can wear either inside or outside when you go out to the water. This way, you won't have to roll them up when you go out to stand in the water.
Don't forget your comfortable pants when you just want to relax inside. These pants will be perfect to wear at any time and will keep you feeling warm when you just want to sit around and have a nice meal with your family.
Always Bring Jeans
​You might think that you don't want to wear jeans when you're supposed to be relaxing. But jeans are a great option for being in nature. They're perfect for keeping your legs safe while walking through the woods and will prevent your legs from being bitten by bugs while you're sitting around the fire at night.
Jeans are also great for multiple weather options. If the weather changes suddenly, you'll have a nice warm option. You'll also have multiple style choices, not to mention that jeans look great with just about any top.
Great Swimsuits
​You can't go to the lake house without an amazing swimsuit option. Try to pick out a suit that feels comfortable, but that will also be great underneath your outfit. With a pair of jeans and a cardigan, you can wear your swimsuit comfortably. Accessorize your suit with a few other items too. Add in a straw hat to relax outdoors without the sun in your eyes, or a good pair of sunglasses to help you feel comfortable when you're reading out by the water.
A Perfect Top
There are tons of options for tops. Pick out a flowery top to work with those vacation vibes, or something loose to relax in. You can pull on a great shirt with any outfit, from a loose option to a buttoned option. Check out the fabric too before you choose, and make sure that you have something comfortable that you can wear all the time.
Conclusion
Instead of just throwing all your clothing into your suitcase before you go, think about what outfits might be best for you to wear. From comfort to practicality, you have a lot of options available here, all of which will help you enjoy your time out on the lake with your family.